Cultivation of superior quality Prawn with low Glycemic Index starts in West Bengal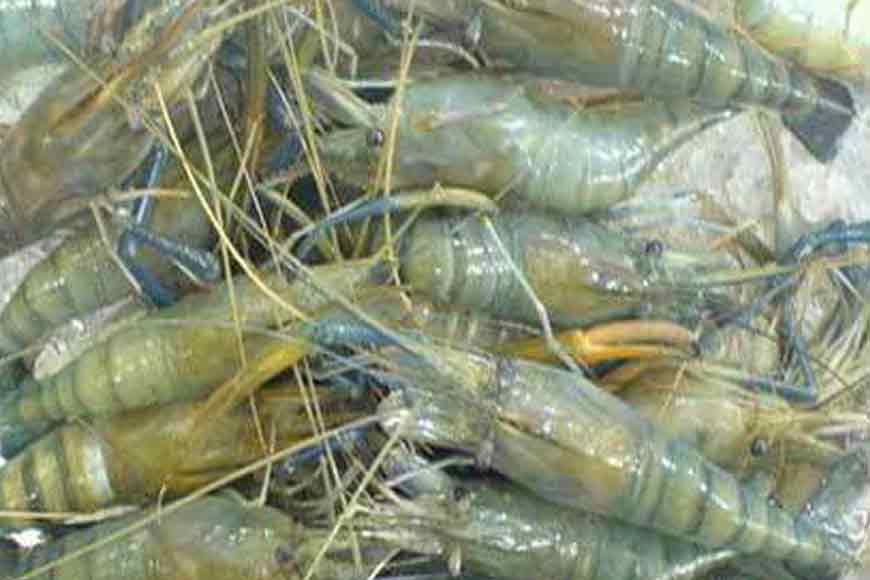 West Bengal will now have access to superior quality GI prawns which will be available in Haldia and West Midnapore districts, helping to take Bengal's pisciculture to new heights. CIFA-GI Scampi is a genetically improved and fast-growing strain of giant freshwater prawn, Macrobrachium rosenbergii, developed jointly by the Indian Council of Agricultural Research (ICAR) and Central Institute of Freshwater Aquaculture (CIFA) through systematic selective breeding. Giant freshwater prawn, also widely known as 'scampi' is an indigenous freshwater prawn species of India inhabiting rivers, canals, estuaries and coastal waters. It is one of the most important cultivable species in freshwater systems due to its high price, large size, faster growth, good taste and high export demand. It can be cultured either in freshwater or slightly brackish water.
Recently the systematic selective breeding programme of scampi was introduced in the state by the West Bengal Department of Fisheries, in collaboration with the ICAR-CIFA. Four experienced fish farmers were selected for the first phase of the programme and they were given CIFA-GI juvenile Scampi for farming in their ponds at a special function. The programme was attended by Central Institute of Freshwater Aquaculture (CIFA) scientists, Dr Debabrata Bera and Dr Bidhudutt Mishra, Block Development Officer (BDO) of Haldia, Sanjay Das, Joint BDO Ananyo Bera, Haldia Fishery Extension Officer, Suman Kumar Sahoo and a number of other dignitaries.

The CIFA-GI Scampi was genetically developed through systematic selective breeding by senior scientist of CIFA, Dr Bindu Raman Pillai. Dr Debabrata Bera said they selected Haldia for initiating farming of CIFA-GI Scampi because it has all the required infrastructure for setting up modern shrimp hatcheries. Dr Bera said 7.5 thousand juvenile shrimps were distributed to farmers in Haldia Block. What is so special about the GI shrimp? Sahoo explained: 'These GI Scampi can be cultivated in the same pond with other varieties of fish like Rohu and Katla and they do not require special artificial protein food for growth. It has a very fast growth rate and is commercially more viable for farmers. This variety is suitable for farming both in sweet water as well as brackish water.
State Chief Minister Mamata Banerjee has consistently given importance to alternate financial resources for farmers. From horticulture to pisciculture, West Bengal under her able leadership has seen a huge boost in alternate farming activities. Haldia's BDO Sanjay Das said: 'CIFA GI scampi is a fast growing, large sized, expensive and tasty variety that has a great demand in the export market. Once the hatcheries in Haldia start producing them in large scale and profitably, other farmers will also be inspired to take up CIFA GI scampi harvesting in their ponds.'