It is said that each and every wall of Kolkata is a rich treasure-trove of historical resources. They have tales to relate to the discerning audience. Kolkata served as the capital of colonial India under the British East India Company. By the end of the 19th century, it became the hub of nationalist movement. In 1911, the British shifted their capital from Calcutta to Delhi primarily for its geographical location and as a measure to quash the rising discontent and rebellion of the nationalists in the Bengal Presidency.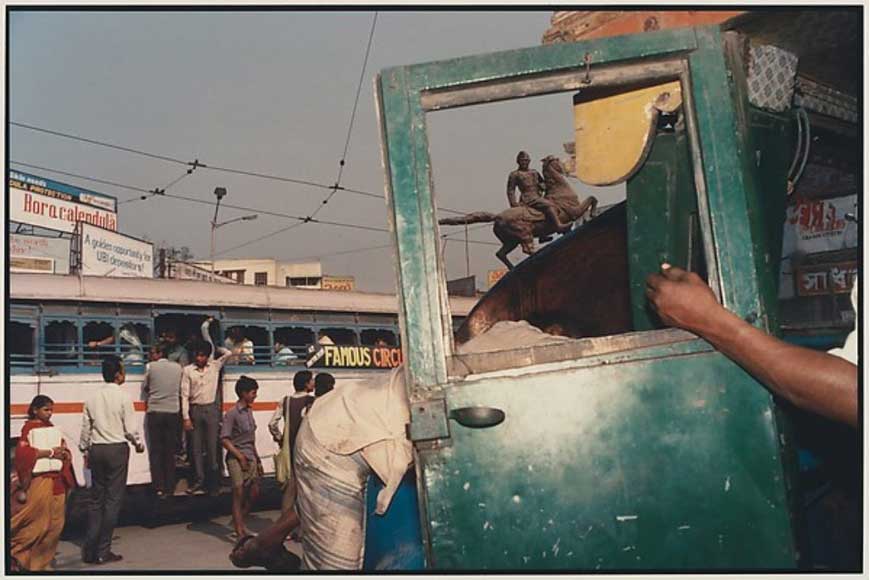 Photographer - Raghuvir Singh
However, Kolkata can never be confined within its palaces and temples or well-known tourist spots like Victoria Memorial, Ochterlony Monument (later renamed Shaheed Minar) or Kumortuli. The city has myriad vignettes veiled behind the cement and mortar. It is a living entity, a city that is throbbing with life, with a coexistence of dichotomy and diversity. From authentic Chinese food to Italian gourmet or a meal of Dhakai hilsa or a plate of aloo biriyani – you have it all. Here Bow Barracks and Bagha Jatin Colony co-exist as friendly neighbours. A recent workshop organized by Art Impression at Art Villa Gallery, tried to touch upon this unity in diversity.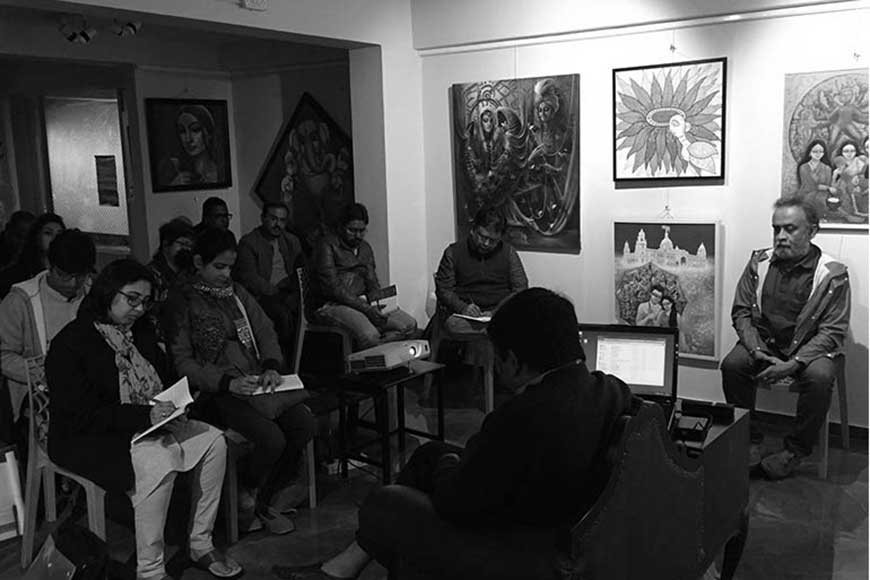 Debdutta Gupta and Suvomoy Mitra in a conversation with the students at the workshop
Art curator and critic Debdutta Gupta and photographer Shubhomoy Mitra were speakers at the workshop. Dr Gupta explained historically how the city and the state was the epicenter of art, literature, political movement, sports and all other creative work that spread to other parts of the country. However, according to recent survey, Bengal's educated and intellectual class is moving out for greener pastures elsewhere. Yet, Kolkata still remains the melting pot of people from diverse cultural entity.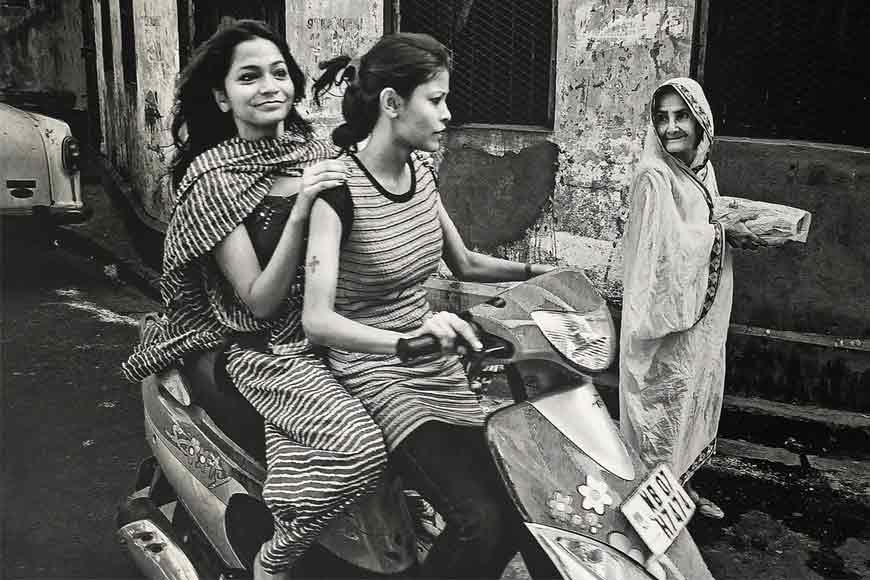 Photographer - Jayanta Saha
While, Shubhomoy Mitra discussed the symbiotic relationship between photographs and a city. He spoke about well-known photographers from different corners of the world, on the language of light, concept of time and space etc. 'A photograph is not merely capturing a moment in time. There are other factors trapped within the frame when a moment is clicked for posterity,' he added. He equated the CCTV to the new-age Brahma, keeping silent vigil on everything occurring below, that's within its reach. An equipment like the CCTV camera reaches the realm of philosophy from being a humble mechanical device.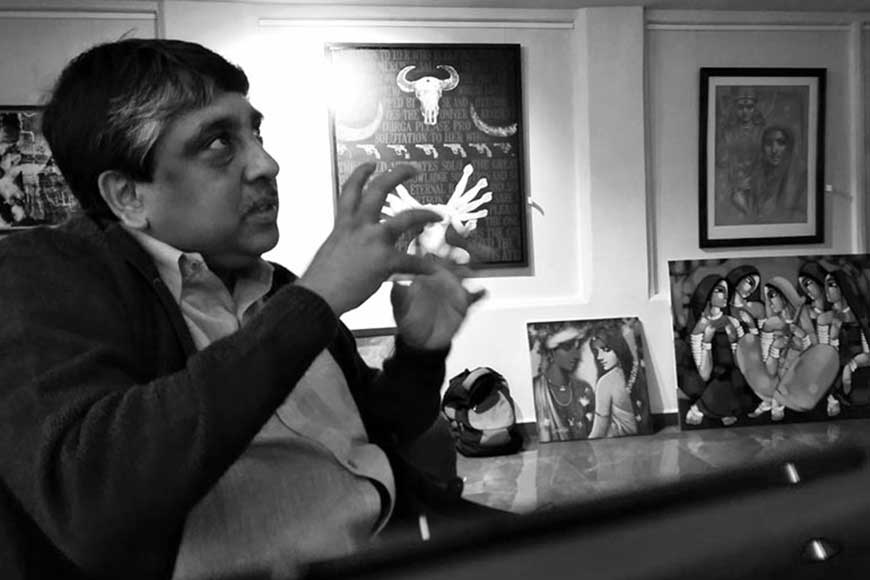 Art historian Debdutta Gupta delivering a lecture on the changing patterns of Kolkata
Mitra sounded enthusiastic that new photographers are joining the league and capturing innumerable moods of the city. He was categorical that repetitive shots of well-known spots are bound to get lost in the crowd of photographs. Instead, one must challenge one's own creative boundaries and explore new subjects, new interpretation and new spots. There is no dearth of subjects in Kolkata.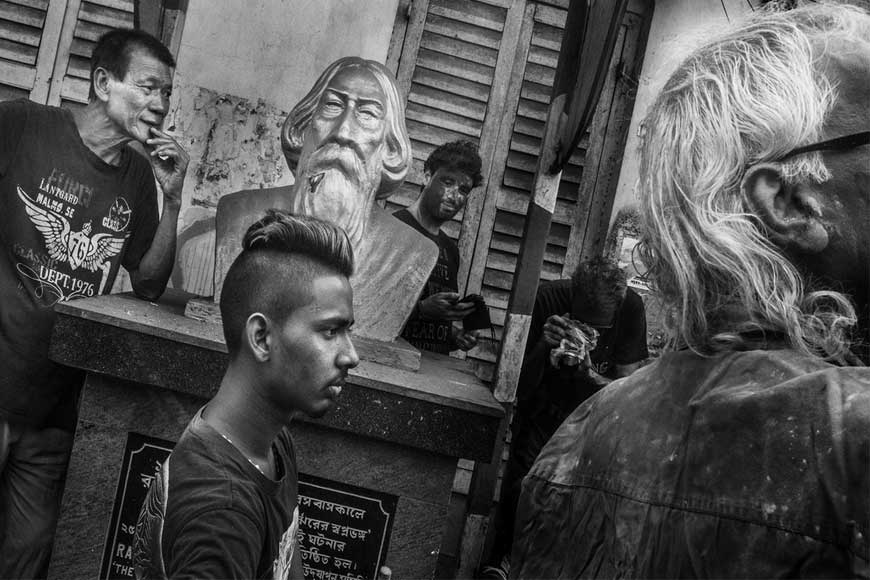 Photographer- Suvomoy Mitra
Sayantani Chaki and Shubhodeep Dawn, proprietors of Art Impression organized the workshop in an effort to involve participants in a brain-storming session to look out for an answer to 'If Kolkata is still the Cultural Capital of India!' Needless, to say, it still is the meeting place of creativity in various forms.
Raghuvir Singh's Photo Courtesy- Calcutta (1975), (preface by Joseph Lelyveld), Perennial, Bombay এবং Calcutta: the home and the street (1988), Thames and Hudson, London and New York; Chêne, Paris. ISBN 0-500-24133-3.