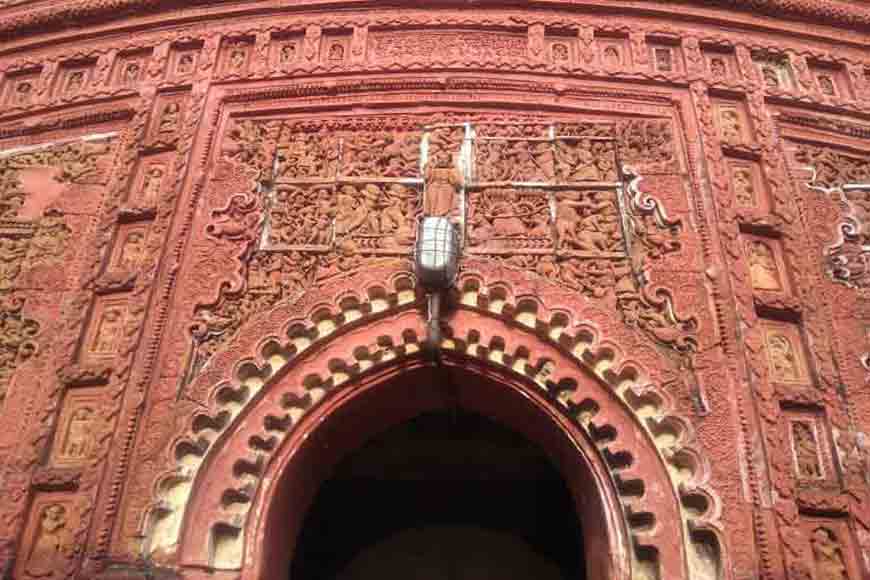 Tucked in a corner of Hooghly district near Tarakeshwar, lies a small village that happens to be a treasure-trove of magnificent architecture, most of which is lying in a decrepit state. This is a place where incongruity reigns as European-styled mansions co-exist with elaborate terracotta temples, as do well-laid out gardens, a clock tower and a Victorian style gateway. Dasghara is indeed a perfect blend of fusion architecture and exquisite details.
Located around 65 kilometers from Kolkata, it is a small village which treasures some remarkable terracotta temples and architecture. Situated about 12 km north of Tarakeswar, famously known as the temple town, Dasghara has an illustrious past that goes back to 800 years ago. Historian Sudhir Kumar Mitra in his book, Hooghly Jelar Itihaas O Banga Samaj (1962) mentions around 750 years ago, trade and commerce flourished here under the rule of Baraduari Raja. Dashghara was an important trading centre on the banks of Bimala and Kananadi rivers, both tributaries of Damodar River. However, everything changed when Damodar changed its course. The tributaries silted and dried and the king moved his capital to Midnapore. Mitra says, the name Dasghara is derived from a collection of 10 neighbouring villages. 'Das' in Bengali means 10 and the villages were Aglapur, Dighara, Gangeshnagar, Gopinagar, Ichhapur, Jargram, Nalthoba, Parambo, Srikrishnapur and Srirampur.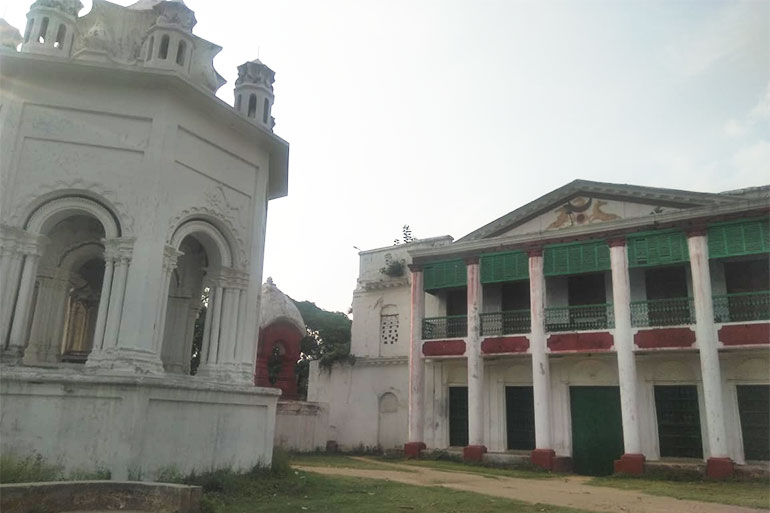 Dasghara again became a prominent settlement in the early phase of the 18th century, developed by local zamindars and merchants. The place flourished when Ramnarayan Pal Chowdhury, a successor of the Baraduari Raj insisted Jagmohan Deb-Biswas to settle down at Dasghara. Jagmohan Deb-Biswas's father was a close associate of Advaita Acharya, a contemporary of Sri Chaitanya Mahaprabhu. The Biswas family had amassed huge wealth and built the Victorian style sprawling mansion with the Gopisagar Lake as its back drop. The mansion with an insignia of three horses on its pediment, was the Kachhari Bari (administrative building) of the Biswas family. Now the mansion is used as the venue for celebrating religious and cultural programmes of the family.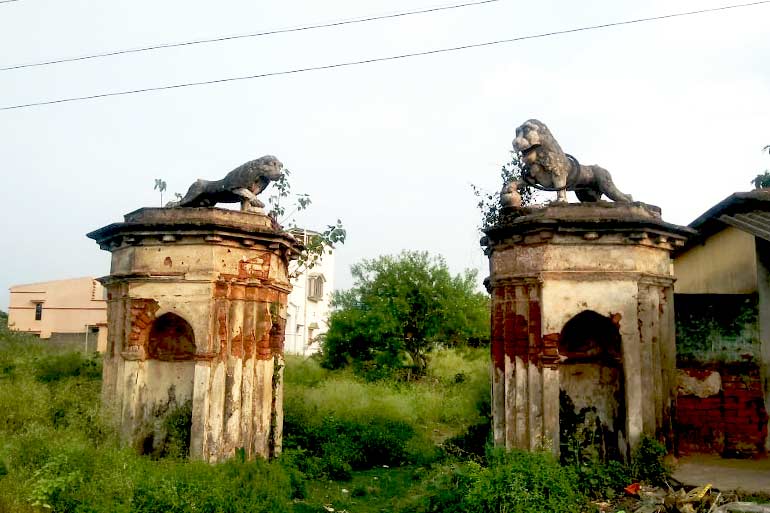 There is a Nat Mandir inside the mansion and a beautiful Thakur Dalan or a courtyard with a covered altar for the worship of Goddess Durga. Durga Puja is still celebrated here with a lot of piety and fervor. The four-armed warrior Durga idol is worshipped here as Joydurga. She holds a snake, a trident, a scimitar and a shield, one in each hand. Ratha Yatra is also celebrated with pomp and splendor. The Biswas family's ratha or chariot has nine spires (Churas) and here Radha and Gobinda Jiu are the presiding deities.
The Gopinath Temple, built by Sadananda Biswas in 1729, is said to be the oldest architecture that has survived the ravages of time. The temple features five spires and some of its significant terracotta panels are still in good condition. The panel features some notable scenes from the Ramayana and the Mahabharata, a grand court, performances of the musicians and glimpses of regular life. It is said that this masterpiece is one of its kind in entire West Bengal. The temple premises has an octagonal shaped Rasmancha, with nine spires, narrow pillars and a square-shaped Dolmancha.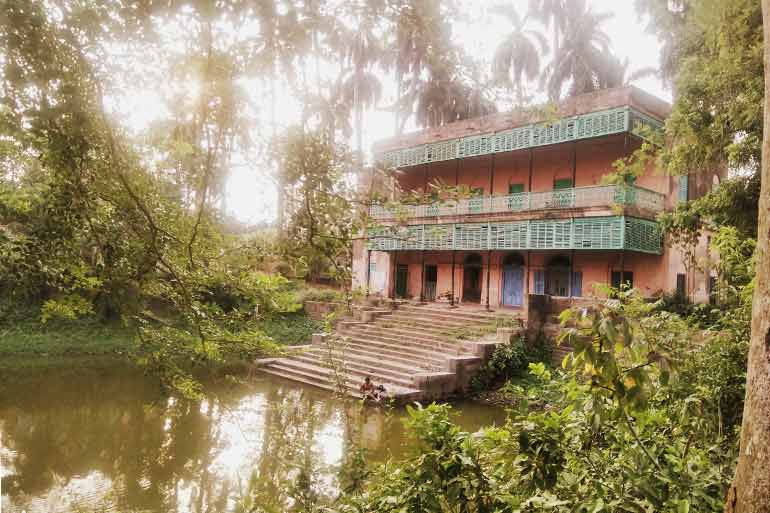 Apart from the architectural wonders built by the Biswas family, Dasghara also treasures a clock tower, a landscaped garden and an arched gateway –built by Bipin Krishna Roy, a notable stevedore of Calcutta Port from 1851 to 1911. He made a fortune by loading and unloading from ships. However, the hands of the clock tower have stopped functioning. Bipin Krishna's palatial mansion is also worth a visit. The Rasmancha of the Roy family is inside an enclosure and features European soldiers, stucco floral motifs and a Ganesha statue on one of its walls. Next to it is a three-arched Thakur Ghar, reserved for the residence of family's presiding deity, Sri Sri Krishnaroy Jiu. He also built a Shiv temple and started a dispensary for locals. The dispensary established opposite his mansion on 30th January, 1915, is still functional.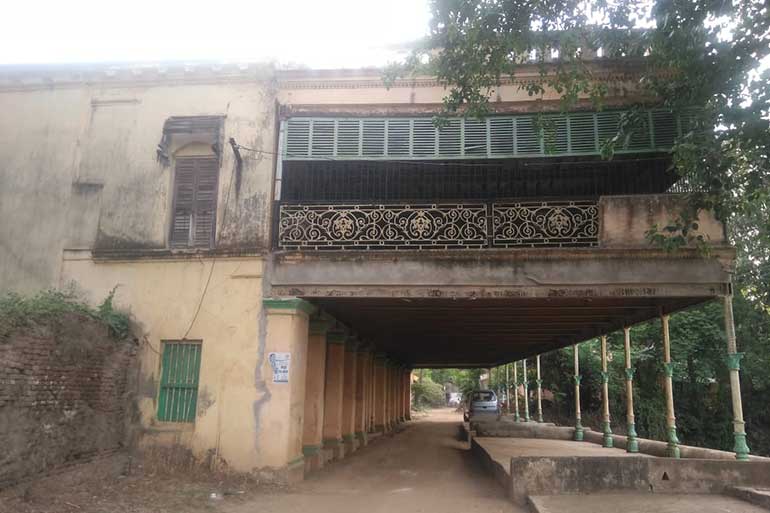 The Roy mansion has a bungalow on the banks of a water body named Sri Sri Krishna Roy Jheel. A plaque at the entrance mentions Beepin Kristo Roy built the bungalow and gifted it to the Magistrate Collector of Hooghly district, F.B. Bradley-Birt in 1915. There is an Aatchala (eight-spired) temple built by the Bandopadhyay family in 1746 and dedicated to Bishalakshi Mata, the village deity. The family also built a Jor Bangla temple. This temple too, is adorned with exquisite terracotta work.
Dasghara High School was established by Mangobinda Biswas around 160 years ago. One of the oldest schools in West Bengal, it was funded by the Biswas family till the time the state government stepped in and decided to take it over.
What to see around:
Trip to the Tarakeswar Temple
How to reach:
You can board the Tarakeswar local from Howrah Railway Station. Connecting buses are available from Tarakeswar station to Dasghara. Dasghara is located at a distance of 70 km from Kolkata. So, you can also drive along National Highway 6 and then turn left to locate the Dhaniakhali Connector to reach Dasghara.
Inage – Arindam Gayen
Story Tag:
Dasghara, Terracotta Temples of Bengal