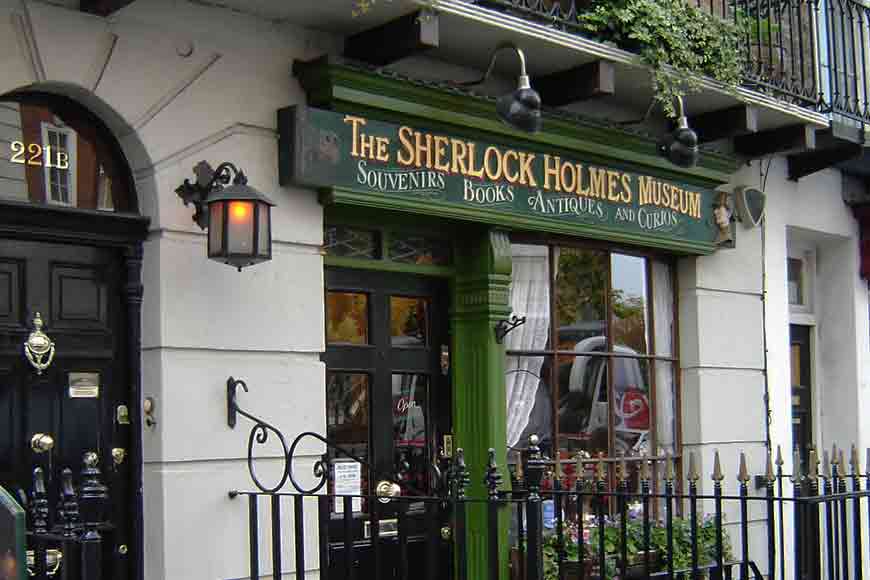 "Life is infinitely stranger than anything which the mind of man can invent ---" That's what our very favourite detective Sherlock Holmes had once said. Arthur Conan Doyle's Sherlock Holmes, a self - proclaimed 'consulting detective' was a man of many forte. He has indeed enraptured our heart and souls through and through with all his stupendous expeditions and incredible adventures. Who can ever forget our childhood fictional heart-throb! Even as adults we often find solace in cosying up with a warm cup of coffee and one of his stories on a lazy Saturday evening after a long and frenetic week. So, where did his life and his work unfold? Well, none other than on 221B Baker Street, where I had the opportunity to stand and seep in the excitement and adventure of Sherlock Holmes!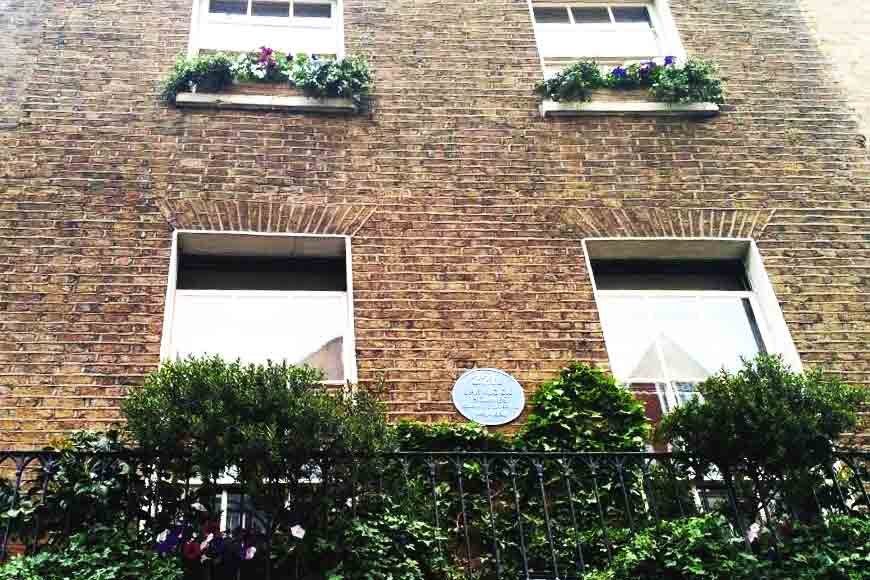 The beautiful brick wall
Baker Street, named after William Baker is located in Marylebone district of the City of Westminster, London. This area is considered as the centre of England's punk movement. Its name conjures images of Victorian England. To be honest, I am a travel buff and my insatiable love for quintessential literature has made me a fervent reader over the years. So, where better to begin than the Bard's own country, England? Most people only dream of it; I, in fact, have spent a day walking the modern streets of London, retracing the steps of prolific thinkers like Shakespeare and Austen. That in itself was an enthralling experience altogether. After a complete tour of the most fancied attractions of London, we headed towards Baker Street. It is a block's length away from the world-famous Madame Tussauds' Museum. Right at the entrance of the London Underground, which connects Baker Street to the rest of the city, stands a ginormous statue of Sherlock smoking a pipe, facing the entrance to the Street.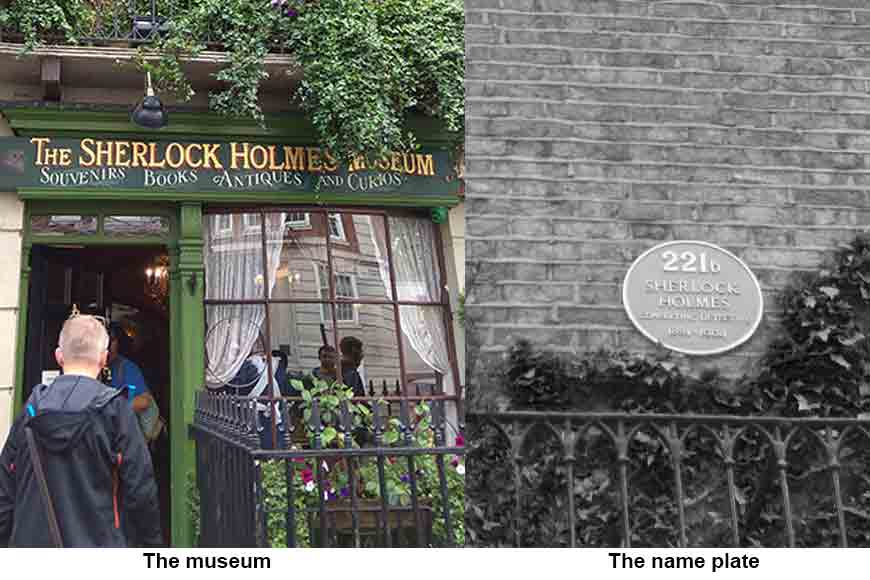 Millions of tourists, flock to London each year to enjoy the capital's rich history and culture. Part of the attraction are eye-catching buildings. The architecture and symmetry of the city reminded me a lot about Park Street which is most commonly referred to as downtown Kolkata. Every street is interconnected with each other to create a proper network of lanes and alleyways. We headed straight for Baker Street after our visit to the Madame Tussauds' Museum. 221B is located right at the end of the street to the south of Regent's Park. It is at a five minutes walking distance from the museum. The address is located between 237 and 241 Baker Street and was assigned in the year 1990 after replacing the logical address 239 Baker Street.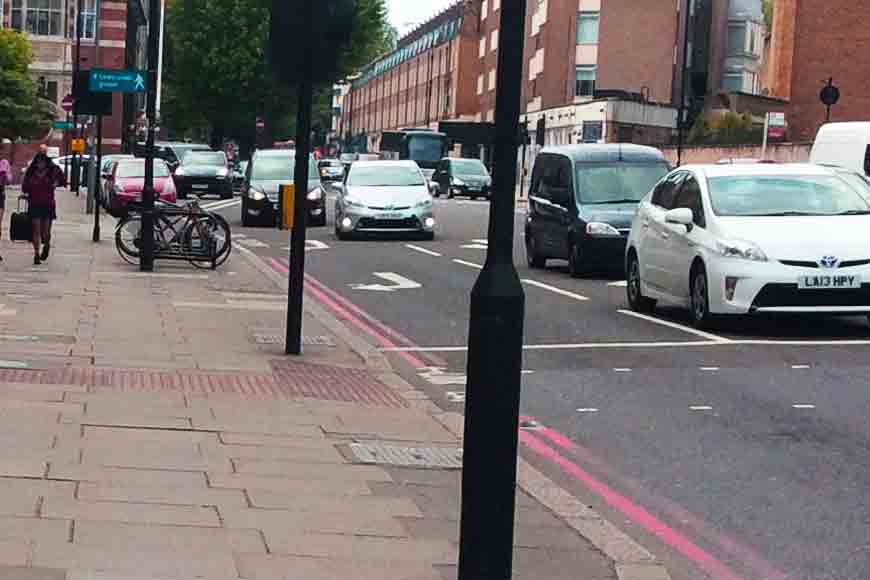 The road adjacent to Baker Street
his address currently houses a museum in the memory of the famous detective. For an ardent fan like me, it was an indelible moment. There I was standing in front of the door that read the address 221B, a number that spoke a million emotions. Honestly, it felt like being in a trance. There was a huge queue at the entrance. Everyone was waiting to go inside and get a glimpse of the artworks. The museum showcases wax figures and Holmes' memorabilia including the prominent study, overlooking Baker Street. Exactly 17 steps lead the way to the first floor study from the ground floor hallway. For all those keen fans out there, that is not the end of it! A pair of hats are always present at the entrance of the museum. Those who wish to pose as Holmes and Doctor Watson and get themselves clicked for their Instagram page can happily do so! The idea was so enticing that it ultimately drove me to do the same.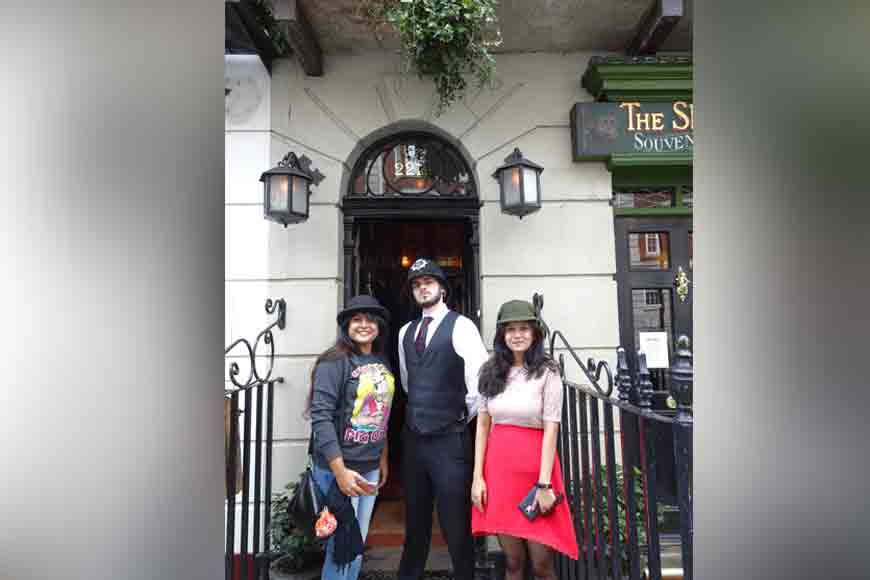 Posing in Holmes and Watson hats
London has got an inexplicable charm about itself. It has got something for every individual: from history to culture, art to architecture. As for me, the highlight of my stay in London was Baker Street. The very perception of visiting Baker Street had kept on intriguing me for an entire period of two months, right after my visa had been issued. From the iconic Tower Bridge to Her Royal Majesty's official residence, the Buckingham Palace, I had left no stone unturned. However, I unequivocally wouldn't have left London without having visited the famous fictional detective's corner! Now that I have, I can finally tick that off my bucket list. I finally met Sherlock Holmes!