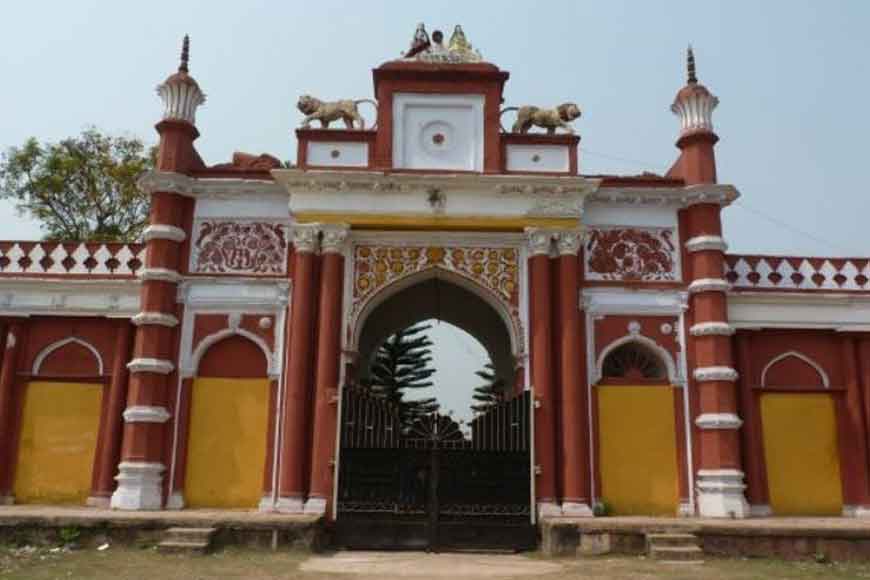 Bengal for a long time had been free from Mughal rule, thanks to its geo-political location and also some extremely valiant local kings who resisted any Mughal march.But it was not for long. Mughal emperor Jahangir sent his trusted general Raja Mansingh to subdue Pratapaditya, the indomitable ruler of Jessore. Bhabananda Majumdar, who belonged to an aristocratic Brahmin family of Krishna Nagar, assisted the Mughal army to wedge a fierce battle against Pratapaditya. The Maharajah of Jessore was defeated in the battle and with his defeat, the Mughals finally established their supremacy in Bengal. In lieu of his dedicated services, Jahangir rewarded Bhabananda lavishly and granted him the farman (revenue rights) of 14 Parganas including Nadia, Sultanpur, Maroopadah, Mahatpur, Lepa and Kashimpur in 1606.
That's how the district of Nadia came up. For next 36generations, Bhabananda's family ruled Nadia. The Nadia Raj family is one the oldest and most respected Hindu families of Bengal. Since the establishment of British rule in Bengal, each successor of the dynasty was honoured with the title of Maharaja Bahadur. It is believed the Raj paribaar derives its descent from Bhattanarayan, the foremost of the five Brahmans whom Adisur had imported from Kanauj. Bhattanarayan was the son of Kshitij, a small ruler of Kanauj. His son was Nipu and one of the famous descendants of this family was Kamdev who had four sons. The eldest, Biswanath, was a wise man with an adventurous spirit. He set out for Delhi to meet the Mughal emperor. The year was 1400AD. The journey was a long and arduous, but he succeeded in his mission and reached Delhi. He met the Emperor and impressed the big-wigs of the Mughal Durbar with his profound knowledge and was honoured with the title of 'Raja.'
After Biswanath, the next noteworthy ruler of the dynasty was Kashinath who was a contemporary of Akbar. He was a resourceful man and a brave warrior who was assassinated by assailants. His wife was pregnant at that time and she escaped and took shelter in the house of the landlord (Zamindar) of Bagowan Pargana, Harekrishna Samaddar. She gave birth to a son in his house. He was named Ramchandra. Samaddar had no child of his own so at the time of his death, he adopted Ramchandra and passed on his Zamindari rights to him.
Ramchandra continued Samaddar's line. He was married and had four sons, Durgadas, Jagadish, Hariballav and Subuddhi. One of the four sons of Ram Samaddar was Durgadas who became famous later as Maharaja Bhabananda Majumdar. He was instrumental in defeating the last independent ruler of Bengal, Pratapaditya, by providing logistic help to Jahangir's general and guiding him to the secret entrance that led to Pratapaditya's palace. He was aptly rewarded by the emperor in 1606. Two years later, in 1608, he won the trust of Ismail Khan, the then-Nawab of Bengal, who appointed Bhabananda as 'Kanoonguin.'
Bhabananda established the capital of Nadia in a place called Matiyari, close to Krishnagunj police station. Later, another descendant of the Nidiaraj family, Rudra Roy, shifted the capital to a more centrally located place called Reui, that lay between Nabadwip and Shantipur. He was a devotee of Lord Krishna and renamed the place, Krishna Nagar.
During the reign of Raja Krishnachandra, Nadia developed in leaps and bounds. He established many temples. The Krishnanagar Palace's Durbar Hall, also known as Vishnu Mahal and intricately fan-carved Nat Mandir were constructed during his rule. Lord Clive had honoured him with the coveted title of 'Rajendra Bahadur.' He introduced worship of Goddess Raj-Rajeshwari, who is depicted as a war goddess. His expansion of and patronage of the arts in his kingdom is praiseworthy.