Did you know Pather Pachali's Sarbajaya was a revolutionary communist in real life?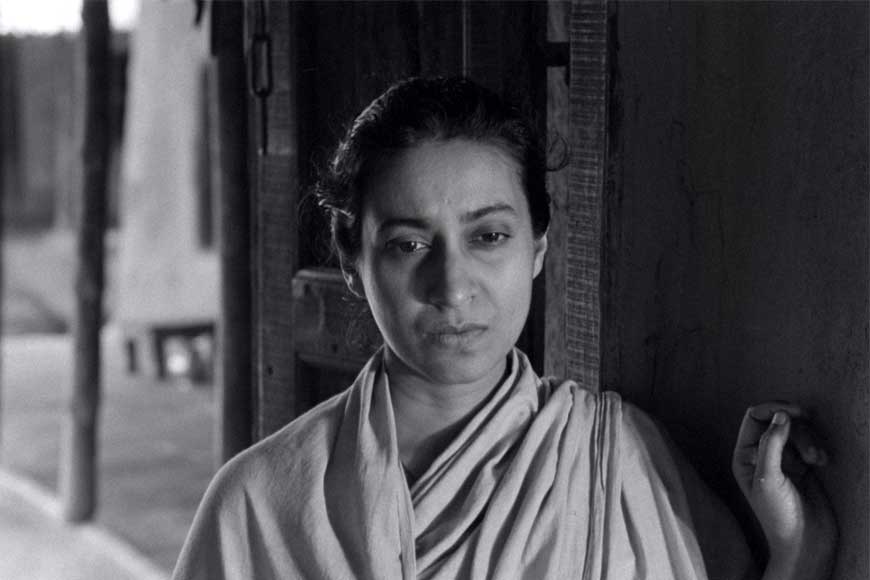 Some movies are immortalized, through story telling and some by real life actors, who portray the characters with so much of passion and intensity, that they remain sketched down generations. One such role is that of Pather Panchali's Sarbajaya. It is said author Bibhutibhushan Bandopadhyay had added the character of Durga much later and Apu is anyway the protagonist of the book. But Satyajit Ray through his directorial skills brought out the character of Durga and Apu's mother Sarbajaya as the most authentic rural Bengali mother, a character that had many shades and was aptly portrayed by Karuna Bandopadhyay? Where did Ray find Karuna, for whom Pather Panchali was the first movie!
Karuna was Ray's colleague and childhood friend Subrata Bandopadhyay's wife. When Ray proposed she play the role, Karuna Bandopadhyay had outright said no. It needed a lot of persuasion from her husband and in-laws and finally she agreed. Probably that's why the audience got one of the most authentic Sarbajaya on screen. Later, Ray also cast her in Aparajito and Kanchenjungha.
However, Karuna Bandopadhyay had previously acted on stage during the communist movement in Bengal, but had no experience on celluloid. A sizeable portion of her childhood was spent in a hilly town of Madhya Pradesh known as Baikunthapur. She first came across the story of Pather Panchali through a newspaper that used to carry the story in a series. Home tutored by her two elder brothers and mother, Karuna was a keen reader and wrote poetry in her teenage years. Later, she passed her Matriculation and got admission in Jogomaya Devi College. Karuna's family was not very well off, still she continued with her studies and did her MA. Though her brothers and parents participated in the movement led by Congress and Gandhiji, it was after her MA that Karuna was influenced by the Leftist ideology. This ideology was further honed up as she married Subrata Bandopadhyay who was a communist. There was a lot of problems she faced during her marriage as both families did not approve of the marriage. In fact, Karuna and Subrata were classmates and their subject was English.
Karuna Bandopadhyay during the last few years of pre-independent India and in free India, led a big communist movement through creative forms. She was often part of the Gana-Natya Mancha and performed stage and street plays against the oppression of the masses. Plays like Nabanna had deeply influenced her. The debt-ridden and poverty stricken Sarbajaya was almost an activist in real life! She even lived in a commune in Bombay and was deeply influenced by Kaifi Azmi!