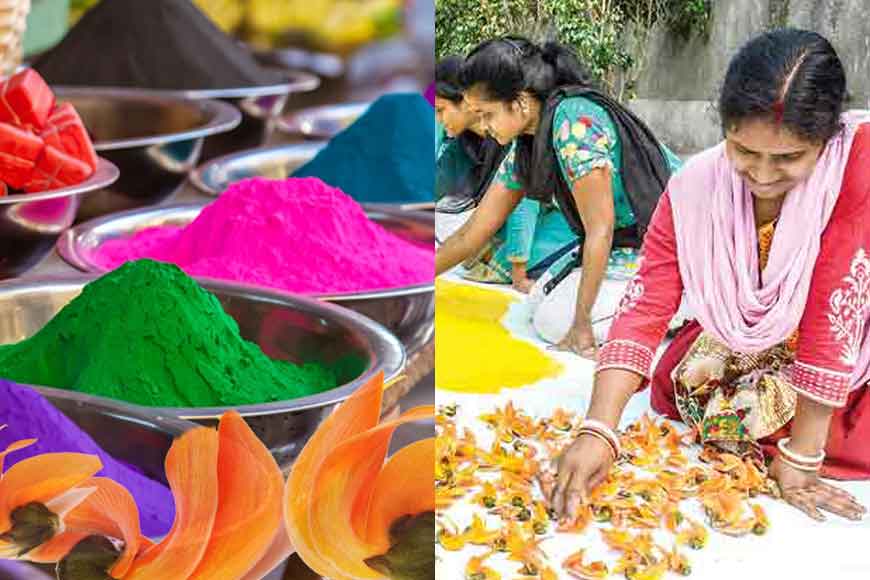 Dol- the Festival of Colours, popularly known as Basanta Utsav, is just a few days away. A group of specially-abled young boys and girls from Uluberia are truly making a difference in the festival of hues in their own way by making a fragrant herbal colour or abir from flowers such as aparajita, rose, palash andmarigold. They belong to Uluberia Ashabhaban Centre which primarily works with differently-abled individuals. The residents of this organization are working relentlessly to package these herbal colours to spread their joy among us all.
Purnima Dhali, Supriy aDolui, Farukh Ali, Montu Mondal are spending their time in separating the petals out of flowers and extracting colours out of them. While some are busy drying the petals in the sun, some are adding fragrances to the colours. Tapan Shau is in-charge of this colour making programme. The abir made here is absolutely pure and devoid of any side effects as they are made of fresh flowers. The production cost is more but it can be assured that these will cause no harm to your skin.
The process of making these colours has a definite technique. 750 grams of talcum powder, 250 grams of ararot and 500 grams of grinded paste of petals are added to make these colours. A packet of 100 grams marigold flower abir costs around Rs 40, while 500 grams cost around Rs 175 and 1 kg costs around Rs 300. When it comes to Palash and Aparajita flowers, 100 grams would cost Rs 50, 500 grams cost Rs 225 and 1 kg costs around Rs 400. The colours from rose costs Rs 60 for 100 grams, Rs 275 for 500 grams and Rs 500 for 1 kg. Abir is also being extracted from Latkan fruits.
The Center had a training workshop of 30 days organized by Jadavpur University for the preparation of Herbal Abir by the initiative of the Uluberia-1 Block. This workshop gave necessary training to the youths. It is believed that the state government will now help in marketing of this abir.
One would recall that around 19-20 years ago, Professor Siddharth Datta, Pro-Vice-Chancellor of Jadavpur University, had started production of Herbal Abir by extracting various colors from flowers as course of his research work. With the help of professor Dutta, the first herbal Abir project, named 'Kusumika', started in an NGO called Ananda Niketan. But the project had to be nipped in the bud because of the unavailability of flowers. Since herbal abir is highly in demand these days, it is expected that the innovative endeavour by Asha Bhavan Centre and the specially abled youths will turn out to be successful.