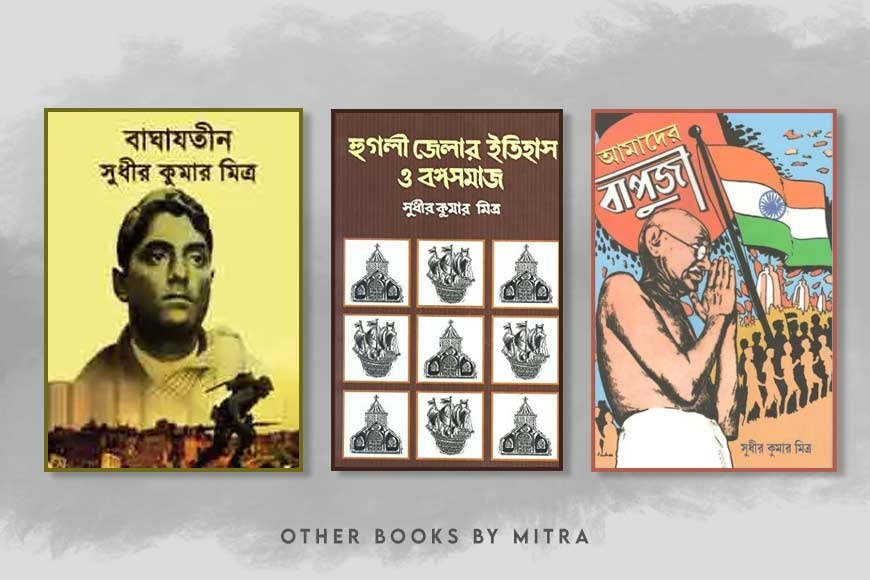 He was a writer, historian, and social activist of the early 1900s. Unfortunately, the youth of today have no idea about who Sudhir Kumar Mitra was and how he is relevant in modern times when communalism raises its ugly head at every corner. Sudhir Kumar Mitra was born in Jonai Boksha village in the Hooghly district on 5th January 1909. His father was Ashutosh Mitra and his mother was Radharanidevi. He was a single child, presumably, he was raised with lots of love and care. He was drawn toward his father's ideals. His contributions to society evidently express that the atmosphere in the household was liberal. He had enough space to sharpen his thoughts. He was a multitalented person ---- his contributions towards economic reforms, the formation of social groups, political practice, and his interest in literature, all point towards his vivid self. He was inspired by two great personalities ---- Sir Gurudas Bandopadhyay and the life of Girish Chandra Ghosh. Sudhir Kumar admired Gurudas's devotion to the nation. In his free time, he often read Gurudas's stories to his children.
He lived close to Atulya Ghosh's residence, who was a leader of the National Congress, in Jejur village. Later due to his work he had to shift to Kalighat. In Kalighat, his residence was within a three-minute walking distance from Kali Temple. Sudhir Kumar use to travel from one village to another, taking notes on the then situation and in what state the farmers and others in the rural communities lived. His notes are a potpourri of several rural tales and give us a live picture of everything he saw and noted and what happened around in those days. His documentation is indeed a treasure trove for sociology students even today.
Sudhir Kumar Mitra was an employee in the merchant office, he decided to educate the people of his district about the district. Between the Bengali years of 1350 to 1354, he devoted his cause to the knowing of Hooghly district, a place where he was born and brought up. His curious mind always hunted for information and he didn't mind getting into the depths of every piece of information. Without holidays he could not travel, so he used to travel on Saturdays and Sundays. Exhaustively he travelled to over 800 villages in just five years. His devotion requires no explanation because only he understood that village temples are not mere places of worship, they have a rich history and a socio-economic graph of their own, which need to be studied in detail and understood in reality. Thus, his views and the way he perceived society and history were different from the thinkers of his time.
Surprisingly, Sudhir Kumar was not a trained historian, but he understood history passionately by observing historical developments and sketches in fields of economy, society, polity, and culture. In 1929, a committee was set up at the Jejure Congress of Hooghly. Sudhir Kumar was elected as its first president. He never carried any words of hatred against an Englishman or English merchant officer, but he made it a point to lead students' movements and anti-racial movements wherever possible. It is well understood that he was carrying a political ideology, in his political activities he also got involved in importing illegal arms. He was arrested but released due to a lack of evidence. Later, he walked away from the armed revolution to the peaceful way of bringing freedom to the country by following Mahatma Gandhi. He had a religious faith but it was never blind.
We are in the 115-year celebration of Sudhir Kumar's birth anniversary this year. He has been and will remain a person to be followed and emulated. Sudhir Kumar's anti-communal agenda is an example of modern times, especially his activities against communal flare-ups at the Gondolpara Jute Mill on 20th October 1947. Mitra was one of the pioneers who wanted to get Hindi accepted as the national language of the country. He had differences from Prafulla Kumar Sarkar in this regard. He wrote articles to form public opinion in favour of reading and education. His contribution to setting up Deshbandhu College on Rashbehari Avenue and different other schools are examples to be remembered. His magnum opus history of Hooghly district and other articles on Bengali icons and revolutionaries will remain pillars of Bengali academic expertise. His book "Society, Religion, and Culture of Bengal" is still a masterpiece in understanding the diverse tapestry of Bengal.