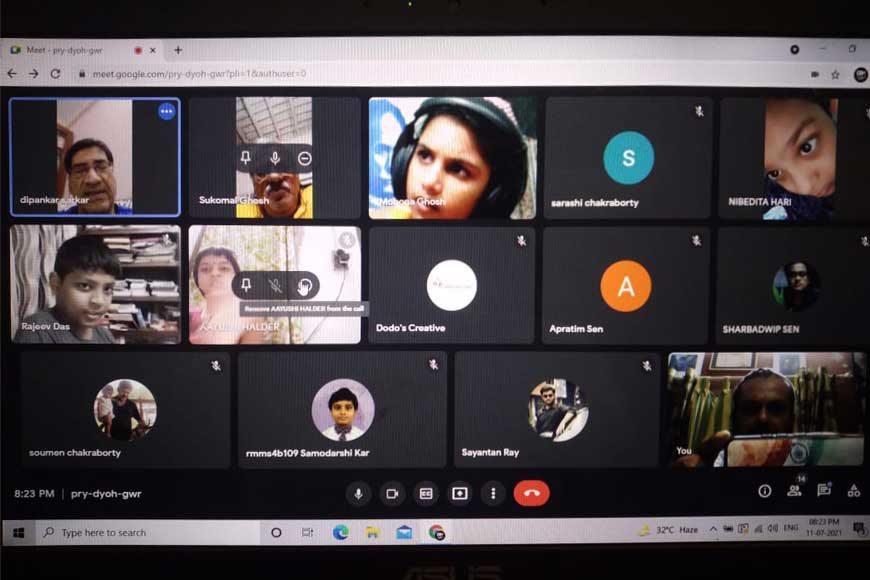 "We nurture our creativity when we release our inner child. Let it run and roam free. It will take you on a brighter journey." ― Serina Hartwell
CDodo Biswas had an identical feeling and realized the need to liberate children from the dreary shackles of daily existence and let them explore and discover their inner strengths and potential. Being a thespian himself, he knows how to read the pulse of the people, and decided to formulate interesting, innovative ideas that would attract children to shed their inhibitions and join in the interactive world of performance and creativity. The result was the unique concept of 'Dodo-r Dushtumir Class' (Dodo's class of naughtiness).
Speaking to GB, Dodo says: "Parenting amid this pandemic is itself a challenging task, and being a father of a 12-year-old, observing the growing feeling of despondency in children is heart-breaking. I decided to do something for the mental well-being of not only my son but for children who are leading a strange life amid these trying times." So, what did he do?
Not a typical didactic class. Rather he brought in people from different walks of life who have made a mark in their sphere of work. They interact with participants, teach them myriad art and craft, through stories and discussions, awakening the infinite possibilities that an exploration of the cerebral world presents. "The world as we witness now, is going through a transitional phase and due to the fast-paced socio-economic changes in the global order, there is a dire lack of role models in the contemporary world. Our mentors join the weekly sessions and guide children to seek a better world," adds Biswas.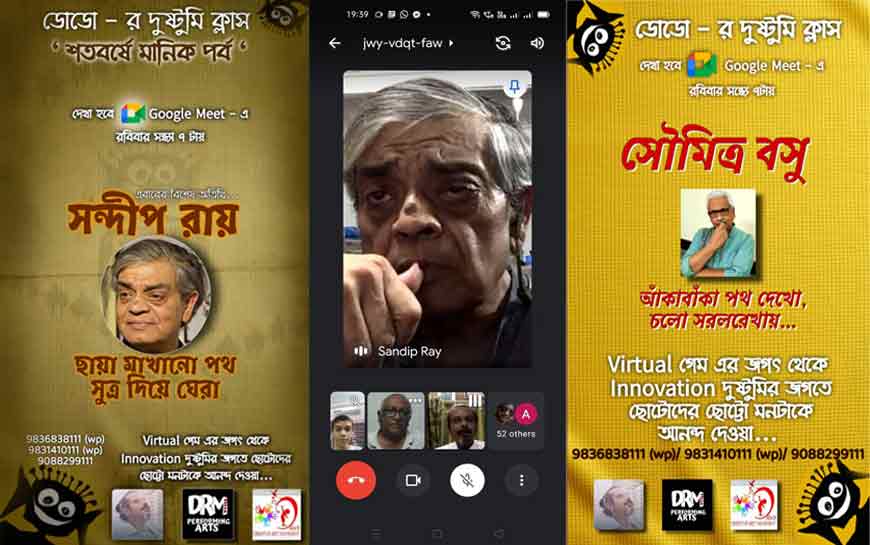 Well known ex-teacher of Mathematics of Patha Bhavan, Dipankar Sarkar, along with Sukomal Bhattacharya (Manku-Da), also a teacher of Patha Bhavan, are all part of this innovative concept and have extended their helping hand, interacting with children in different sessions. Recently, Biswas planned a two-part special programme to celebrate Satyajit Ray's birth centenary with the children. He roped in senior journalist Debasish Mukhopadhyay along with Ray's son, Sandip Ray who helped children discover the unknown facets of the multi-talented icon of Bengal through stories and anecdotes related by the mentors.

The weekly class, hosted by Dodo himself with well-known mentors coming once a week, has already created quite a stir among both children and their parents. Parents are curious about the concept and more and more children are keen to join the hour-long Sunday evening session (held between 7 pm and 8 pm) and be a part of the 'naughty brigade.' Dodo is now the contemporary version of the proverbial 'Pied Piper of Hamlyn,' who mesmerizes his audience and makes them dance to his tune. Registration for the class is free of cost and any kid can join in the merrymaking and make new friends, participate in myriad fun activities including recitation, storytelling, acting in short skits, craft work and interacting with dignitaries from various walks of life. Parents of children who have already joined the class are very enthusiastic and Dodo is often flooded with requests from parents who request him to continue the classes even after the lockdown is lifted and things return to normal. They too, have realized how well Dodo helps the participants explore their inner strengths and cajoles them to display their talents on the virtual platform.
Many parents find their children have given up virtual games and smartphones to attend the classes and prepare for the weekly task assigned to them, anything from reciting a poem or writing a funny article or acting in a short play. Dr Subho Joardar is a renowned puppeteer and the founder of the puppetry group, Bangopootool Puppet Passion. He has been honoured as the best script writer by the state Academy of Dance, Drama, Music and Visual Arts, Kolkata. He was invited to join the virtual class and he taught the participants how to make simple puppets and present skits with the dolls. Eminent theatre critic Ranjan Gangopadhyay was also present with his vast repertoire of stories to regale his young audience. Dodo plans to bring them again and interact with children. Meanwhile, he has slotted a segment for pediatrician Dr Arunalok Bhattacharya, who is present in every programme to sensitize kids about the ongoing pandemic and other health issues concerning children. Practicing clinical psychologist, Shravani Sen, will interact with children and try to probe the kind of stumbling blocks and confusion/dilemma and fear the kids are encountering and find a solution to their problems. Dodo has plans to invite renowned theatre personality Soumitra Bose and rope in Sudeshna Moitra to host 'Galpo Dida-r Ashor'.
Anyone interested to join 'Dodo-r Dushtumir Class' can call at this number:
+919836838111
The class starts at 7 pm every Sunday and the link (ID) for joining the Google meet is shared on the same day by 11 am. Here's a call to creative mischief mongers, just get ready and do the needful, baby!