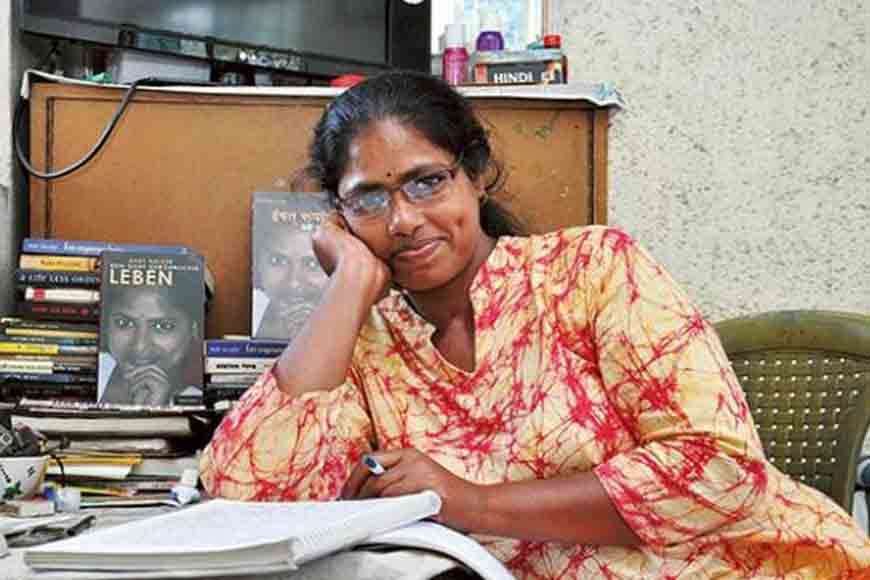 She is 43-years-old and a single mother of three children. She works as a domestic help and has already penned three books which have been translated into 24 languages. She is a regular speaker at diverse literary festivals held across the country. She is Baby Haldar, a gutsy woman who zealously fought against all odds and emerged a winner.
Baby's struggles began in her childhood when her mother deserted the family and left little Baby and her siblings with an abusive father. Her father re-married and by the time Baby was 12, she was pulled out of school and married to a man, 14 years her senior. The man ill-treated her and by the time she was 13, she became a mother. She had three children with her husband, before deciding to run away from his constant abuse. One day she took her children and boarded a Delhi-bound train without knowing her destination. Once she landed on the platform at Delhi, she realized life would be tough. She took ill-paid jobs as a domestic maid, sometimes spending the near-freezing winter nights with her children on the streets. But nothing could daunt her spirit.
Professor Prabodh Kumar, a retired professor of anthropology and the grandson of renowned author, Munshi Premchand, needed a maid to take care of his house. His milkman brought Baby with him one day and introduced her. Kumar hired her. Baby was then 29 years old with three small children to fend. She was very hard working and diligent. What fascinated her, were the books at her employer's home. Kumar also noticed her love for books and allowed her to take out books from the shelves if she wished to read. Baby still remembers the first book she chose was Taslima Nasreen's autobiography, Aamar Meyebela. A voracious reader, she completed books in quick succession. She gorged on Ashapurna Devi, Mahashweta Devi, Buddhadeb Guha, Samaresh Bose, Sunil Gangopadhyay – anything she could lay her hands on.
Noticing her passion for books, Kumar got an exercise book and pen for her one day and asked her to write about her life so far. Baby was caught on the wrong foot now! She did not know what to write. But she was undeterred by any challenge thrown at her. Initially, penning every word and phrasing every sentence was tough and often a frustrating exercise for her. After all, she had picked up a pen to write after almost 20 years! However, within a few days she got the hang of it and then she spent all her spare time writing furtively. The flood-gates of her memories had opened suddenly and everything came to her like flash floods.
Prof Kumar was stunned ather writings and sought help from his friends, Ashok Seksariya and Ramesh Goswami with whom he shared a common interest in literature. Both were enthused by Baby's manuscript, hailing it as another Diary of Anne Frank. They persuaded Kumar totranslate it into Hindi. Aalo Aandhari was ready. There was, yet another surprise in store: Aalo Aandhari began selling from the first day of its launch and was a total sold out within a short time.
Film director Prakash Jha was keen to get the film rights of the book. It was translated in English in 2006 and titled: A Life Less Ordinary: A Memoir. The English translation was both critically acclaimed and sold millions of copies. Baby has written two more autobiographical books since then which have been very well received.
All the fame, money and adulation has not changed Baby. She still works as a domestic help for Prabodh Kumar because she has come to look up to him as a father figure and doesn't want to leave him alone in his old age. She even prefers to call herself a domestic help instead of a writer.