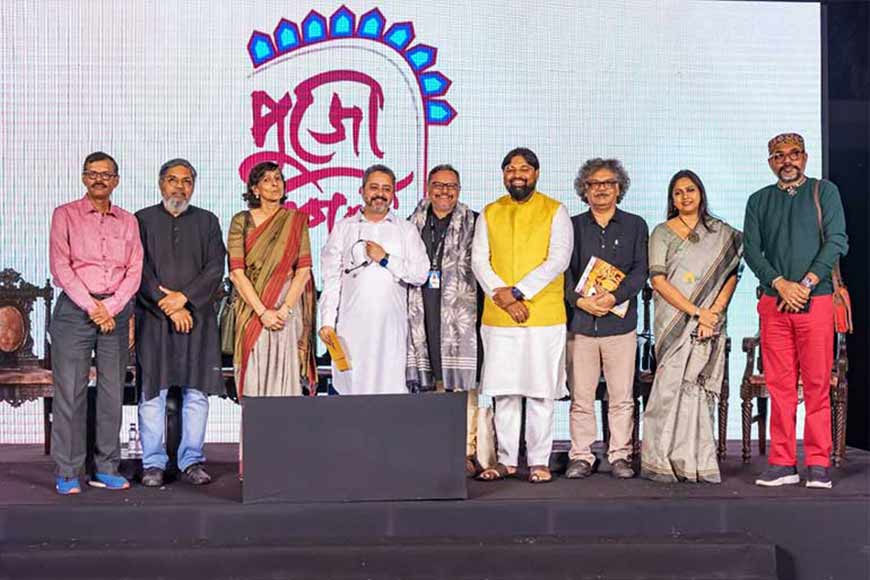 Every year, Durga Puja, West Bengal's largest and most important festival, arrives with dazzling displays of art and artistry. As the recent UNESCO tag for Intangible Cultural Heritage has shown, Durga Puja is not merely a religious festival, but a cultural phenomenon.
Still, the ten days or so of Durga Puja that are visible to the public form merely the tip of the iceberg. Behind the scenes, some people dedicate the entire year to preparing for the next edition of the festival, thus keeping its reputation as the world's largest public art show intact.
It is that aspect of 'Pujo Shilpo' or Puja art that Maya Art Space seeks to highlight and document at an annual event which was held online in 2020 thanks to the pandemic, but which has returned to all its offline glory in 2021 and 22. And the added edge at the event this year was the UNESCO tag.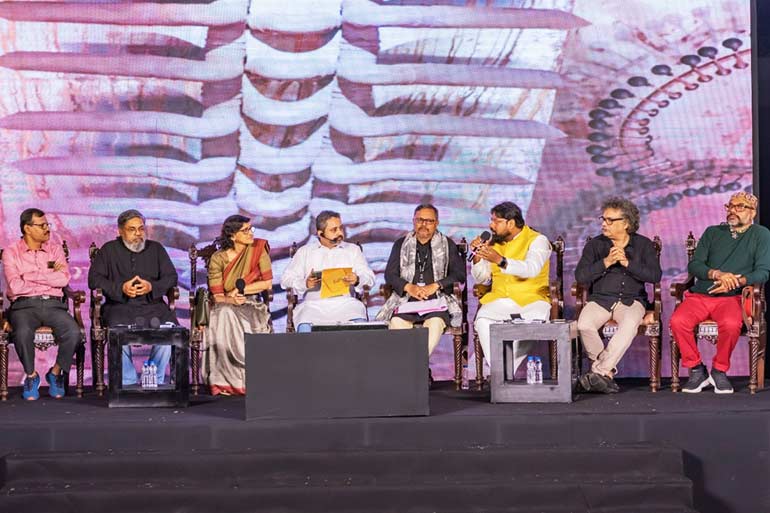 Thus, Pujo Shilpo 2022 travelled out of the confines of four walls and went into open-air mode at Mohor Kunja. Among those present at the discussion was historian and art history expert Tapati Guha Thakurta, British Council (East and Northeast India) director Debanjan Chakrabarti, Government College of Art and Craft principal Chhatrapati Dutta, artists Bimal Kundu and Susanta Pal, Puja organiser Saswata Basu, and festival organiser and consultant Dhrubajyoti Basu. Veteran journalist Riju Basu anchored the discussion, which was organised on behalf of Maya Art by Madhuchhanda Sen.
From his intimate knowledge of exactly what kind of art goes into Durga Puja, Chhatrapati Dutta, and he began the discussion with his view of the role of art in Durga Puja, and its potential as a career option for artists. "There is Durga Puja art and there is Durga Puja industry, but both are art in the broader sense, and equally important. Which is what binds the Art College to both.

"As students in the early 1980s, we witnessed the beginning of the art movement in Durga Puja. We no longer only went to see the idols. We also began to see an ambience, a space. West Bengal has numerous art colleges, but unfortunately, Puja art is still Kolkata-centric. A lot of the 'industrialisation' of this art is happening thanks to Art College students, and there are many artists who use Durga Puja to display a lot of the work they want to do, but can't due to either a shortage of money, or space. Though I would still want to see fine arts get this kind of space in the future."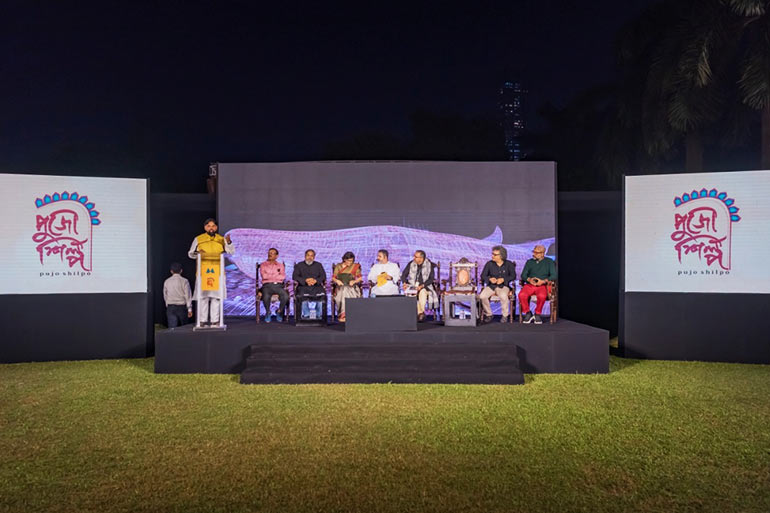 Yet another question that comes up often is, does all this art, all the creativity, end with the immersion? Does it not need to be conserved as living history? What about promoting Durga Puja as an academic theme for research?
Tapati Guha Thakurta said, "I asked myself these questions when I began my research. For many years, I had enjoyed Durga Puja merely as a spectator. Over the last two decades, I have become involved with Puja in my new role. I wanted to reacquaint myself with the city through Durga Puja. As an art historian, the artistic side of Puja always attracted me, but I never fully understood the true nature of Puja Art. Since 2002-03, I have realised that a new trend has emerged in Durga Puja, and I would call the creation of this kind of artistic space an art revolution. Durga Puja has become a livelihood in itself, and the way art and industry have merged, and new and veteran artists have come together to work for it, formed some of my primary research topics. And yes, the scope for academic research is growing too."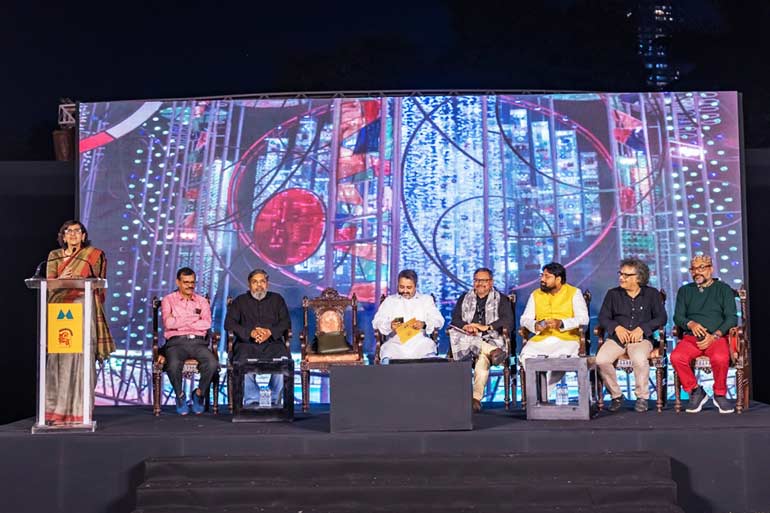 But despite everything, has Durga Puja really reached a global stage? How many people visit West Bengal simply to witness Durga Puja? Can it be used to improve the state's economic infrastructure? How can all the pujas in West Bengal be documented under one umbrella? These were questions answered by Debanjan Chakrabarti, Saswata Basu, and Dhrubajyoti Basu.
That apart, Bimal Kundu and Susanta Pal spoke about various artists and their Durga Puja art. The discussion truly focused new interest on this art and its possibilities.