Bengalis are foodie by heart and maybe due to this fact we are called "Bhojon Roshik Bangali." Every Bengali home has a different style of cooking, which a child grows up eating.On this note, I must say sweets have always had a special place on our food list in any season. Most of our sweets were usually made by our Grandma and Ma in earlier days when the store-bought sweets were not much in rage. I too had grown up enjoying homemade sweets made by my grandma(thamma) and Maa for many many years and perhaps they are still the best for me.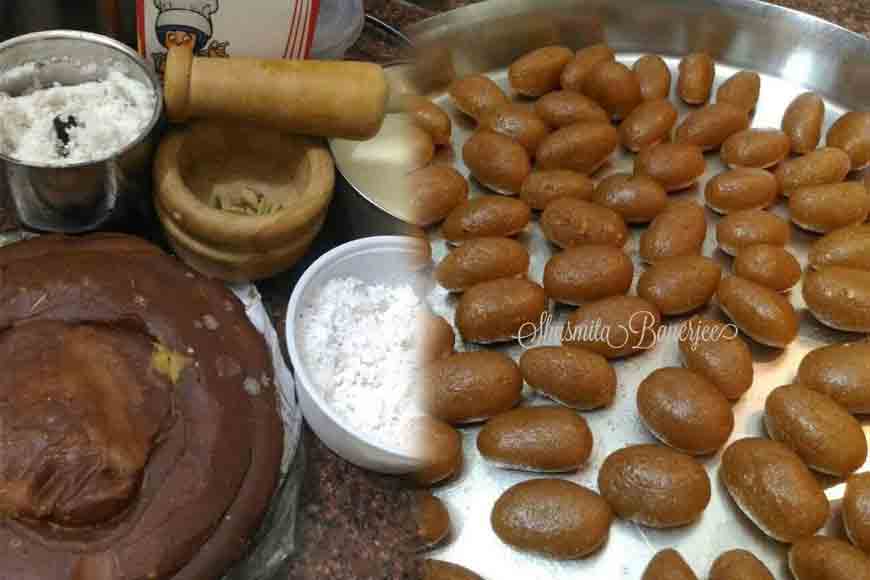 As my thamma was from Jessore, my mom from Chittagong and my father from Khulna, East Bengal cuisines were always dominant in our food habits and getting married into a Barishal family added more flavours to my culinary kitty. Be it any occasion or festival or homecoming of a dear family member after long time, a lot of preparation used to go on way ahead the actual date.
Nolen Gur or Date Palm Jaggery always is a big weakness for any Bengali. Winter delicacies can never be complete without using the Nolen Gur and then storing them for the summer months to enjoy the flavour was something I learnt from my Maa. After my marriage into a Barishal family the homemade sweet that caught my fancy and stole my heart was Rosho Puli. My Dida Shashuri who was from Dhaka-Bikrampur was a very good cook too. It was here that I first tasted this heavenly delicacy in my in laws-house.It's a fast loosing traditional delicacy in today's fast food world as it takes a lot of time and patience to make this but the end result is so good that it's worth spending the time preparing for near and dear ones.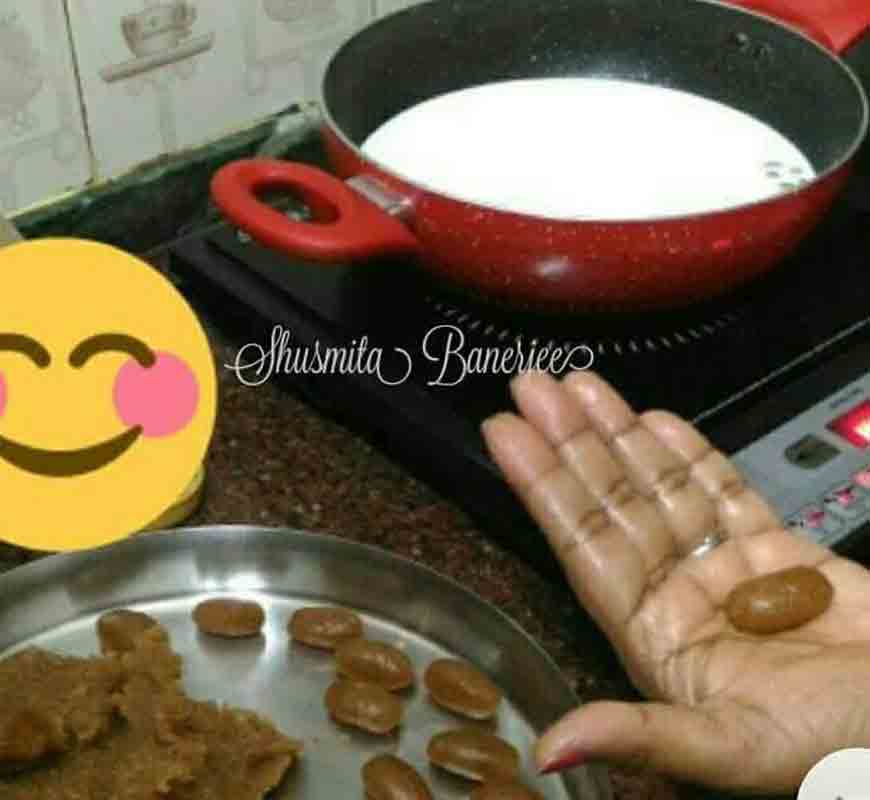 Although I have seen it being made with sugar in my in laws home most of the time, but my weakness for Nolen Gur made me make it with Gur in later years, although the process is same in both cases. I had heard from my grandmother in law about the heavenly gooey finger licking Gur version of Rosho Puli. The Gur elevates the dish to a different level altogether. As Barishal is a place with big water bodies and plenty of coconut trees, coconut found its way in most dishes. Rosho Puli is also made using grated coconut, semolina, little maida, green cardamom, milk and sugar or Gur as per season and taste but both are equally flavoured. Small dumplings of grated coconut, Gur, semolina and maida are added to milk which is already thickened and given a boil for few minutes and then it's kept aside for couple of hours and then enjoyed!