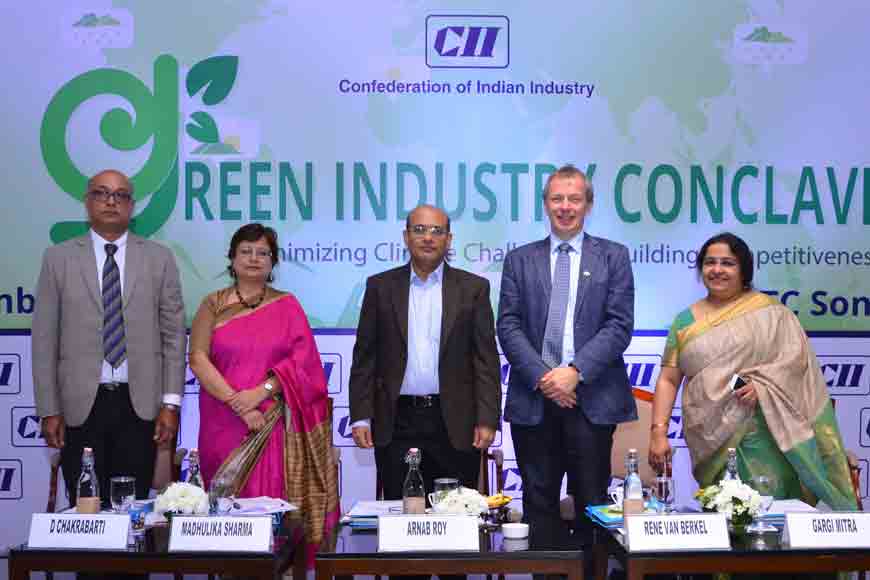 As part of its 'commitment to promoting' more resource efficient and cleaner production, the Bengal Government is keen to advance green industry including possibility of setting up eco industrial parks in the state. "We will soon initiate discussions with UNIDO and CII as to how we can develop such parks in the state. Next week, we will meet representatives of UNIDO and experts of CII-Green Business Centre," said Arnab Roy, Principal Secretary to the Department of Environment at the Green Industry Conclave organized by CII.
The State Government has set a target of generating about 3000 MW through alternative sources of energy, including 20 electric buses. Mr Rene Van Berkel of UNIDO, explained what an eco-industrial park is. "It is a community of manufacturing and service businesses located together on a common property," he said, adding that it is a valid approach for scaling up resource efficiency and cleaner production in industrial zones in developing countries and emerging economies. By practising known efficiency measures for water, energy, land and materials globally, some US$ 3 trillion might be saved by 2030, according to a McKinsey report.
At an eco-industrial park, members seek enhanced environmental, economic and social performance through collaboration in managing environmental and resource issues, including information, energy, water, materials and natural habitat. Japan has eco towns and several such industrial zones have come up in Europe (Kalundborg) and Australia (Kwinana). Mr Dipankar Chakrabarti, Co-Chairman, CII Eastern Region Innovation Task Force described eco-industrial park as a "humongous opportunity" for Bengal. 'Since eco industrial park is relatively a new concept, Bengal can be an early bird and thus can have an embedded advantage,' he added.
According to him, existing parks can also be adopted and converted into eco-industrial parks. 'There is a need to reinvent and redesign, particularly at a time when we are living beyond our means and things are really scary. Imagine, a city like Delhi had shut schools because of smog. Think of what we are leaving back. It's high time we did something about it.'