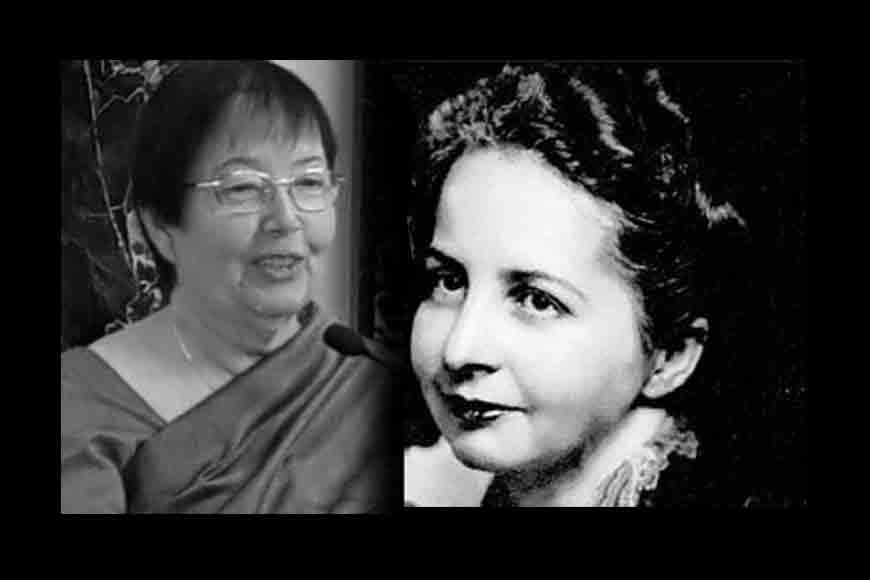 Our daughter's name is Anita Brigitte. She should actually bear the name of Amita, but the German authorities would have certainly objected to such an unusual name, so we chose the name Anita which is almost sounding like Amita. Brigitte was chosen by me because its short form in German is Gita.
Netaji's family had no idea that he had married and had a child till his brother Sarat Chandra Bose received a letter from Emilie Schenkl. And what did the letter say?
Dear Sir,
You will be surprised to get a letter from a person unknown to you. I had for a long time hesitated till I decided to write to you in a matter regarding your family as well as mine. In the following I am going to explain matters to you. I started working with your late brother, Sjt Subhas Chandra Bose in 1934, when he wrote his book The Indian Struggle as his secretary. You might perhaps have known that whenever he was in Europe, I worked with him.
Your brother has come to Europe again in 1941 and asked me if I could come and join him in Berlin to work with him. I agreed and joined him in April 1941 and we worked together till autumn 1942.Your brother asked me when I was in Berlin if I would accept his proposal to marry him. Knowing him since years as a man of good character and since there was a mutual understanding and we were very fond of each other, I agreed. The only difficulty was to get the necessary marriage permission from the German Government.
Though Austrian by birth, I had at that time been a German subject and, therefore, to obey German laws. And it was very difficult for a German to get the permission to marry a foreigner. And since we both did not want to beg for a favour and wanted also to avoid making an affair of the whole matter, we decided to settle it between ourselves and got, therefore, married according to Hindu fashion in January 1942. The whole thing was kept a secret, only two friends knowing about it.
On November 29, 1942, a daughter was born to us. I had returned to Vienna in September already, in order to avoid unnecessary talking and difficulties with the German authorities. I have kept my maiden name and nationality therefore. Our daughter's name is Anita Brigitte. She should bear the name of Amita, but the German authorities would have certainly objected to such an unusual name, so we chose the name Anita which is almost sounding like Amita. Brigitte was chosen by me because its short form in German is Gita.
Your brother had unfortunately only once seen his daughter when she was four weeks old. Shortly before he left Europe in 1943, he wanted again to come down to Vienna to see his child once more but due to his sudden departure he had to leave without seeing her again. I had been with him three weeks before he left Europe but could not bring Anita with me.
The day before he left for the East, he wrote a letter to you which he asked me to have photo-copied and sent to you in case anything should happen to him. This letter is written in Bengali and he informed you about his marriage and the birth of his daughter. Unfortunately, one cannot at present send any photos or documents to foreign countries, so the only thing I could do, was to write to you personally about the whole matter. Later on, when it is permitted again to send photos, I shall let you have a photo-copy of the above-mentioned letter as well as some pictures of the child so that at least you might have an idea how she is looking.
Allow me to explain my way of living to you so that you might be informed how the child of your brother is brought up. Anyhow, I want to emphasise that I am NOT demanding any financial help from you or your family. My object in writing this letter was to inform you about the existence of the child so that she might have a help later on, in case anything should happen to me. But I do earnestly hope that I will live and be able to earn my living till Anita is grown up and can look after herself.
I am working at present as clerk in the Trunk Office of Vienna holding the position of interpreter for English and French. I am earning about 200 Shillings (Austrian) a month. I am staying with my mother who is drawing a pension from the municipality after my late father. Therefore, we have no financial difficulties. Other difficulties re: food and clothing are only due to the all-round shortage in the world.
Anita is not yet old enough to attend school. When she is six she will have to enter primary school. Later on, I shall try my level best to give her as good an education as might be possible for me. She is quite a clever child and I hope to be able to help her so that she might later have an easy way in life. According to your brother's wish she has not been christianed (sic), because he had been hoping to take us both to India one day and then she would have been brought up as a Hindu girl. I shall perhaps have her christianed (sic) later on when she begins with school since most probably she will always stay in Europe and not having a religion might prove to be a handicap for her later on.
It might perhaps interest you to hear that Anita is absolutely resembling her father. She has got his eyes, his mouth and his nose. Only the colour of the eyes is a little lighter than her father's and her hair is brunette (you would call it blonde). Also, her complexion is lighter than her father's but one can at once see that she is not European.As far as one can speak of the character of a child of three, I must say she is a very good soul. Very soft-hearted, helpful and affectionate. But at the same time very will-strong (sic). I should say that even in character she is resembling her father completely.
She is also very pious and likes to pray, since she has been taught from the very beginning that there is a God. She has, of course, also her faults. But who in this world is without faults?
I would be thankful if you could drop me a few lines to acknowledge this letter. Could you also let me know how your family and yourself are getting on? Is your respected mother still alive? If you think you can do it, please give the lady my and my daughter's pranams. How is your son Amiya? Is he in India or England?
We read in the papers and hear in the wireless a lot about the present conditions in India. It naturally interests me very much but at the same time I am very sorry that also this country has to suffer so much from post-war difficulties like Austria. I hope conditions for your family and yourself are not too bad, since one hears that the country is starving.
I would like to add that, when I heard the news of your brother's death, I was very much shocked and grieved. Because through his death I have lost the only person in this world whom I really loved and respected. Unfortunately, I cannot live like an Indian woman should after the death of her husband, because I am bound to live in Europe and due to the fact that I must earn my living.
I am forced to mix with people and cannot make a show because they would not understand my feelings here. Besides the whole thing is still a secret. But in my memory, I have put up a shrine for him and through his child he will always be alive for me.Should you want to make any suggestions regarding the child or have any questions to put, please let me know and I shall gladly answer you or give you any information wanted. May I in this connection ask you to send me later on some family photos so that I might keep them for Anita till she is grown up and then give her an idea about her father and his family.
Please accept my best wishes for your family and yourself as well as my best regards,
Yours sincerely,
Emilie Schenkl
(Extract taken from Madhuri Bose's book, The Bose Brothers and Indian Independence, An Insider's Account)