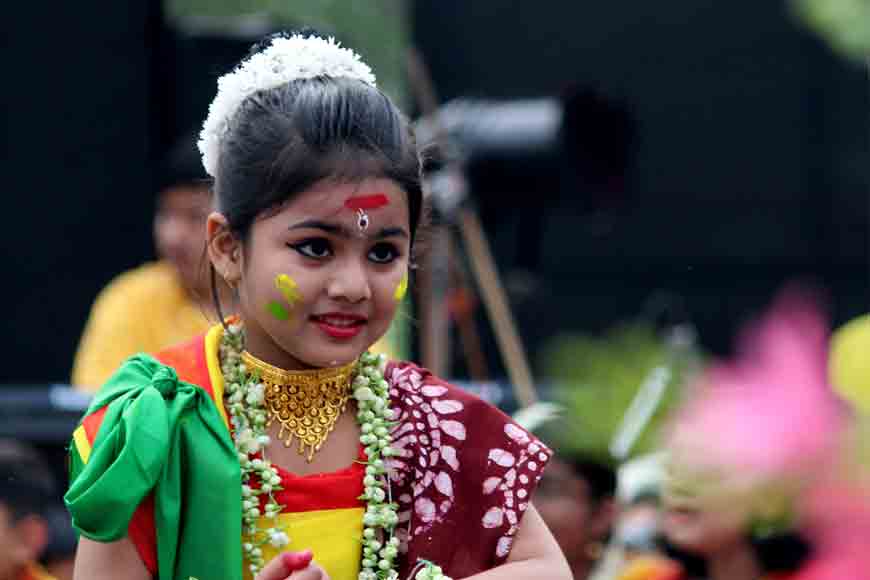 • Since when are you organising Boshonto Utsav in Kolkata?

I have been organising this event since last 5 years. The sixth edition of Boshonto Utsav will be held today at Golden Acres, P.C. Chandra Gardens.

• Was this event your brainchild? If so, what motivated you to bring a part of Santiniketan to Kolkata?

Yes. To organise Boshonto Utsav in Kolkata was my idea. I wanted to revive my lost childhood and was deeply bothered by the lack of Bengali culture in a city like Kolkata. Boshonto Utsav is part of our Bengali heritage and I wanted everyone living in the city to experience it. The idea was to acquaint our youth of their cultural heritage as well as to give the people staying away from Santiniketan, a chance to reconnect with their roots.

• How similar is this programme to Boshonto Utsav of Santiniketan?

Our event is almost similar to that of Santiniketan, except the timing. In Santiniketan, there is a procession in the morning called "Probhat Pheri"which is accompanied by Tagore's songs and dance. The students perform a selected dance-drama by Tagore later in the evening. It is not possible to do it twice in the city, so we do it together during our event. Otherwise everything else is the same, event-wise.

• Do you find the same kind of enthusiasm in Kolkata as we find in Tagore's abode?

Yes, the enthusiasm is in fact sometimes more than what we see in Santiniketan. This is mainly due to the fact, that people rarely get to see such programmes in the city. So, they keep coming back every year and the response has been overwhelming so far.

• What kind of events are held? Who are the participants? Do you bring in people from Santiniketan for the shows?

There are Tagore's songs accompanied by dance performances in celebration of spring. We also perform a dance-drama. This time our Boshonto Utsav will feature the famous Purulia Chhau dance. Tagore always wanted a blend of rural culture with the urban life. In fact, Santhals lead the procession in Santiniketan. However, it is difficult to bring them to the city, so we are featuring the Chhau dance to promote and encourage these performers. The participants this year are students of Daakghar, as well as different dance institutions like Manipuri Nartanalaya, Kalakshetram, Kalamandir, Behala Nrityapith, Ghungroo, Sangeet Bhavan Praktani and some others. Students of Patha Bhavan ad Jadavpur Vidyapith will also be a part of the procession.

Yes, artists from Santiniketan take part. There are ex-students and sometimes even some teachers of Visva Bharati.

• You organise a Basanta Mela on the sidelines. What is it?

Our event is like a carnival in celebration of spring. In addition to our cultural programmes, various stalls are set up. It is like a colourful fair, mainly set up to promote rural art forms or handicrafts.

• How different is this Boshonta Utsav from the usual urban Holi or Dol?

Actually, Boshonto Utsav is no different from Holi, except for the gracefulness with which it is celebrated.The former is celebrated in a much dignified manner, compared to the boisterous Holi witnessed in most parts of India. The air is filled not only with vivacious colors, but also with the feeling of joy and hope, making the entire atmosphere delightful. This cultural extravaganza is a powerful depiction of the cultural heritage of Bengal.

• Do you plan to do this Boshonto Utsav in other parts of Bengal in future?

Yes, and not only Bengal. I want to spread this to different parts of the world if I get a chance to.

• How much of Santiniketan is still in your DNA? Does your childhood in Santiniketan help you organise such events?

My childhood in Santiniketan definitely formed the basis of organising such mega events in Kolkata. Initially, I went to a convent school. When we shifted to Santiniketan, I was mesmerised by the simple lifestyle which was so close to nature. It was completely new for me. The fascination has remained and has inspired me to organise not just Boshonto Utsav but also Brikkho-ropon Utsav, Khrishtotshob and Sharodotsab in Kolkata. I might not live in Santiniketan currently but Santiniketan has never left me, it will always be in my heart.