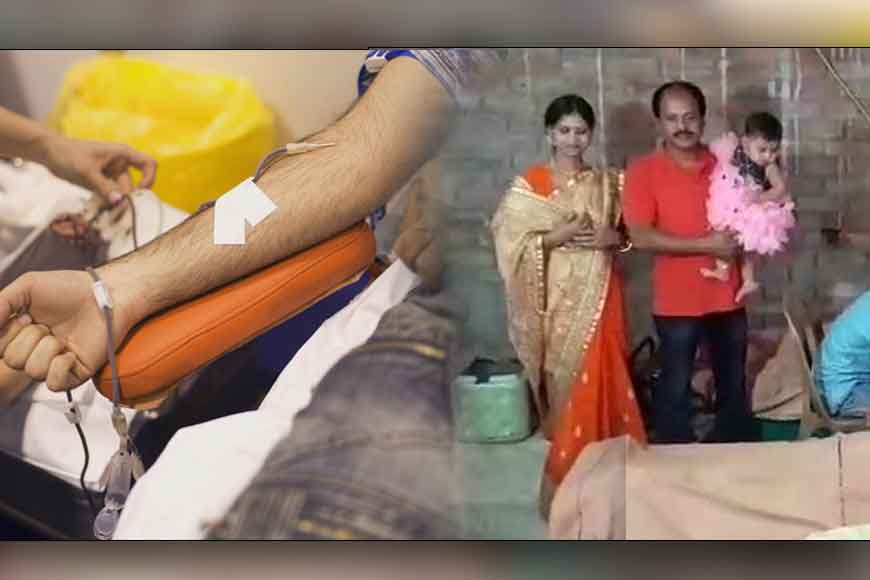 With each passing day, people are turning to socially aware initiatives even during celebrations. Their happiness is not confined to themselves but go on to heal the world. Bengal just witnessed a whole new concept of rice eating ceremony or annaprasan where the father of baby Rose who was supposed to have her first solid food, had organized a blood donation camp as part of the celebration. Azgar Ali Mondal, the father, got a great response too with all his family members and friends participating in the blood donation camp.
Azgar Ali Mondal is a technician of Pathological Laboratory at JNM Hospital in Kalyani. He is well acquainted with the unavailability of blood and its effect on accident victims or those who need blood during operation. Especially, during the poll season, this problem enhances further. Everyone remains busy because on election duties, and the usual blood donation camps are not organized. Thus patients and their families suffer.
Mondal knew of this perennial problem and wanted to make a difference on his daughter's annaprasan by arranging a blood donation camp. He had invited around hundred people and 48 of them donated blood. There were more people who wanted to donate blood but the infrastructure was not supportive enough. Hope many more fathers come forward like Mondal. No wonder his daughter was blessed!