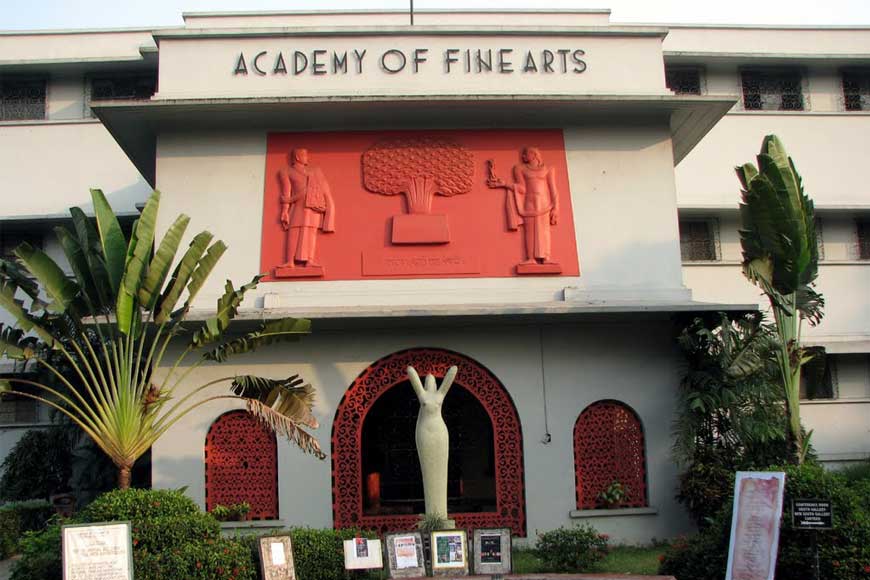 For the past two years, the pandemic had forced people to stay indoors, and the city wore a desolate look. But this year Kolkata is back on its feet, all set and raring to go. Four professional theatre groups will be hosting a four-day theatre show at the Academy of Fine Arts auditorium. This is also a rare opportunity for theatre enthusiasts who, after a two-year hiatus, will be able to enjoy a number of well-known plays back-to-back during the Pujas.
For starters, on October 1, the first day of Sasthi, two groups will be presenting plays. Beginning with Kasba Argha's inaugural play, 'Toy Train' at 3 pm followed by 'American Football'. At 6.30 pm, Behala Bratyajan will take over the stage with 'Ekti Swanamoy Mrityu.'
Veteran thespian and member of Rangroop Seema Mukhopadhyay will host two plays on Saptami. Based on Mohit Chattopadhyay's play, 'Mayer Mato' (directed by Mukhopadhyay) will be staged at 3 pm followed by 'Spare Parts' at 6.30 pm.
On Ashtami Ichhemato will stage two plays. Curtains will go up at 2.45 pm with the play, 'Captain Hoorah' directed by Sourav Palodhi and featuring Toorna Das. At 6.30 pm, another popular production of Ichhemato, 'Ghoom Nei' will be staged.
Nandikar has been performing consistently on Navami every year and this year, the group will present two plays on October 4, Navami. Theatre couple and director/actors Sohini Sengupta and Saptarshi Moulik will present 'Ek Theke Baro' at 3 pm and 'Manush' in the evening slot.
Shuvra Dey in a tête-à-tête with two well-known contemporary theatre personalities Partha Mukherjee and Sourav Palodhi who share their thoughts about the state of theatre in Bengal now.
GB: A few years ago, public theatre halls decided to down shutters during Durga Puja. Is it because staging plays during festivals like Durga Puja is not viable? After all, staging a production requires a lot of funds.
Well-known theatre performer and former member of Natyarango, Partha Mukherjee (PM) was nostalgic as he reminisced about the 1990s when renowned theatre groups staged their productions in public auditoriums spread across the city during Durga Puja.
PM: I was still a student and dabbled in theatre, performing in college and university fests. This was also a period of learning for me. I remember, I and my young sister looked forward to watching plays in auditoriums during those four days of Durga Puja. It was such a happy occasion for us. The intensity of the performers mesmerized the audience and we soaked in the ambiance. It was an immensely enjoyable experience for us and we went back happy and content after a day well-spent. I later joined Natyarango group in 1999. Cinema undoubtedly has a far larger reach and perpetuity than theatre which has a niche audience, is far more big-budget and depends on availability of halls. If only one per cent of the total population of Kolkata watched theatre regularly and promoted the art, then I can vouchsafe that all the halls in the city would have packed audience for all the performances by different theatre groups throughout the year. But unfortunately, not even one percent of the city's populace watch theatre.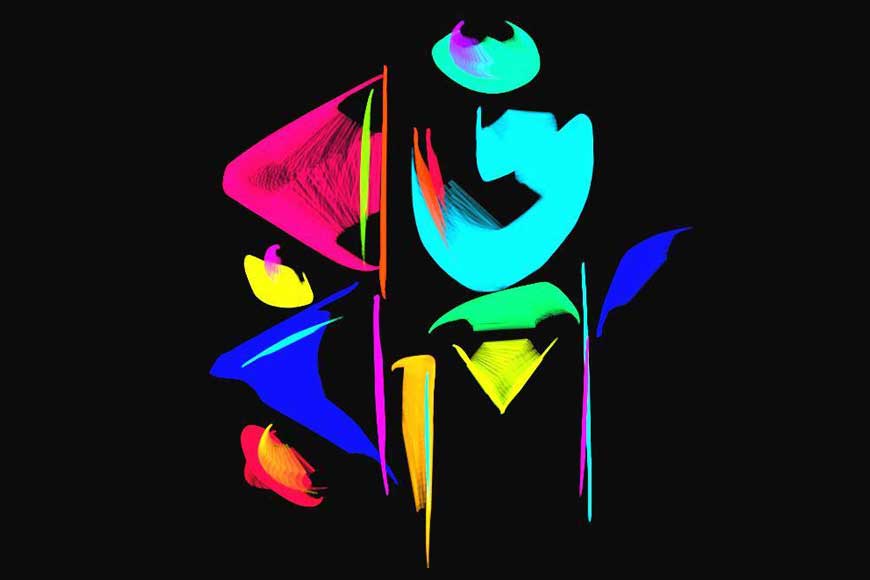 GB: But then how come theatre groups like Kasba Argho, Nandikar, Ichhemato, Rangroop, Behala Bratyajan are coming together to organize sequential plays during the four days of Puja this year?
PM: These are well-established groups and over the years they have been able to build a dedicated base of theatre lovers. This audience remains committed and consistently watches plays, and even returns to watch a few of the plays multiple times. In the long run, if we see, the number of spectators has definitely increased over the years but not in terms of overall percentage. If there would have been a percentage-wise increase, then why is it that most of the theatre groups still have to survive on government grants? I believe, the theatre industry is in a perpetual state of stagnation. But groups like Nandikar have been performing consistently at Academy of Fine Arts for years during Puja and the shows are always packed house, drawing audiences from all walks of life. Ichhemato, a comparatively new group, has also been doing significantly well and it is commendable how the group, comprising young and enthusiastic thespians has been able to connect with the millennial audience.
Ichhemato has been performing at Academy of Fine Arts auditorium to packed houses for the past three-four years during Ashtami. This year Sourav Palodhi (SP), a known face in television serials and a dedicated theatre actor/director of the group spoke about the "collaborative deal" of the participating groups they decided on to present a bouquet of meaningful productions to theatre buffs during the Pujas. He shares his views here:
GB: Please tell us about this collaborative deal
SP: You see groups like Nandikar and ours have been staging plays at the Academy during the pujas individually but this year, we all decided to present a rounded entertainment to our audience so all these performing groups came under a single umbrella to present our individual shows in the format of a festival. The catch-line, "Utsob katuk Academy te/ Natok dekhe" (Spend the festival at Academy, watching plays) summarizes it all. This is a move to encourage audience to enjoy theatre.
GB: Since when did your group decide to perform during the Pujas?
SP: Our group, Ichhemato has been performing at the Academy during Durga Puja for the past few years to packed audience and this time too, I look forward to theatre lovers trooping in in large numbers to encourage us so that we can organize this festival again and may be, in the future, make it an annual event during Durga Puja.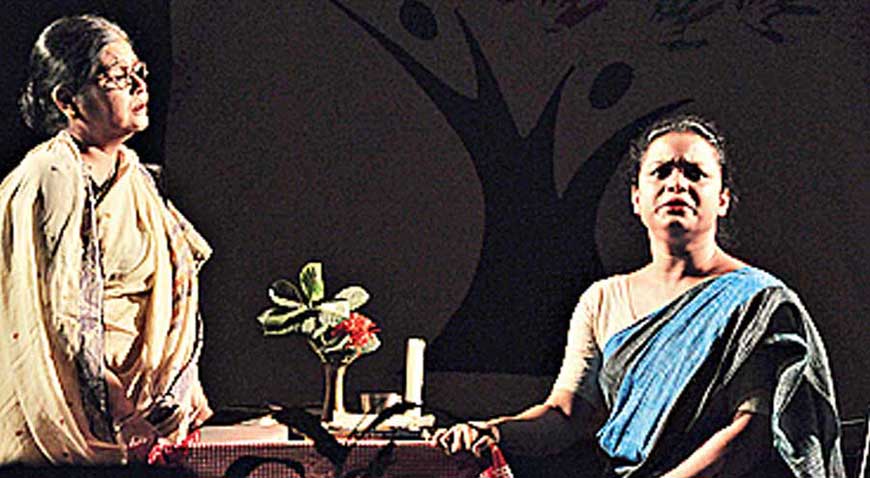 GB: Did you have problems in the initial phase when you decided to work during the festival? Were you hesitant about the audience response?
SP: Theatre is an ideology for us. It is not only our passion but a full-fledged profession. From that point of view, we always encourage audience to watch theatre and be culturally enriched during the Pujas instead of sitting idle at home or wasting time in mundane activities. During the pujas, people have ample time and look forward to doing activities together with family and friends and create memories that help ease the fast-paced grinding routine of everyday life. We are simply creating an alternative, offering an option to people during the Pujas. In the last couple of years, we have taken note of how the millennial generation come in large groups and watch theatre intensely during the festive days. In fact, all halls were closed till last year due to the COVID-19 menace but the year before that, we staged plays on two days --Tritiya and Ashtami – one at Madhusudan Mancha and another at Academy and the tickets for the shows on both the days were sell-outs."
GB: How commercially viable is theatre? Has the number of theatre goers increased over the years?
SP: Of course, the number of theatre goers has increased and interestingly, more and more youngsters are opting to join theatre groups and take up acting as a profession. We are going through a very good phase. It is a very good time for theatre. Every year, our group conducts four theatre workshops where from hundreds of applicants, we indict 25 and train them. There are other established theatre groups as well who conduct similar workshops for aspiring theatre artists and the response is very encouraging to say the least. This shows the awareness among the young generation and their keenness to be part of the cultural field. In the past, people frequented theatre halls during the weekends but now shows are held on all working days and yet, there is no dearth of audience. So, I strongly believe that the number of audiences has increased remarkably as have the number of theatre groups performing regularly in the city halls as well the fringe areas. This is all very encouraging indeed.
GB: But youngsters these days see theatre groups as a stepping stone to get opportunities in films and regional television serials. Doesn't that affect theatre groups?
SP: No, no. In fact, I personally encourage rookies to explore other media. I myself work in different media including stage, television and films. I work behind the camera; I direct series and act and all these provide me an opportunity to grasp and assess my strong points as well as my shortcomings. I try to inculcate this spirit of learning among our trainees. It is a constant process of learning for us all. But our prime priority is theatre and everything is an extension of the theatrical world.
It is this strong conviction in the art of theatre that works as an elixir for all those associated with dramaturgy and keeps them going.