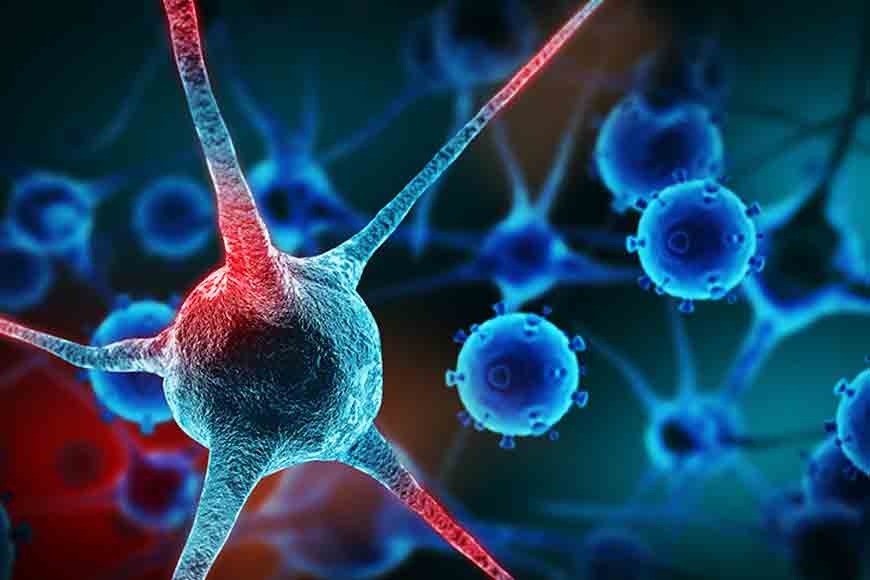 Four city-based scientists have discovered a new path to block cancer's long march. Researchers from the Institute of Bio-Physics at Bose Institute, Kolkata, have detected the culprit responsible for the progress of cancer metastasis or spread of cancer cells from its primary site of origin to new areas of the body. The finding holds potential in controlling metastasis to reduce cancer deaths. This was revealed at Bose Institute, during the recently-concluded centenary celebrations of the institution that was set up by Jagadish Chandra Bose in 1917.
The researchers have discovered an anti-metastasis medicine. The study was published in the US journal Oncotarget, creating a buzz in the world of medicine. Doctors treating cancer patients have too often beendefeated by metastasis setting within the patient's body, thatultimately leads to death. Through the process of metastasis, cancer spreads from one organ of the body to another, for instance, a person with pancreatic cancer, who responds well to treatment and is recovering gradually, is attacked by liver cancer due to metastasis.With cancer spreading fast to multiple organs, it becomes difficult for the patient to recover even after healing at the source where cancer started initially.
The chief researcher of the team, Subhranshu Chatterjee was very categorical as he explained how scientists have been working in tandem to find the actual reason for metastasis, but they were all groping in the dark, until he and his team created a cancer-resistant agent that prevents metastasis from obstructing a specific RNA (LINC00273) of cancer cells. The study agent interrupts the formation of RNA, that is responsible for metastasis associated with a specific RNA of cancer cells. As a result, the risk of spreading of cancer cells was greatly reduced. Deputy chief researchers and zoologists, Professor Shami Bhattacharya and Deboprasad Mondal, who were also associated with the project, felt their search for a cure, became easier, once the culprit causing metastasis was identified.
The researchers have tested at least 16,500 medicines to find the cure to metastasis. Associate chief researcher of the team, Dr Gopeshwar Mukherjee informed that a medicine called 'm-2' stopped the production of Link-00273 RNA. And that stops the metastasis process of cancer cells. At first, they examined the medicine on a rat. Then they transplanted human cancerous tumour cells into the rat's body and tested again. The researchers said, 'it was a success.' Chatterjee informed they have applied for the patent of the medicine in India, Australia, US and Europe, and have already got the approval from the US. Oncologists are also very enthusiastic about the medicine and believe this could even eradicate the deathly fear of cancer from the face of the earth. However, the medicine that has been tested on 40 patients, has a long wayto go,before it can be used on a mass scale commercially.