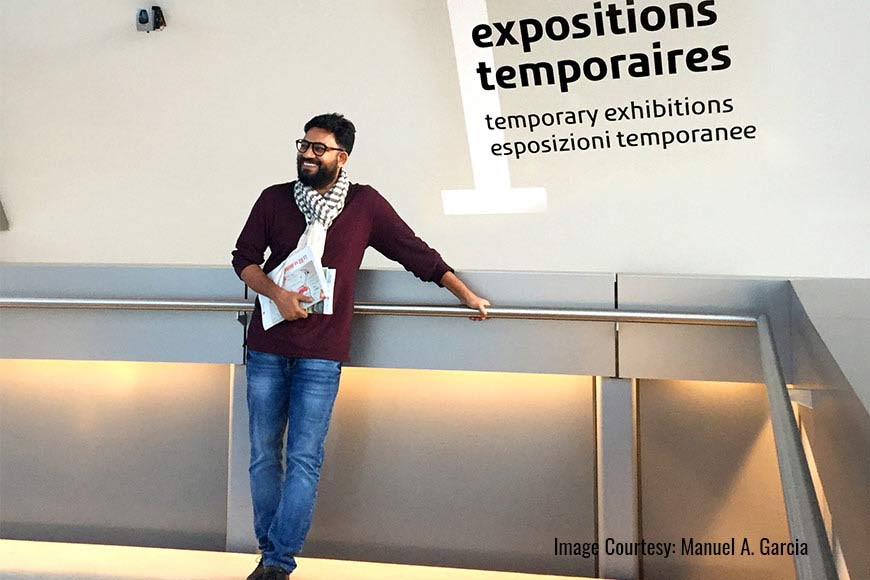 Sankha Banerjee is an assistant professor— Department of Multimedia, St. Xavier's College, Kolkata and an independent art practitioner
• Your first volume of the graphic novel on Mahabharata, Vyasa: The Beginning, was published by Penguin India in 2017. How difficult was it to provide a visual narration to an epic like Mahabharata?
I had decided to work on Mahabharata in 2008. Reading epics are my passion. During my stay in Delhi, I used to visit the National Museum and Archeological Survey of India, to study the minute visuals of ancient India. I still dedicate myself and try delving into intricate details to offer an appropriate visual representation and identity of ancient India.
In the graphic novel adaptation, I have collaborated with Sibaji Bandyopadhyay, one of the most remarkable scholars of our time. He has been following the Bhandarkar Sanskrit Mahabharata, the critical edition, for the outline of the story. We have chosen to retell the stories keeping the contemporary audience in mind. This resulted in developing the story with an alternative stance on the epic. In the book, we have addressed the plurality within a society, the pro-war and anti-war discourse, the Varna-Jati system of ancient India, etc. Some of the people might think that the narration and visuals are not coinciding with their pre-occupied perception of the epic. Since every corner of India has a different version of Mahabharata, this is the most difficult challenge faced by me while working on this project. It is a great pleasure to see the people love our approach.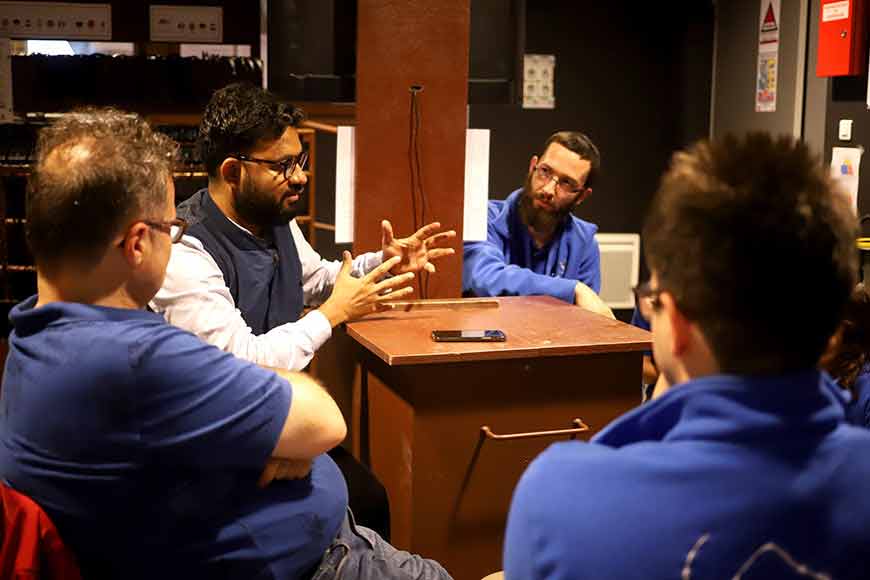 A group discussion at Chauvet–Pont d'Arc
• You are one of the very few Indians who has made and exhibited Handmade Pop-up books. Why pop-up books?
Paper always can give an alternative experience other than digital media. So I thought it would be a good idea to work on paper and more importantly, with paper. Unlike a digital book, it gives a tactile feeling, a handmade pop-up is something you can touch, smell, and feel. The books have pockets. Sometimes, the pop-ups are 8 feet in length. It allows people to come in close contact with the work and interact with it. I love to see that interaction.

Dark Chocolate Democracy--Hand Crafted Pop-up Book-Art Exhibition at India International Centre
• How exactly are you associated with professional theatre in Kolkata?
I love to work backstage, behind the scene; set, ambiance, the design part of pre-production, etc. I had started working in the theatre because of my friends, in groups like Storytellers, Bohurupee, Hatibagan Sangharam, etc. It is a different kind of an experience for me. One has to go through all the blood, sweat and tears for each production. You might find some theatrical expressions and frames in my art too.

A mammoth task--the hardwork behind each theatre production
• You are an assistant prof. and an independent art practitioner. How do you balance these two?
It is challenging but fun! The administrative structure of my college is well-designed and organized. One has to dedicate a lot of time to that. When you come back home, you feel like a ghost! Then you require upgrading yourself to a vicious demon and start working. I try to work daily from 8 p.m. to 2 a.m. In the weekends, I get some extra hours to work, like ten to twelve hours. Regularity is a must. I have almost forgotten my social life. I have skipped parties arranged by my beloved friends, and exhibitions that I wanted to attend.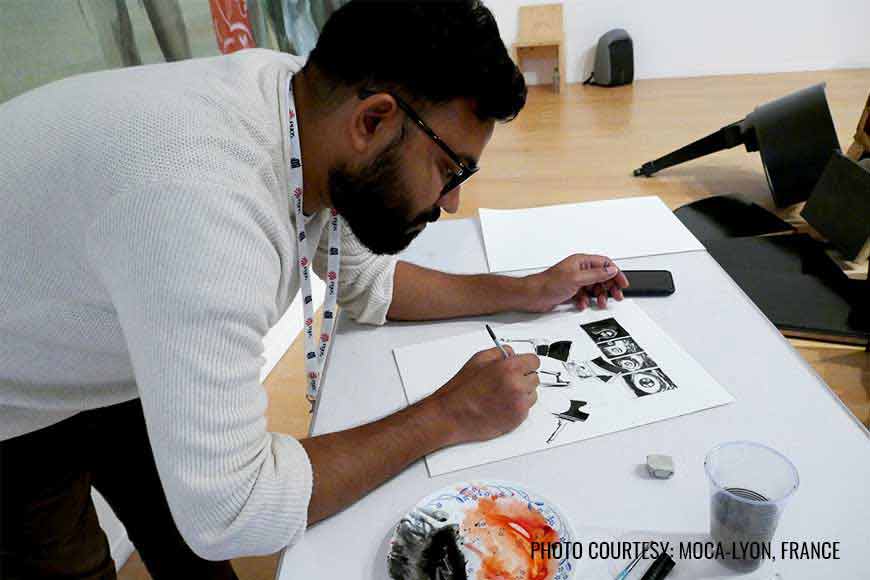 Banerjee at Museum of Contemporary Art---Lyon, France
• You have exhibited in the Museum of Contemporary Art, Lyon, France. You have been to various Comic festivals in Europe. Tell us about your experience.
In the Museum of Contemporary Art, 12 artists were chosen to interact with each other and thus recreate the works of the masters. I was the only one from India. I had decided to read and interact with the works of Richard Hamilton (1922-2011), the pop artist. It was a lifetime experience. In Europe I had a chance to meet artists whom I have always admired; like Bill Watterson (Calvin and Hobbes), Kim Jung Gi, Edmond Baudoin, etc. Those were like fan-boy moments. I regret that I could not meet Uderzo; though once, I had taken a chance. These are all my childhood fantasies. Interestingly, I had met Paul Gravett In Kolkata; he had comedown for a talk! In Angoulême International Comics Festival (2015) you should see how a small commune in France breaths comics culture! I met author, editor, publisher Jeanpaul* in France. He is an amazing guy. He had reintroduced me to the Franco-Belgian comics' culture. I owe so much to him! There are almost 350 comic artists only in Paris and I am not talking about outsourcing here. I love French bakeries and had some great food at Lyon BD Festival (2018). Lyon is called the capital of gastronomy. Paris also has a lot of small restaurants with great food, like we have in Kolkata -Paramount Sherbet or Kalika Chop. I just love those.

*Jeanpaul is the publisher of Nelson Mandela; Une vie pour la liberté -French Edition by 21g, English edition was published by Campfire.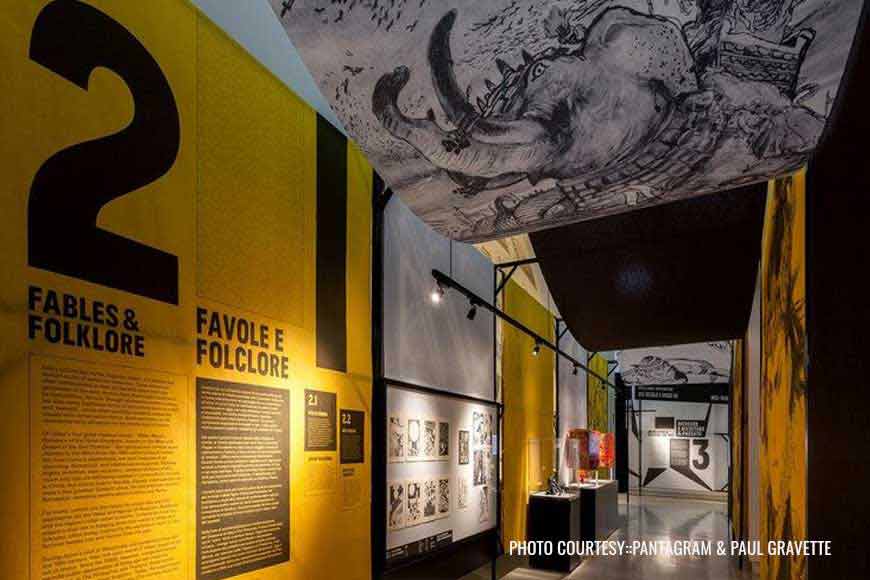 MAGNASIA-- installation at Palazzo delle esposizioni, Museum, Rome, Italy- curated by Paul Gravett
• How did Lockdown affect you or your work?
These are difficult times for all of us. It is heartbreaking to wake up to the news of the migrant workers trying to get back to their homes. It makes me humbler, and feel privileged enough to stay at home safe. This buffer time has acted extremely beneficial for me- something that I have always looked for. I am glad that I could make the most of it and feel quite happy to have completed a li-on's share of my work for the upcoming book, Panchali. This lockdown has made me more self-dependent, and inquisitive and more observant of my surroundings.
Either this or I might have just lost my mind. (chuckles)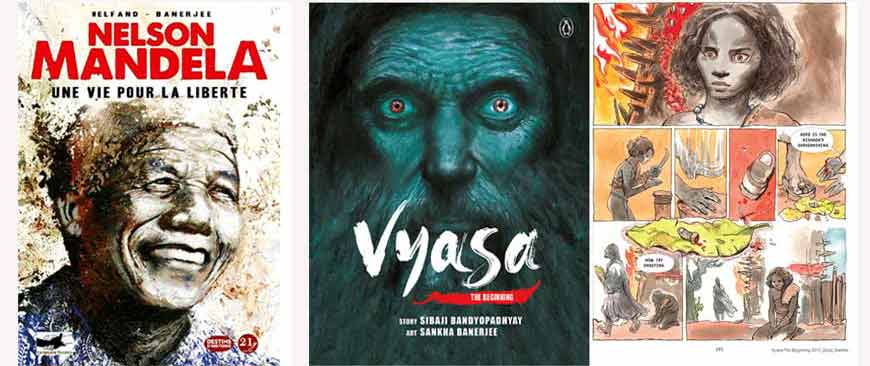 Two of his major graphic novel publications
• Any upcoming/ongoing projects?
Right now, I am at the final stage of the second volume of Mahabharata series- Panchali; The Dice Game. It has philosophical and mathematical aspects of Pasha (the dice game), thanks to Sibaji Da, discourse about the environment and human act, the earliest arguments of feminism in ancient India, and many more fascinating things came up in the work.
Story Tag:
Sankha Banerjee, graphic novel artist