First Puja Special Train that ran in 1927 between Goalanda Ghat station and Sealdah!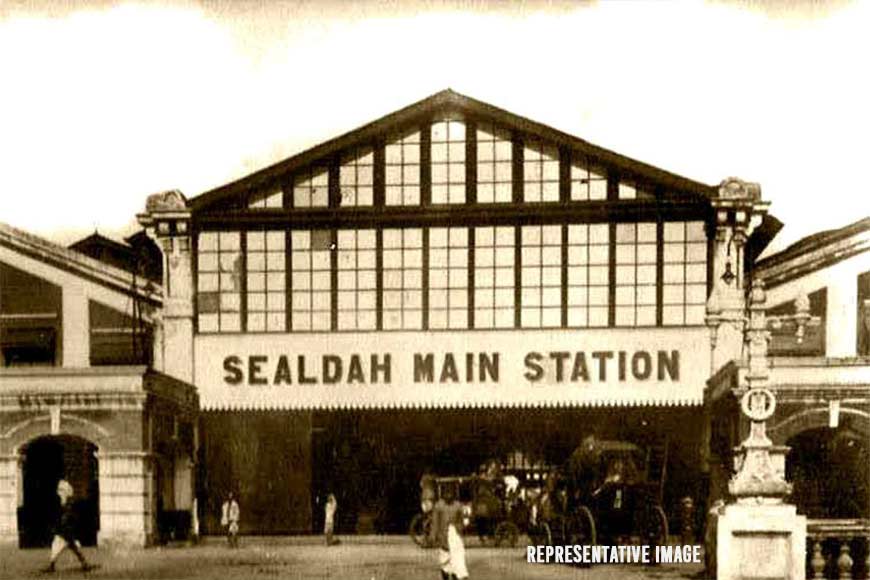 It's been many many years, yet the memory of a green train is so distinctly etched in memory of many. Here was a railway station where every evening around 5 pm, a train left the platform and chugged its way amid a cloud of dust towards the frontier. The Canadian steam engine's shrill whistle reverberated the silence of the surrounding and created ripples. The glimpse of the driver with a colourful bandana on his pate made him look like a real-life hero. The green coaches displayed prominently 'East Pakistan Railway' marked on them in both English and Urdu but people generally called it 'Dacca Mail' or 'Pakistan Mail.'
The train started its journey from Sealdah and its next station was Ranaghat. Vendors would peep in through the coach windows and call out, 'Note badal, Note badal,' (currency exchange). They would hold a bunch of Pakistani currency in their fists. Travellers paid a small 'bata' (exchange rate) and changed currency. The next station would be Banpur (Gede had not been built then), the last station on the Indian side of the border. The train would continue its journey to Darshana and then finally would terminate at Goalanda Ghat. The next phase of the journey would be a steamer ride to the capital of East Pakistan, Dacca. As the steamer sailed on the Padma River, the khalasis of the steamer cooked and served a sumptuous lunch of piping hot rice and chicken curry.
Goalanda Ghat was for many years a major transportation hub for travel in eastern parts of Bengal and Assam. Before Partition, Goalanda Ghat was the only link that connected the people of East Bengal with Calcutta, the cultural capital of the country and the hub of education, business and trade and employment. Goalanda Ghat witnessed the movement of teeming millions everyday who either travelled by train and descended from trains at Goalanda Ghat to catch a steamer ride and vice-versa. The place would resonate with travelers at all hours of the day and night. During British rule, Goalanda Ghat station was very well maintained and was comparable with any European railway station. No Indian was appointed as station master of this important first-class station before Independence.
Even after Partition, the East Bengal Express ran up to 1964. That was the last direct link with Kolkata. The Goalanda Ghat railway link has since been used only for internal travel in Bangladesh. From there one would take steamers. The upper deck of the double decked steamers were used for travelling. The lower deck was used for transportation of goods including Hilsa fish. At 7 am daily, Dacca Mail would start for Kolkata Goalanda Ghat with passengers and fresh catch of delectable Hilsa. Passengers from Dacca, Chittagong, Kumilla, Sylhet and Assam preferred the Goalanda Ghat to travel to respective destinations. Massive steamers and tug steamers criss-crossed the Padma River with passengers and commodities.
There was a luxury steamer named Princess Ellis that cruised on this route. According to Eastern Bengal District Gazetteer, B.C. Allen (1912), dispatch steamers took around six hours to reach Goalanda Ghat from Narayanganj and slow-moving steamers took as long as 15 hours to travel the distance. These slow-moving steamers would stopover at Kamala Ghat, Shatnal, Bahar, Sureshwar, Tarpasha (Louhajung), Maowa, Qadirpur (Bhagyakool), Narisa, Mainat, Jalaldi, Kenonapur and finally terminate at Goalanda Ghat. To attract passengers, the steamer companies often advertised and arranged for 'pleasure rides.'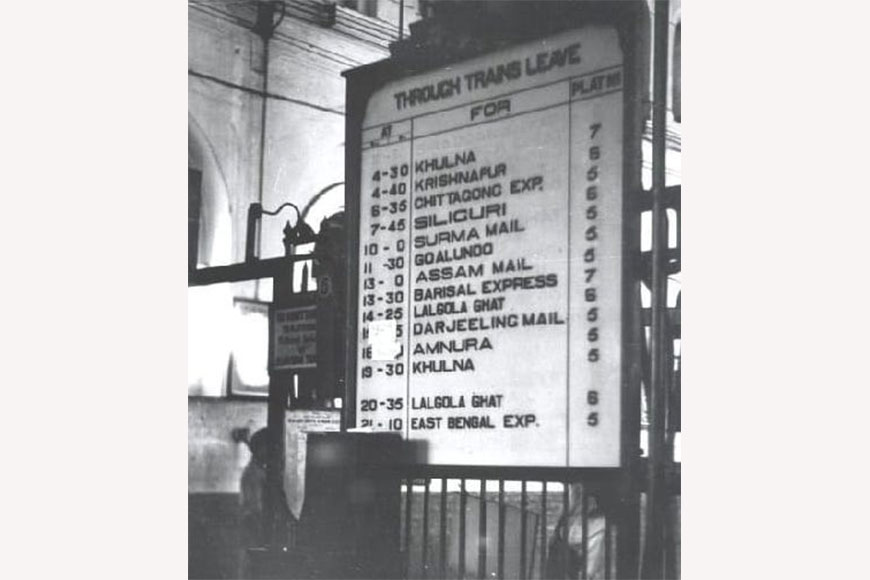 List of trains from Sealdah Railway Station during the 1940s
Not to be outdone by water transport companies, the railways also lured passengers with attractive offers. A book on the History of East Bengal Railways, 1862 – 1947, says on October 1, 1927, a third-class train was flagged off. This was a Puja special sop to facilitate people to travel before the Durga Puja. The long 128-mile stretch from Goalanda Ghat to Sealdah could be travelled at a dirt-cheap price of Rs 4 only! The special train stopped at four stations and special arrangements were made by the railways for passengers which included, all travelling expenses to and from all holy places they would visit in Calcutta, entry fee of all places of interest they wanted to visit, the fee for offering puja at Kalighat Temple, a complimentary ticket to watch a movie in the railway's cinema hall and three free meals. There were 369 people who availed the opportunity of who 619 people had never been to Calcutta before and for 130 passengers, this was their first travel on train!
From 1927, every year, during the Pujas, this train plied between Goalanda Ghat and Sealdah. Mujaffar Ahmed in his memoir, "Kazi Nazrul Islam Smriti Kotha' had written "in 1921, both steamer and train fares were very low, especially because we had calculated on the basis of third-class fares. I boarded Dacca Mail at night from Kolkata because if I travelled by the Chittagong Mail in the morning, I would not be able to catch the connecting steamer.'
Goalanda Ghat has remained a mute witness to the human drama that has been enacted on its soil. The pangs of Partition, the all-pervading atmosphere of hatred and distrust that suddenly sparked between communities who lived in harmony for generations like wildfire and destroyed everything, the bloodshed… the futility of it all. Goalanda Ghat at the confluence of Padma and Jamuna (Brahmaputra) also lost its prominence and now is a mere reminder of its glorious past.
Story Tag:
Goalondo Ghat, Rail Service, Sealdah