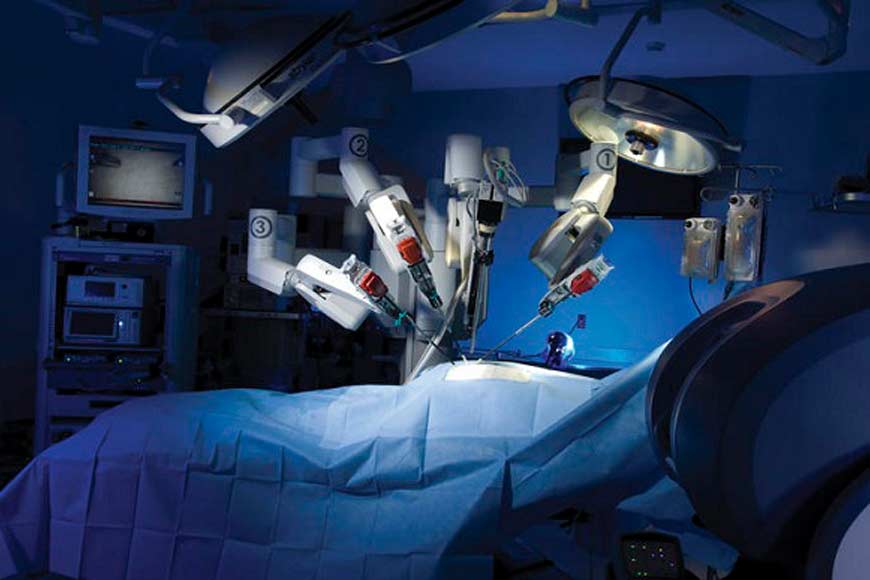 A team of Kolkata doctors successfully performed the first complete robotic kidney transplantation in Apollo Gleneagles Hospitals, Kolkata. While robots have been in existence for a long while now, their entrance into the realm of medicine is relatively novel. In the 1980s the field became popular as a way to do minimally invasive surgery and now it is fast gaining ground as a preferred mode of surgery. Apart from the clear advantages like higher patient comfort and safety, it also helps significantly cut down length of stay at the hospital.
This patient had a long history of kidney ailment and with end-stage renal disease, had been undergoing dialysis for a long period. Doctors treating the patient had already perceived that kidney transplant was the only treatment of choice for in this case and save the patient's life. Kidney transplant is a surgical procedure where a new donor kidney is placed in the patient's body. This is typically done because of kidney failure. Operation procedure is complex. For placing an approximately five-inch sized kidney in the body, the surgeon makes a large incision in the lower part of one side of the abdomen. Usually, voluminous blood loss is associated with the operation. The doctors were anxious about the patient's condition and worried if he would be able to withstand the trauma.

A brainstorming session followed and finally the team of doctors treating the patient decided to go for robotic surgery. Robot Assisted Kidney Transplantation (RAKT) is a minimally invasive technique that uses a robotic support to perform the KT. As a high level of expertise is required in KT and robotic surgery, RAKT is performed by transplant surgeons with extensive training and experience in robotics and transplant surgery. Robotic surgery allows kidney transplantation to be performed under optimal operative conditions, reducing complications while maintaining the functional results achieved by the open approach. Blood loss is also minimized significantly.
The entire procedure was led by renowned urinary specialist, surgical oncologist and uro-surgeon, Dr Vinay Mahendra. He was assisted by Dr Tridibesh Mondal. Although this operation is more time consuming than the traditional one, yet it is more safe and the patient recovers faster. The patient is on his way to recovery now. Doctors who were involved in this case said, the patient can lead a healthy life for the next 20 to 25 years. After the operation, for the first three months, he has to visit the hospital once weekly for regular checkup. After that, for the next three months he will have to go for fortnightly check-ups. He is the first patient in eastern India who had the first complete robotic kidney transplantation.