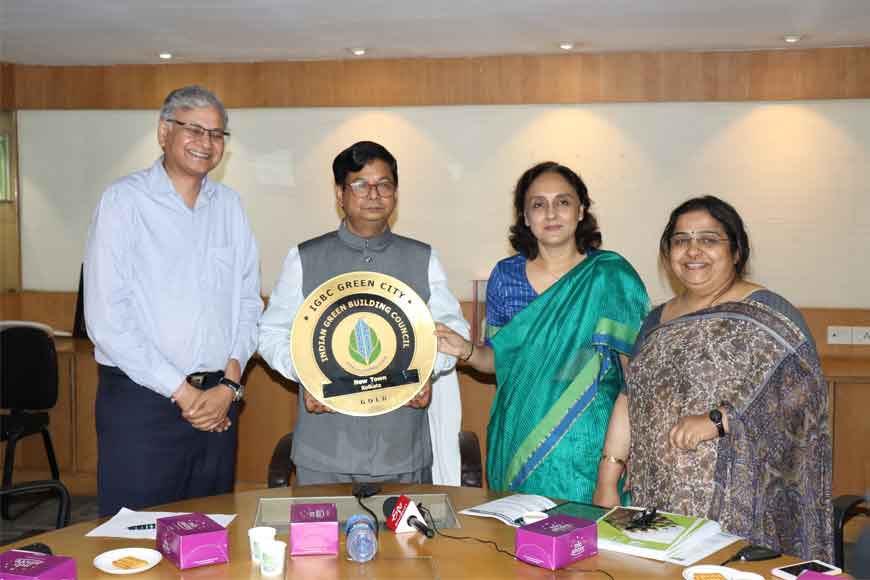 A new chapter was scripted in urban Bengal's history last week, when New Town was awarded the Gold Certification for its Master Plan and Design, under the Green Cities Rating of CII's Indian Green Building Council (IGBC). "This is indeed a major leap in the government's mission to build a greener and a healthier state," said Debashis Sen, CMD, WBHIDCO Ltd, who was handed out a plaque and certificates at an award ceremony.
Sen added that New Town is India's first green-rated satellite city and is a unique blend of ancient architectural practices and modern technological innovations. This satellite township has already become a much sought-after location for many national and international companies, keen to enhance the quality of life of its employees and explore new growth opportunities.
Mr Sushil Mohta, Co-Chair, IGBC Kolkata Chapter & Chair, Core Group on Real Estate Infrastructure Subcommittee, CII Eastern Region, said: "New Town will be home to some of the finest, innovative and futuristic green building concepts and technologies, worth emulating by other cities across the globe." Architect Shakuntala Ghosh explained how New Town was designed as per IGBC Green Cities rating. It has unique sustainable and consumer-centric features such as app-based cycles for the entire city, e-buses, solar PV on canals, 20 MGD water treatment plant along with daily quality check, SCADA based control, 70 KM bamboo railing at medians, low embodied energy of materials used in construction, advance machinery for road cleaning & solid waste management, public green & open spaces and universal accessibility at road sections.
Currently around 325 green building projects in West Bengal, equivalent to approximately 175 million sq. ft, have already been green-rated or are under various stages of development. The additional FAR incentive offered by the Govt of West Bengal has played a catalytic role in the spread of the green building movement in the state. CII-IGBC also urged to HIDCO to consider the design, construction and certification of all their upcoming projects as green buildings. It called upon the government to introduce a policy to incentivize the renovation and retro-fitting of old buildings into green-rated existing buildings through property tax rebate, etc.