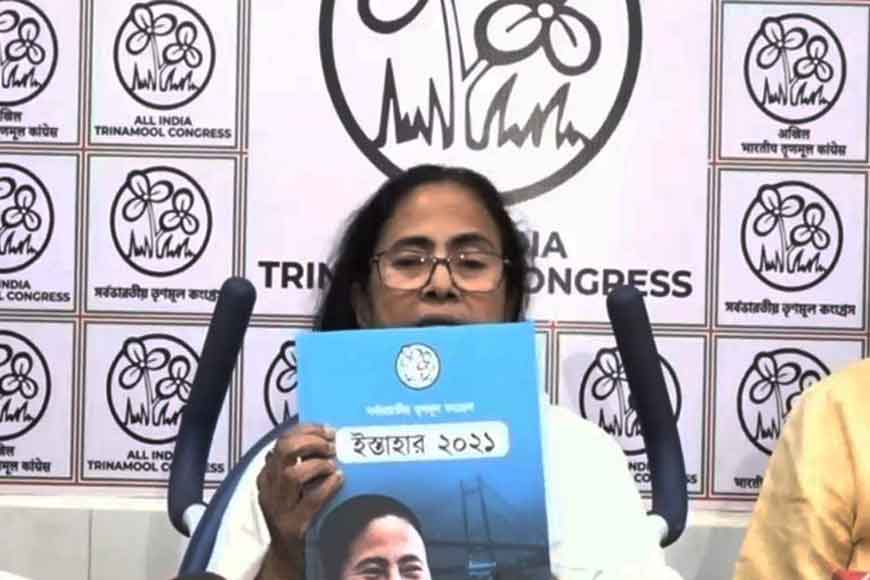 Minimum income for all in Bengal --- the probable masterstroke in Mamata Banerjee's poll manifesto. Several world-renowned Bengali economists including Nobel Laureate Abhijit Banerjee since long had been asking for such an action from the Central Government to turn the tables of Indian economy. Mamata Banerjee promises to do it for the state. Such an initiative will increase the buying power of the public and hence help a consumer driven economy like that of India to run better.
The TMC manifesto released yesterday also promises to decrease unemployment in West Bengal and generate 5 lakh employment opportunities in a year. CM Mamata Banerjee said: 'All of you are aware that since we came to power, we have fulfilled our promises 100 per cent. The work that we have done has already been hailed by the world. We have received awards from the United Nations. We are number one in providing 100-days work. We have reduced poverty by 40 per cent and raised farmer's income thrice.'

Now comes the masterstroke Guaranteed Annual Financial Help for the poor. Under this scheme, general caste beneficiaries would get an ensured annual financial assistance of Rs 6,000. For the backward community, the amount would be Rs 12,000. For the economically marginalized sections of society, the manifesto also promises free door-to-door ration delivery. Another promise that will go down well with farmers is an annual aid of Rs 10,000 and credit card for students under a new Student Credit Card Scheme. For students pursuing higher education, she promised her government will introduce a credit card of Rs 10 lakh limit with a miniscule interest of only 4 per cent charged on the amount. This will help poor meritorious students to pursue higher education instead of taking loans from banks at a much higher interest.
Addressing the press conference, Mamata Banerjee said: 'It is not a political manifesto. It is a development-oriented manifesto. This a manifesto of the people, for the people, and by the people.'