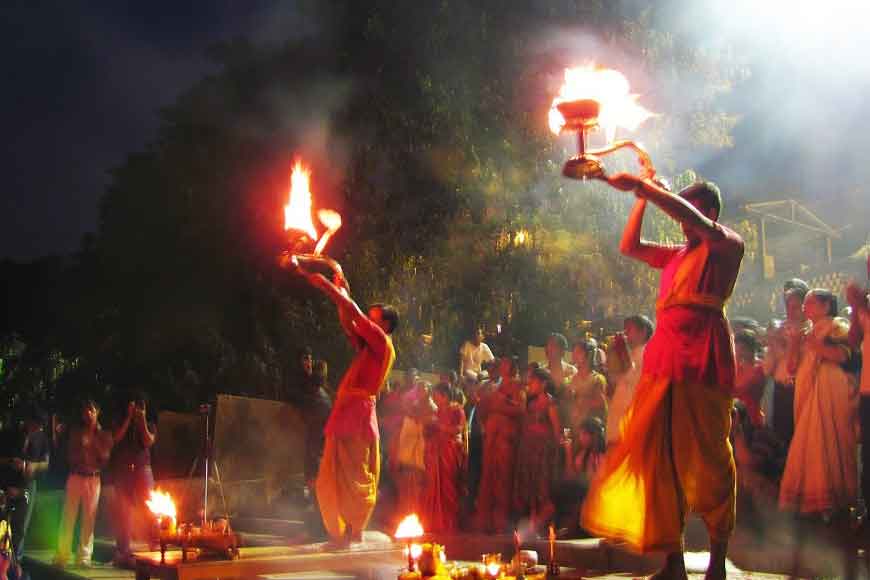 In Sanskrit, 'a' means complete while 'rati' stands for love. Aarti stands for complete love for the divine. You must have witnessed Ganga Aarti at Varanasi, but how about it coming closer home? How about enjoying the essence of divine bliss near your own city of Kolkata?

An ancient ghat of Howrah is here to offer you the most spiritual journey. Ramakrishnapur Ghat of Howrah will certainly offer a flavour of Varanasi's Ganga Aarti, if not something better with a local flavour. The evening puja here is performed with utmost sincerity and devotion. As the darkness descends, you will find priests arranging for the evening puja.. The ghat is near the ancient Ma Tara Temple. The pundits gather around the ghat and offer huge flames, garlands, spiritual mantras and songs to the holy river flowing from time eternal, offering a grand spectacle. You will see people gathering on the slopes to witness the mesmerizing and serene event. The only thing common in them would be bhakti for the eternal.

You can also avail the boat from Babughat and reach the aarti ghat. The view from the boat is truly a life-changing experience. The cool breeze, the sound of conch shells, praying bells, aroma of the incense sticks, grand flames will make sure that you feel divinity around and within. People with folded hands often sing along. Photographers assemble to get hold of a perfect shot. The surreal and tranquil experience of evening aarti of Ramakrishnapur Ghat will be an experience to cherish forever. Far away from the hustle and bustle of the city, the sandya arati truly can drive away darkness.