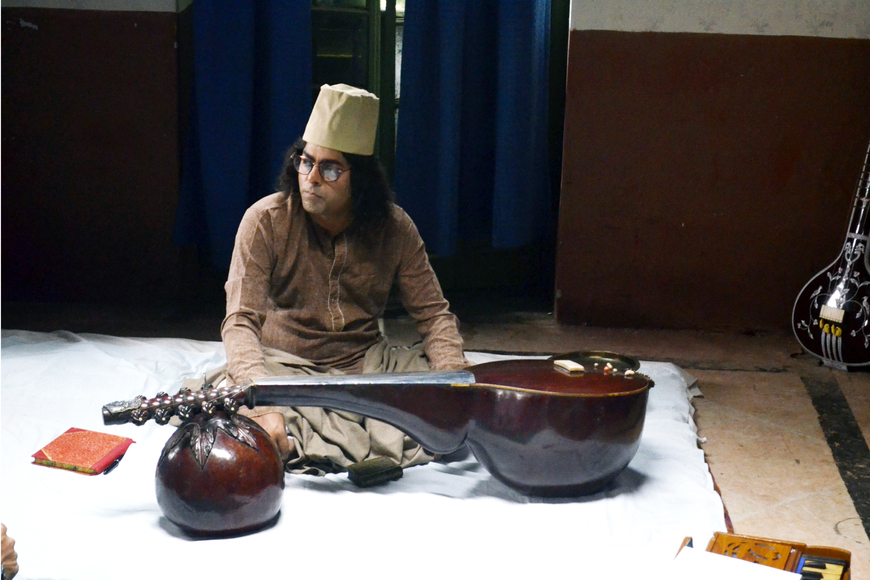 'Given the times we are living in, it is important to explore Nazrul; celebrate his legacy and tell the world about his multi-faceted creativity. He is historic, yet he is so contemporary.'
I first met Kolkata-based documentary filmmaker, Mujibar Rahman seven years ago. At first glance, he still retained the simplicity of a quintessentially Bangali bhadrolok from a remote village of Murshidabad. But one look at his eyes, makes one realise, the spark that led him on a journey from Murshidabad to Ediburgh.
Staying true to his calling and his craft, Mujiburda, as I soon started addressing him,was busy working on his tribute to the bard and Noble Laureate Rabindranath Tagore in 2010.In 2012, the Bengali version of Rahman's documentary on Rabindranath Tagoretitled Rabindranath Thakur – Jeevan O Samay was ready and it first went on to create ripples and then waves. It won accolades from all over the world and was inducted into the curriculum of the Rabindranath Studies Department of Jadavpur University and English Honourssyllabus of University of Edinburugh.
In the month of April, this year, Mujiburda told me about his ode; his tribute to poet KaziNazrul Islam, whom the world generally regards as Bidrohikobi – the rebel poet. He had been working on the docu-feature on the poet's life for four years and the Bengali version was now ready. He invited me to write the English subtitles and the English narrative of this documentary.
The 37-page Bengali script of the documentary that turned into Nazrul – JibonPorikromaand Nazrul – His Life…His Journey in English under the able direction of Mujiburda, is all set to premiere at the World Literature Centre in the United Kingdom. The movie will be first shown in London on September 10, 2017 and then travel to Edinburgh, Glasgow, Birmingham and Leeds.
Mujiburda, who is one of the founder-secretary of the Kolkata-based cultural body Oriental Media Forum says, 'After Tagore, it was a natural progression and moreover, given the times we are living in, it is important to explore Nazrul; celebrate his legacy and tell the world about his multi-faceted creativity. He is historic, yet he is so contemporary. We know him more as the Bidrohikobi, but he had managed to carve an individual identity for himself not only as a poet; but also as a song-writer; music composer; writer- he is a prism of talent who spread light on hardcore real-issues without mincing words, many of which are still relevant today,' states Mujibarda.
Indeed, Nazrul understood India and all aspects of her diversity – language, faiths, beliefs, culture and called for the preservation and celebration of uniqueness through his writings and compositions. He understood the spirit of Hinduism and Islam – he called Hindus and Muslims two flowers on the same branch – and celebrated this spirit in his creations. He used Arabic and Persian words in his writings and ShyamaSangeet – songs dedicated to Goddess Kali. 'Of course, Nazrul has faced criticism for his approach, but I feel that the need to understand and preserve this spirit of his,is the need-of-the-hour,' feels Mujibarda.
During the making of this documentary, he was helped by research scholars, artistes, actors, professors and singers along with members of the poet's family both from India and Bangladesh. He is thankful to Rafikul Islam, Emeritus professor, University of Liberal Arts; Anisuzzaman, Emeritus Professor, University of Dhaka, Abdur Rauf, writer and columnist from Bangladesh; poet Sankha Ghosh; actor SoumitraChattterjee(Tagore's voice); actor DipankarDey (Nazrul's Voice); veteran VO artist Debasis Bose, who has read the Bengali narrative.
Even before the actual screening in UK next month, words of appreciation have started flowing in. A congratulatory note from Rachel McDermott, professor of Asian and Middle Eastern Cultures,Columbia University, who has recently seen a shorter version of the film, was in all praise. We all hope the documentary will preserve the rich legacy of Nazrul in years to come.