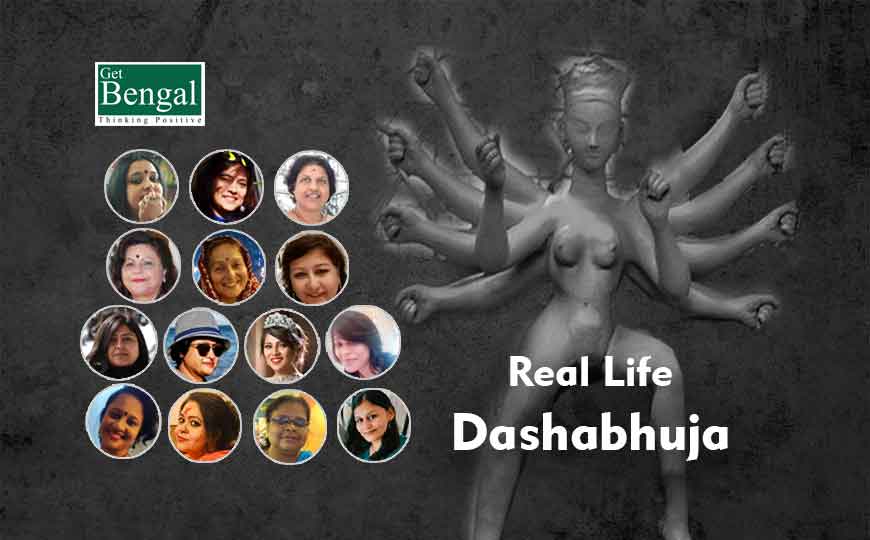 I enjoy my work as Professor of Zoology and Head of Immunobiology and Regenerative Medicine Research Laboratory and Translational Outcomes Research Group in the University of Calcutta. Teaching students the nuances of Cell and Molecular Biology, Epidemiology, Parasitology, Developmental Biology and Immunology is an act of self-realization and self-actualization and is hardly work. Whether it is as part of academia or industry in India or abroad, my identity as a mother and wife and a social creature and my identity as a scientist leading a group towards finding a cure or as a mentor to post-graduate, doctoral or post-doctoral students and scholars is one and the same. My fulfillment as a woman comes interchangeably from both. My husband is supportive and so are our children who understand that I need to be able to give myself to both my callings. Helping my children with their homework is the same as sitting with my team on data or relaxing with my family on vacation or with my colleagues and scholars on a retreat. There is no extra balancing required. I am fortunate that my work allows me the space to grow as an individual too. So I am not complaining.
But there are often sudden needs that put you into a conundrum. It has happened many a time that I needed to be completely submerged in work during a critical phase of an experiment or an ongoing data collection. During those times, I have had to work over the weekend, over holidays without a moment's relief. Sometimes, we have succeeded, sometimes not. Both outcomes have taught me to be better prepared for the next time. No regrets. For example, during a particularly harrowing epigenetic experiment with stem cells, repeated contaminations through our work off track. Dissecting the findings, understanding avenues letting in microbes on the antibiotic untreated progenitors, working with conditions of adapting the cells under feeder-free conditions and resurrecting plan B and C have often paid off.

Aspirations that I had and that I turned into reality: Becoming a Translational Outcomes Research practitioner and a bit of a social activist has paid off or almost. In 2006 when I had asked the Director of a national research lab why lab-level academic research are allowed to languish within the pages of a technical erudite and esoteric journal, I was told that only fundamental research was their mandate. I have campaigned tirelessly for translation and societal translation and am happy to say through my various activities- as part of the professoriate, as committee members on committees for making policies in Higher Education, Science and Technology and Biotechnology, we have turned around a lot of the conventional practices to expand the scope of domain-specific knowledge practice and dissemination. Choice Based Credit System, academia-industry partnership, societal application and visibility of research in the public domain and center of excellence and outreach have been some of my aspirations that continue to evolve and I with it. It has been an exciting ride so far and look forward to greater paradigm shifts that make learning more experiential and connects the scientists to the region's and the nation's social-cultural aspirations away from only publishing in high impact factor journals to making a difference in people's perceptions in the post-truth era.
As for failures, I only partially succeeded to take a department's forgotten resources to an internationally recognized center of excellence. It has been a failure of sorts. I lick my wounds and learn from my mistakes and gear up to come back stronger and better equipped to give it another go in the near future. There is a huge gender disparity (like everywhere else) in Higher Education, especially Science and Technology domains. I keep working towards closing that gap. Women under inhospitable situations but with the fire in their bellies to take the cause of science and society a little further shall always find an ally in me. Inter-disciplinarity in problem solving through disruption and innovation needs to find a permanent home in the minds of Bengali scientists. Let us strive towards that. We keep talking about a nurturing ecosystem to promote positivity in Science and Technology practices in Higher Education but such as ecosystem shall not become a reality till we realize that we are all in it together. Individual goals should now be expanded and integrated with group goals to become meaningful. Women in Higher Education still need to find their niche out of the shadow of mentors and godfathers on their own mettle and cross-disciplinarity must become the rule rather than an aberration as it is now. Most of failures stem from these twin banes.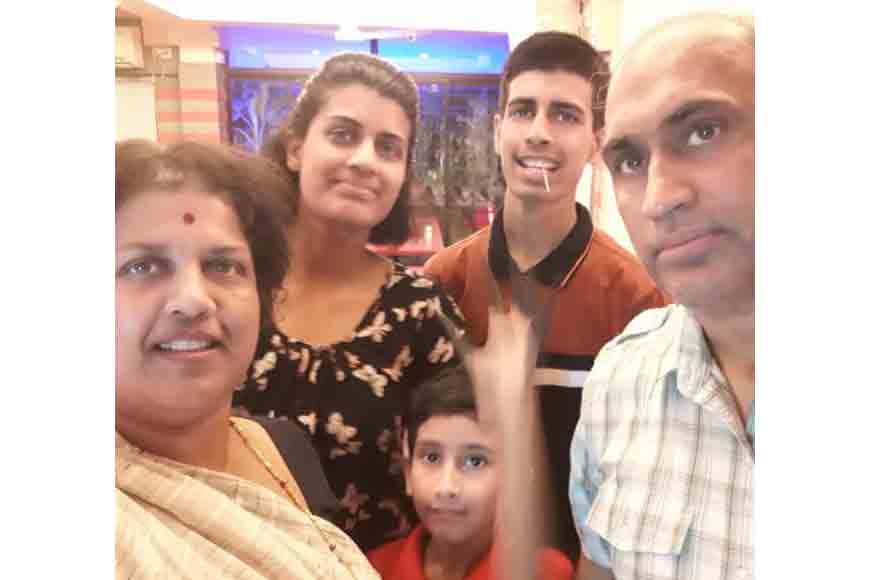 Raising your three kids: Our children, as I mentioned are to a huge extent responsible for my successes. I (like most working mothers) suffer from the eternal guilt of not doing enough for them. I may not be present when they return home from school or college but I am there to arrange their tiffin and serve them breakfast and dinner. I chat with them and (I hope) share in their joys and sorrows. My 20-year-old daughter is more my friend and confidante while our 17 year old elder son is my sounding board and surprisingly comes out with many an out-of-the-box solution for conflict situations/scientific dead ends. But our 8-year-old is the toughest cookie among them and does not settle for less when asking his whys and why-nots and really helps me rack my brains for unconventional answers. All three make me who I am. Tough and inflexible mostly but soft and mushy too (more often than not).
I travel often for various assignments, nationally and internationally as part of my duties and responsibilities. Being part of high-risk-high-reward translational projects or path-breaking academic riddles, I have to spend hours solving problems, preparing for lectures, participate in con-calls or consult with government agencies. This requires discipline and application. The engagement during those times is absolute. I need to call into action all my faculties, my training, my expertise and experience as well as my soft skills to tackle a sticky situation and reach our goal. Here there are no short cuts and if it's an umpteenth detour to reach my destination, I persevere till it is done. At least for now.
How do I still keep working? The motivation is self-enrichment. Adding value to my human self so that I can become worthy of my human birth. My mother, an Emeritus Professor in Anthropology, who is an extraordinary lady in her own field, committed and sincere in whatever she does; my father, a self-made businessman in his endeavor, natty and unvanquished in his adventures; my husband in his ability to be calm in the face of the greatest disruption; my children in their steadfastness in sticking to their principles; my grandparents, my lineages from the great men and women spanning three nations whence I descend from, make me me and I guess that is what keeps me going, still searching and validating that elusive component of our existence called truth.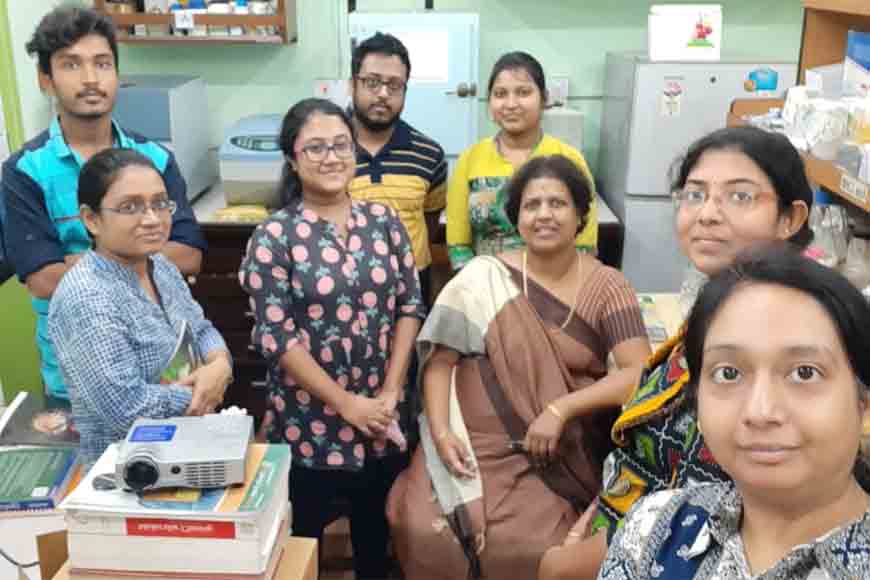 I am fortunate that my team and I together have invented tissue engineering technology to generate lineage-specific smart stem cells to cure inflammatory and degenerative diseases, formulated a novel combination culture of multiple probiotics to remedy colitis, generated nanoparticles from a bean to treat dermatitis, devised invasive and non-invasive imaging to characterize ancient museum specimens, and calculating the inter-relationship between environment, genome and epigenetic signals in a Systems Biology approach for the sequestration of bioactive phytochemicals and connecting Science with Society by rethinking pedagogical nuances of how we train our future scientists. I hope to continue to learn and apply myself and participate in developing a sustainable higher education approach to teaching-learning in Life Sciences and Biomedicine in the years to come and continue to break glass ceilings like becoming the first woman to be awarded a DSc in Zoology of University of Calcutta. My continuing work will be aimed at helping and supporting other women to break glass ceilings too, as teachers, as entrepreneurs, as mentors, and as strong voices in challenging status quo.