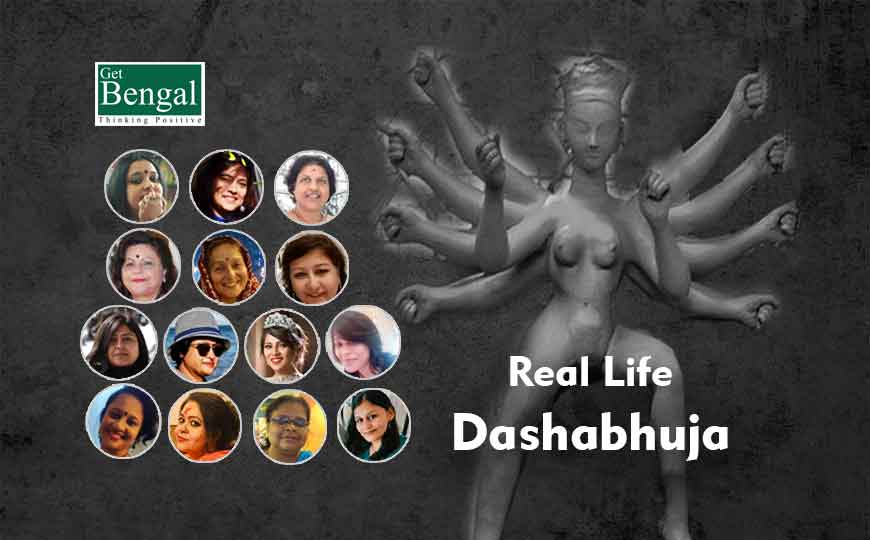 I have been selected to pen down my role as a 'Dashabhuja', lady with ten hands like Ma Durga. While its immensely gratifying to be compared to a Goddess, yet it rattles you. Am I worth it? It set me thinking! And this is when it struck me that though being compared to the Goddess is going overboard, yet it is a fact that I am constantly at work, always busy. Yes, I am multi-tasking all the time!
For many years I was a Media and Communications professional. All 3, print, audio and audio-visual. This included being a television news producer and anchor as well. I used to be busy working for several hours a day for 2 sets of people. My employers on one the one hand and the customers (audience) on the other. But after the arrival of my daughter I decided to work for me, myself and for many others. I quit the corporate world and instead of helping to earn millions for a handful, I decided to help those who really needed it, share my strength and resources with the needy ones and in the process help them gain intangible profits that far surpass the tangible ones connected to the corporate world.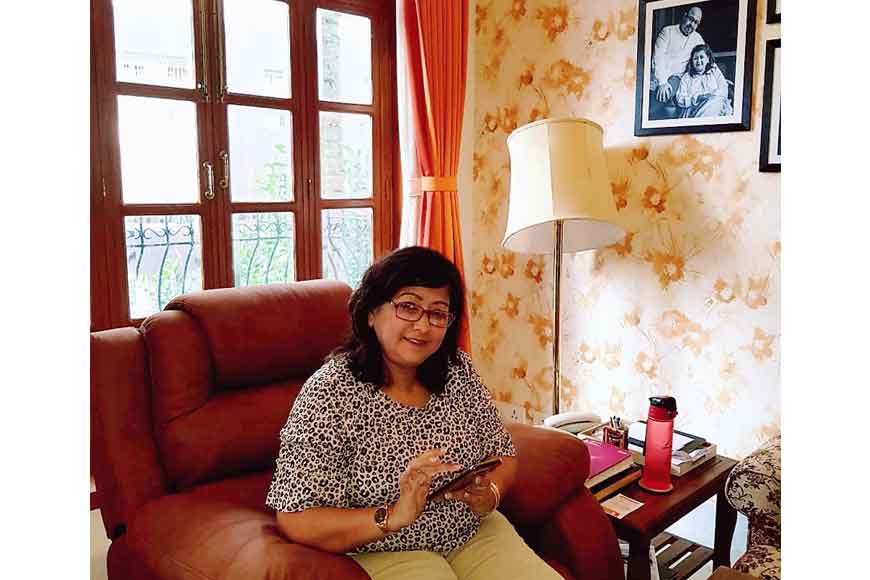 I now realise that my current spectrum of work covers a wide area and impacts a whole lot of people positively and eventually gives me tremendous satisfaction. The professional responsibilities I carried earlier, were much less than the multiple responsibilities I now bear. My day starts with hovering over my 'not so little one' before she leaves for school. It's a major effort, trust me! My house management has been more or less streamlined, but monitoring those in charge, is a big task. My ailing mother is very much a part of my family and therein lies a great responsibility. Monitoring her regularly, that includes giving her medicine on time, coordinating with her doctors, physiotherapist and caregivers, coaxing her to exercise which she is most reluctant about and even organizing her hospitalization when required, are a very tiny part of my activities.
In the morning when I sit with 4 daily newspapers, streams of phone calls start pouring in. This starts around 9am and continues till about 1pm. I am thereby compelled to keep the papers aside and focus on the calls, that need great attention. These calls are mostly appeals and requests from the poor. Some infant or serious patient needs to be hospitalised immediately, hapless women being tortured by the husbands, job seekers, dowry deaths, child marriage, certificates for the differently abled etc. Some calls come from distant villages (from friends and relatives of my staff. Word of mouth you see! Sometimes there are visitors at home too, with their various problems.
There's another series of calls from relatives, friends and acquaintances. These could be about cases of passports, lodging FIRs, seeking appointments with bureaucrats for problems dealing with property or insurance, cases of cheating, school and college admissions, problems created by local goons, car related problems, cases of fraud, rebellious teenagers running away from home, appointment with doctors for serious or terminal patients (since the appointment queue at times extend from 6 to 8 months for the most successful doctors, and time here becomes a constraint), and even issues related to the burning ghat! The list is endless.
You must be wondering why do they approach someone like me! Well there are 2 strong reasons for this. Firstly, my husband happens to be a senior bureaucrat, obviously resourceful and well-connected, but hardly has the time to look into such micro issues. Secondly and more importantly, both of us have a very strong desire and inclination to help such people in distress.
I am able to direct them to the right quarters and oversee the entire process, till success is achieved. I do not give up easily, so though the 'follow-up' becomes quite arduous at times and needs a lot of patience, yet my success rate is pretty high. Finally, I deeply value the blessings that keep pouring in. Worth a hundred times the lakhs I was earning.
Though this kind of work gives me a tremendous high, yet there are the mundane chores that I have to attend to on a daily basis. Coordination of various kinds is one such thankless job. Arranging the ayah shifts, instructing the house maids and various drivers regarding their duties (daughter's school, various tuitions, extracurricular classes, her birthday parties), husband's calls to deliver stuff left behind, send his lunch on time, and even follow up with his social diary, else he forgets! Trust me, I am his unpaid secretary. Whenever I am in a movie hall, my movie partners get astonished and irritated (I am sure) at the sheer number of telephone calls that keep coming in)! Not to mention the neighbouring audience who gets fed up.
Movie hall reminds me. Since I love to write film reviews, I do so, sitting right there, inside a cinema hall, while watching a film. The smartphone comes in really handy at the time. It's heartening when these reviews form the basis of the decision for others to watch the film. In fact, I write a lot, in both English and Bengali. I write a monthly column 'Story Curry' for the popular Bengali food magazine 'Hyangla Henshel'. I write regularly on travel and tourism, social issues and daily problems, their solutions. These have tremendous impact, with a positive outcome.
My workplace could be anywhere, as I work at odd hours too. I cannot write for long as I am a victim of writers ' cramp, some nerve problem. I operate with the help of the indispensable smart phone. My planning, coordination, communication, follow ups, several write-ups are all thanks to the modern technology. So, my most popular workplaces are my den at home, the backseat of my car when I travel, the movie hall and trust me even the washroom at times. Where chaos and demands on me are far less than at other times!
In between I dabble a bit in modelling, ramp shows especially for a cause, judging events, moderating talk shows and even giving motivational speeches at times. All this mostly on request and not professionally. My guiding strengths? I am 100% honest to myself, I do stuff I'm passionate about, I do not try to convince others unless I am 100% convinced myself, I have a pronounced soft spot for the poor, the elderly and the distressed, I speak my mind, I try to stick to the truth as far as possible and I stay miles away from the pretentious, the fakes and the hypocrites.
The topic 'Dashabhuja' on which I have been asked to write is itself quite narcissistic, if one has to write about oneself. It is embarrassing as well. So, while my dear husband refers to me as 'Mata Jagat Sudhaar,' I have selected a more modest name for myself. I am sure that after reading this article, you will realise why I choose to call myself 'Jill Of Some Trades.'
Happy Pujas!