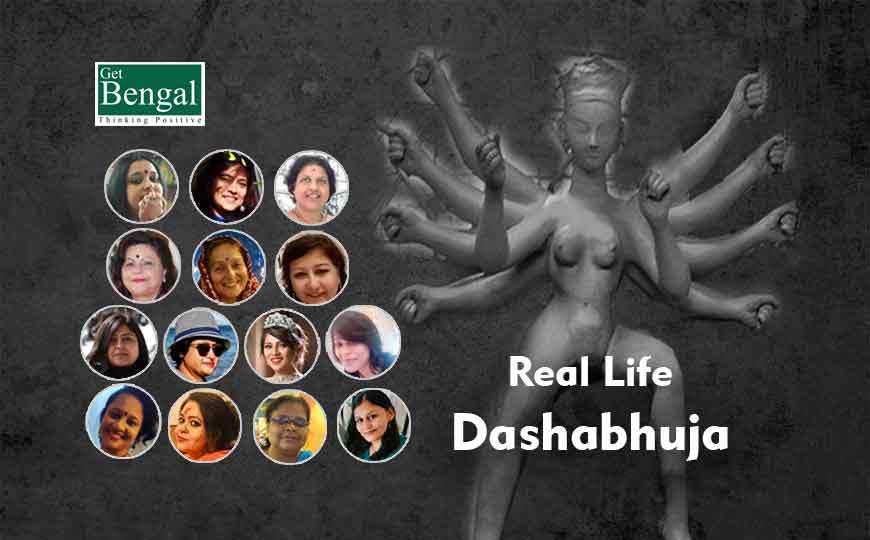 School teacher, former corporate trainer, loving mother and wife, Sanjukta always knows how to keep her spirits high!
Being brought up in a quintessential Bengali household Durga puja was always a special occasion for us. Since I was born on the auspicious day of Navami, the 9th day of Navaratri, as a child I always loved to imagine myself as Ma Durga. Even my grandmother (chordida) called me Mahishasurmordini as I was a daring kind of a child. Life went on, that daring girl was transformed into a moderately docile kind of a person who completed her post graduation in marketing management and was aspiring for a successful corporate career. I loved dancing, that was my passion. I enjoyed performing in dance programs and on stage.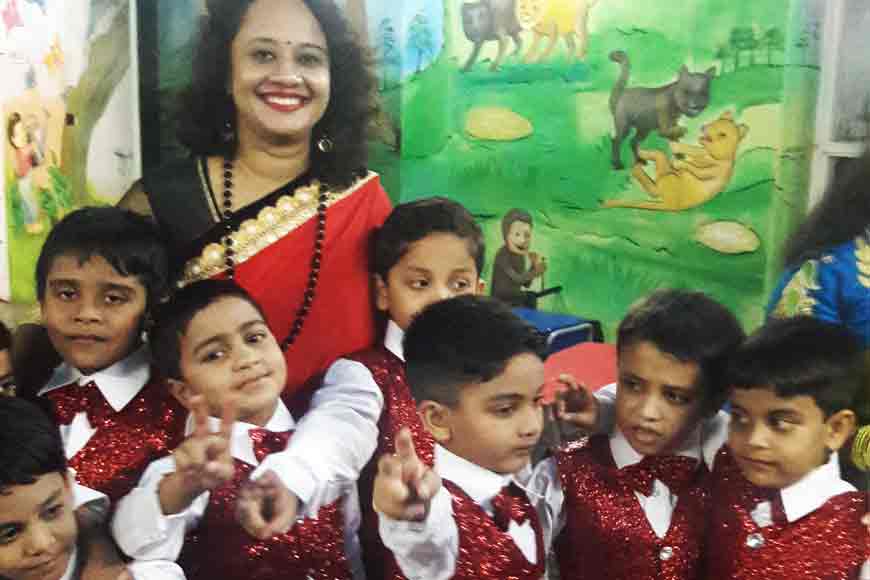 I loved Kolkata, and never wanted to leave my darling city at any cost but somewhere Durga ma smiled upon me and I got married and was uprooted from Kolkata. We moved from Indore to Kolkata to Haldia. Life was challenging both at home front and career life. In three years I worked as Sales Trainer with a MNC, as counselor in computer training Institute, customer service executive with a recreation house and finally became a faculty with a management institute.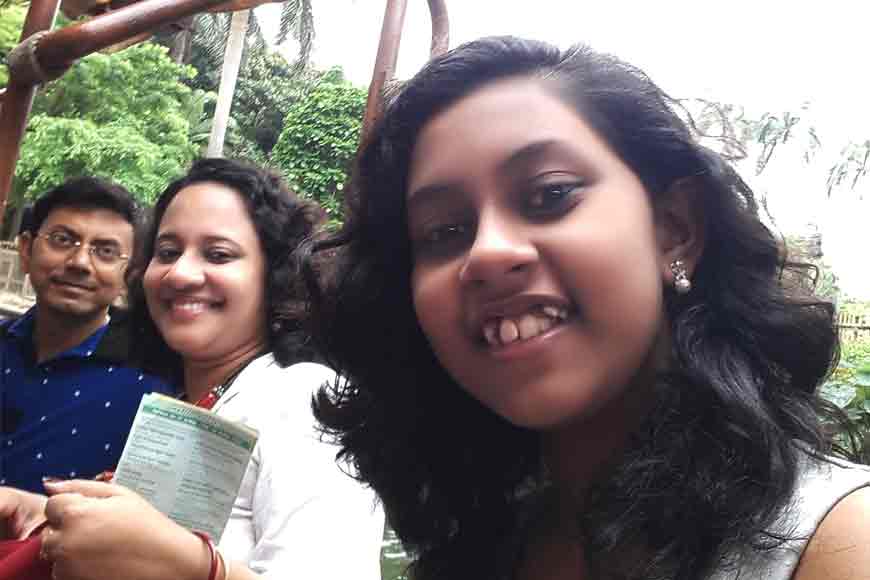 Now came the real challenging time of my life, my husband joined a multinational company at Visakhapatnam. We were again uprooted and planted at Visakhapatnam. There the real challenge was the language. Nobody understood what I said and I did not understand what they said. Numerous stories can be told about how much we suffered with the language at Vizag. Now they all seem to be very hilarious but at that time I felt like crying out loud and wanted to run away to Kolkata. Once, I told the watchman to get milk, but couldn't explain, then I had to mix some powder in water to show him the color and then he understood what I wanted. I went to a shop to buy lemons, after few minutes I realized that the shop keeper was making lemon juice for me.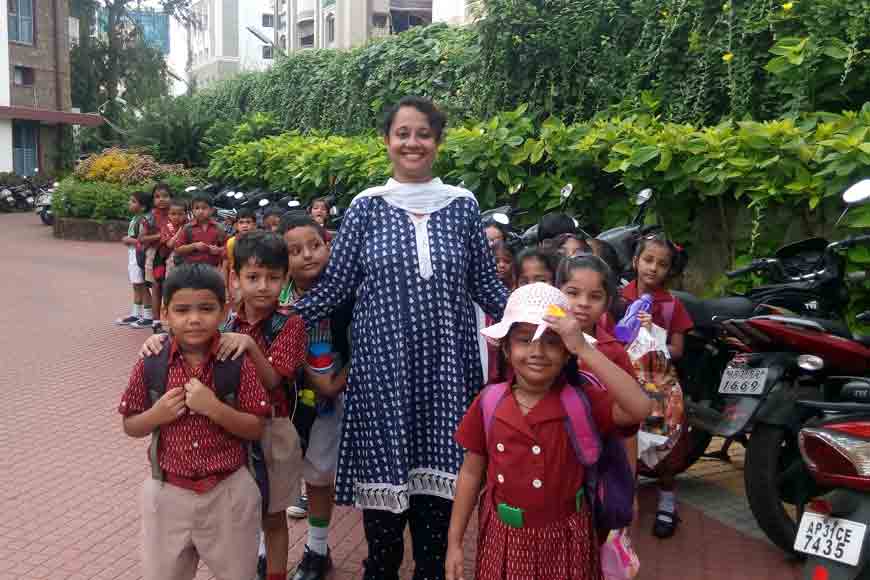 I became an expert in communicating through actions as no one understood my words. My ever smiling two-year-old daughter who was always ready to mingle with everyone, became totally dependent on me as it was difficult for her to communicate with anyone. The only choice left to me was to give her my full time. Years passed, slowly we started adjusting to the city, made few good friends. We went through some rough patches as my daughter suffered from wrong medication, and I had to handle all situations almost alone as my husband's corporate career demanded his full time attention to office. As my daughter grew up, life was smooth but somewhere I was missing something may be my dance and my work life.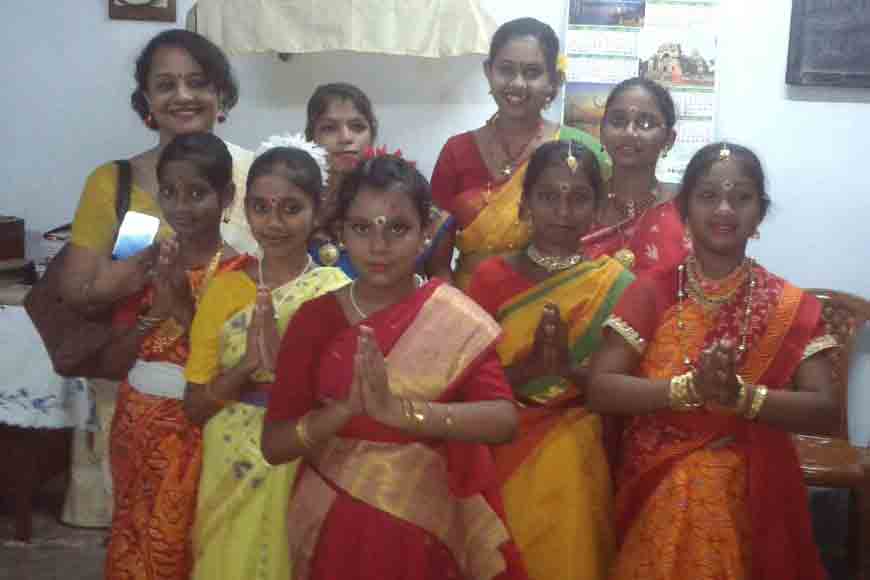 I wanted to restart to my career, that again was a challenge, almost eight years had passed, but the same problem cropped up, who will take care of my girl while I am away. So the only option left for me was to change my career and join her school as a teacher. So I had to do my B.Ed and finally joined her school as a teacher. Again, I faced a new challenge, I used to teach at graduate and post graduate level and now became a school-teacher. World went almost topsy turvey with 40 kids around me. But another Ma Durga of my life, my biggest source of strength, my mother taught me not to accept defeat. Within few months I gained reputation as a loving teacher. Now I get to teach my kids dance for various functions at school and I travel back to my childhood. My daughter is now a teenager and my best friend, together both of us have kept our culture alive, we perform together at Bengali dance programs. I am also attached with an NGO for girl child, while teaching them dance I have learned how little is needed to stay happy in life. Though my aspirations and dreams changed but today at least I have an identity of my own.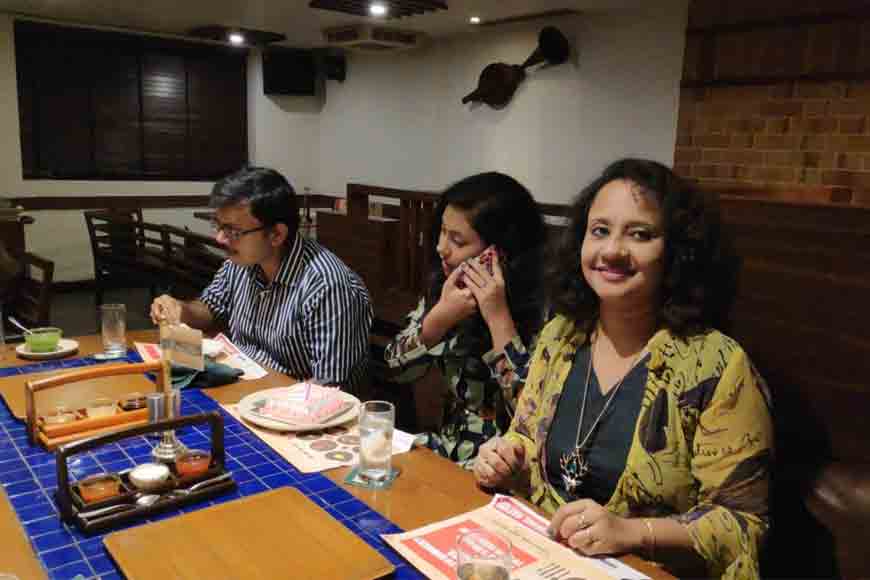 There is a Ma Durga inside all women who are fighting new challenges every day. We all have to fight, every moment is a fight between good and bad, sur and asur. As Ma Durga got help from the various devtas in her fight against mahishasur, I got support from parents, my super busy corporate husband and also I was lucky to have some real good friends who have always supported me and pulled me up from the depressing phases of my life. And here I am now, like the Real World Dashabhuja! Alive and kicking with a career and home!