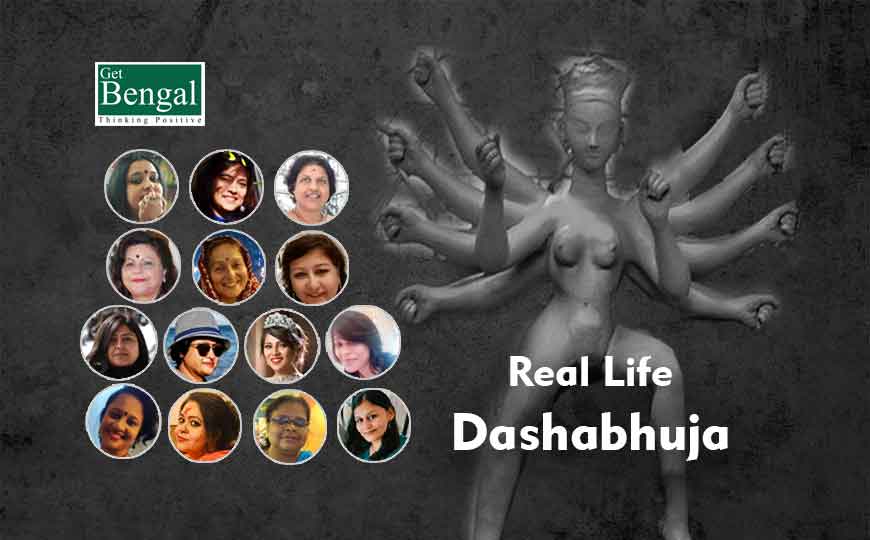 Calcutta was very different in the sixties, we have seen a city where life was easy going, things were dirt cheap, there was camaraderie in the air. I was in Presidency College doing my Bachelor's degree. My mother coming from an enlightened Brahmo background was extra cautious about my safety. She was totally against my studying in Presidency because it was co- education. How I managed to study there is another story.
To cut a long story short, my engagement was announced when I was still in college and after a few months I was married. Life became very different for me. My husband believed in giving full freedom to the women in his life. He held a fairly important position in a famous mercantile firm where it was very important for the wife to attend all parties. It was important to know all the steps of waltz, foxtrot, tango, rumba etc. It was important to know the difference between the steak knife and fish knife. It was important to play bridge in the evening and mahjong in the morning with ladies. I did all that and to be quite candid pretty much enjoyed all of that. Yes it was very important to throw a cocktail party (though alcohol and I do not go together). Life was just perfect because food was incredibly cheap and being in the mill compound we never had to pay our electricity bill or wages of our servants.
One fine day I saw an advertisement in the newspaper about applications being taken for Post Graduate Library Science classes. I had never heard that Library Science was taught and never heard of Jadavpur University. I sent an application, my husband was most cooperative, gave the car and the driver to travel from Titagarh to Jadavpur six days a week. A wonderful world opened to me. I had no idea that there are so many aspects of running a library and that a librarian can do so much. I came out with flying colours to use a trite expression. Next year, by sheer accident I saw an ad in the paper again. 'An English medium school needs a qualified librarian.' I went for the interview without being aware the school was Modern High School.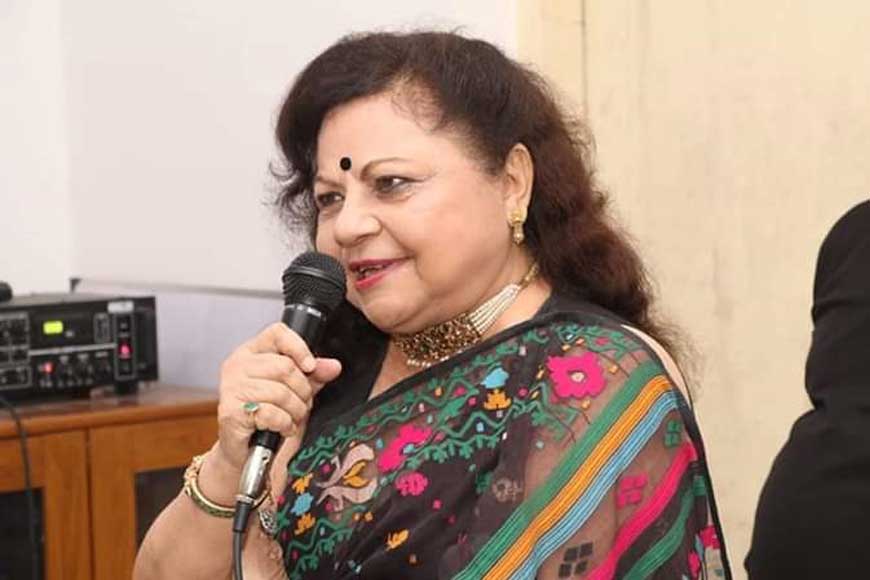 Principal Mrs Wilson de Roze liked me. Again, my husband being the great grandson of Sarala Ray was most generous, gave the car to travel that long distance. By the way, my driver's salary was more than my pay. It does not matter, today I am richer than many rich people in the world for I have earned the love and respect from my students.
Now, the struggle started (more or less the same time of Naxalite movement) we moved to Kolkata. ..... Things were not so smooth , the great thing was I had my priceless gift from God i.e my daughter Ananya. Her very presence made me fight all the battles of life...I used to have severe asthma attacks...There were nights which were nightmarish. I had to go to the hospital at 3am, injections, oxygen, antibiotics (16 medicines) a day. Yet, I did not give up. Much to the surprise of my headmistress I never missed school. Mrs Wilson de roze , a wonderful boss, appreciated it. That was enough for me when some teachers in school thought my illness was fake. So much for educated women in our society.
Next, people thought I was crazy as I decided to do my Masters Degree privately and in a matter of 9 months. There I was, a full day in school, 4pm to 6pm in the British Council, back home to my daughter, entertaining guests, studying from 11pm to 3am. Yes, I did very well in the exam. Again credit goes to my husband, not only he gave full support, he never complained when I did not attend those meaningless parties held by his colleagues.
No my quest for knowledge did not stop there, I did my B.Ed during summer vacation in St. Xavier's. All these while giving full attention to my daughter, doing all the needlework that women in those days were expected to do. Yes, needlework is still my passion. My boss was wonderful, and seriously considered my request of teaching senior classes. There was another reason for my giving up the library I built with great care because school authorities did not want to expand the library, rather they spent that money for polishing the highly polished floors .
But God was not very kind to me, my asthma took a serious toll on my health. I used to be taken to Calcutta Medical Research at 3am, given steroid injection, put on Oxygen etc and I came back home totally exhausted. It was not possible to attend school the next day at 9am. Though most days I did and heard the most unsavory, ruthless remarks from some of my very erudite, enlightened women colleagues. My Principal always believed me and most kind hearted. At this juncture I would like to thank a few of my female colleagues who took up the cudgels for me. They understood my grit and determination.
My struggle seemed endless, health and then my marriage...My husband could not take the pressure from the members of his family especially his mother. There was constant demand, mainly financial. My mother-in-law believed in leading a very luxurious life. There were endless demands on my husband. I reached the end of my tether and we started living separately. Surprise, our neighbourhood which is very middle-class took up the cudgels for me and I never felt ostracized.
I lived alone for three years with dignity. Another surprise was my totally illiterate maid servants supported my decision. My daughter was already in USA for higher studies. This was a big blessing because she earned scholarships to study. Yes, it was a lonely life and I managed beautifully with my meagre income. There was one regret -- Maharani Gayatri Devi wanted me to be the head of her institution and I refused that.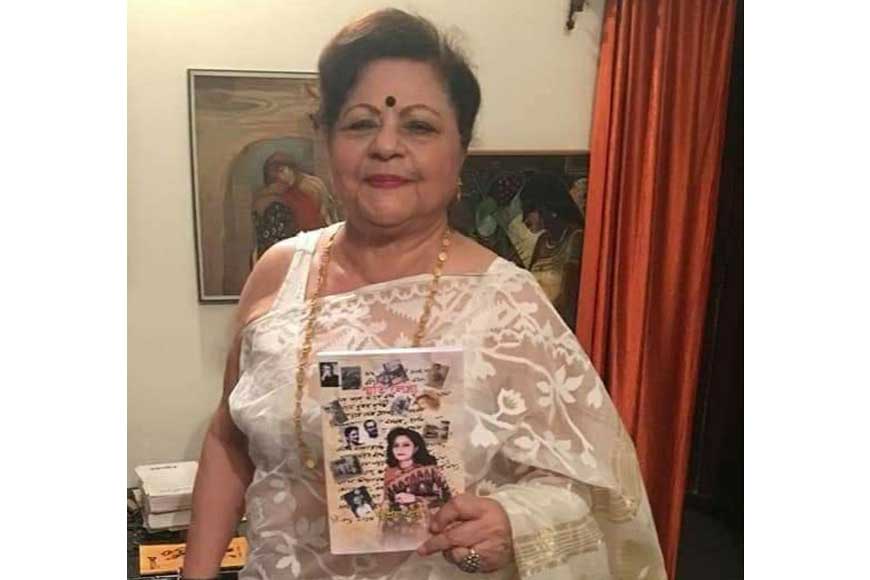 Then one fine day, my husband was at my doorstep after being abandoned by his very own people. He looked desolate, homeless. I felt terrible, my heart went out for him. The least I could do was to make his life a little comfortable. His passion was music. So I made sure that he listened to music the whole day, he sang, recorded music... Relieved him of all duties. But I was in a fool's world. His mind was not free of all the baggage he carried over the years. He had a complete nervous breakdown. I had the most traumatic time because I was blamed for his mental state. Only two or three members from his family supported me. That was enough.
My students were next to me and to my great surprise my neighbours supported me unconditionally. He had to be in an institution. No woman should go through what I went through. My daughter came five times in one year. He was out of that after a few months. Now the real battle started, to make him feel happy. At the same time keep a strict eye on him that he does not do anything drastic. Except a few relatives nobody was next to me and as if I was to blame for his sickness. Now he fractured his hip and the so -called nurses and ayahs were so awful that my students looked for a place where they keep patients with physical problems. My daughter and I felt awful to do this act. But by God's grace he was looked after and he started doing his crossword from the Statesman and singing Rabindrasangeet again. Masks fell off from my highly educated, broad-minded friends. They thought it was not a done thing in our society ....I had broken all the rules of society.
I was fighting all these battles alone, at this juncture a student of mine introduced me to social media. Facebook helped me to fight these battles with ease. I found a number of like-minded friends. Literature had always been my oxygen but very few people knew about it. Now, I have quite a few virtual friends who appreciate my writing. From virtual friends they became real friends. My husband is in another world now. I don't know what will happen to me if I lose my mind or I become bed ridden. God had always been next to me. I am sure there will be an answer to this query.