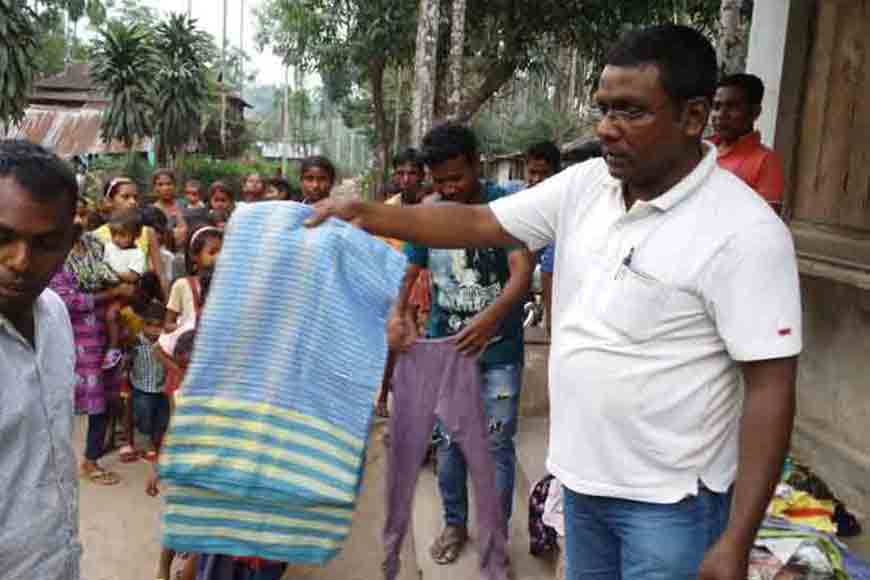 A clothing bank for closed tea garden workers? In the past 15 years, almost 1400 people have died in the tea gardens of North Bengal, as one after the other gardens shut down, owing to a huge blow to the tea industry, thanks to the ongoing hill agitations and other factors. What is surprising is when little was done by any NGO to provide food and clothes to those who were starving after losing their jobs, it was the effort of a driver that paid in the end. He took the unique initiative of starting a clothing bank for the hapless tea garden workers' families. This has created quite a stir in the locality. The man is Saju Talukdar, a resident of Beerpara-Dimdima-Hatkhola region of the Dooars.
Saju drives his vehicle on the Dooars-Siliguri-Jalpaiguri route regularly and in between he visits different localities of the towns and collects old clothes. He has been carrying out this service quietly for the past 6-7 years. After a sizeable collection of old clothes, Saju heads to the closed tea gardens and distributes them among the workers. He has been distributing around 50,000 clothes annually.
He has also set up the Birsa-Munda Clothing Bank. Whenever a poverty-stricken soul seeks his aid, he gladly donatesclothes from this bank. Since last year, he has made arrangements, within his home to shelter homeless people. At present, he has four penniless men staying under his roof including an old labourer who lost his job in the tea gardens. Saju takes care of their upkeep and provides food and shelter in his house. He says whatever little he can afford is shared by his family and those hapless men who are part of his family now. Forty-five-year old Saju lives with his aged mother, wife and two children and it is an upheaval task to keep the home fires burning with his meager income as a driver.
Why does he indulge in social work when he is himself burdened with financial constraints? Saju says, his family was very poor and he had to discontinue his studies due to paucity of funds. His parents could not afford his school uniform, so he was not allowed to enter the school premises. That was the end of his formal education. After he grew up and started earning, he constantly thought of doing something for the destitute and those who were less fortunate than him. This drove him to this mission. He distributed 35,000 dresses during this year's Durga Puja and now with the onset of winter, Saju's drive to collect woolens and blankets for them has gained momentum.
We salute this man!