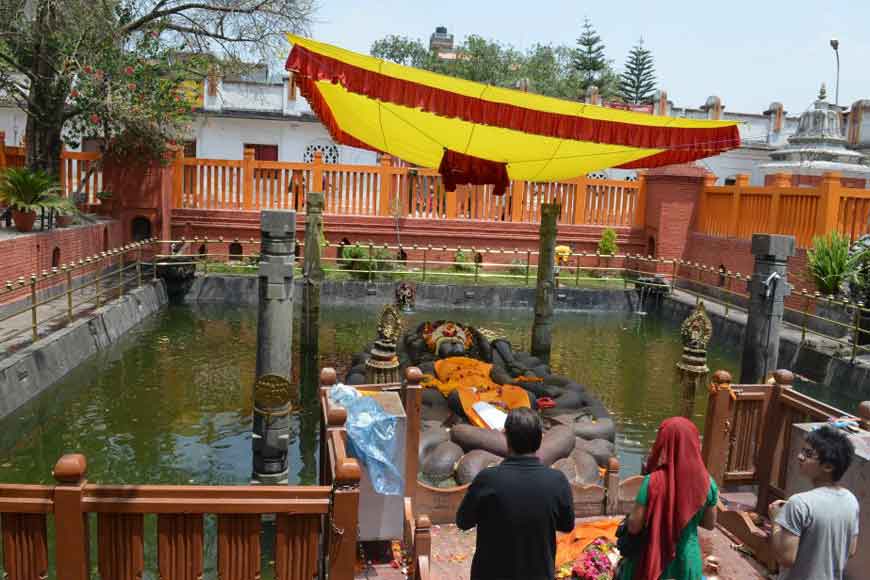 Snow-clad peaks, rugged, barren, high-altitude deserts, green terraced fields, rustic hamlets, lush green valleys and sprawling plains ---they all make up the magical land of Nepal. The unique geographical location of this landlocked country is very rich in terms of bio diversity. It is also the land of the pious, with Lord Shiva (Pashupatinath, the presiding deity of the land), Vishnu, Buddha and scores of gods and goddesses choosing to make this land their home.
Ten kilometers from the country's capital Kathmandu at the end of the Kathmandu Valley lies a place called Buddha Neelkantha, on the foothills of Shivpuri Hill. This is the open-air temple dedicated to Lord Vishnu, who is seen in a reclining posture. This is also the world's largest stone carved idol of Lord Vishnu. The statue stands five meters tall (around 16.4 feet) and is positioned in the middle of a recessed pool of water, which is 13 meters (42.65 feet) long. It depicts the deity reclining on the coils of the cosmic serpent Shesha. The statue is carved from a single block of black basalt.
An interesting fact worth mentioning here is that basalt stone is not found in this region. According to archaeologists, this kind of black stone is found in the Rajmahal Hills and is known as 'Rajmahal Schist.' But then how did this single slab of stone come here or who got it here and who carved the reclining Vishnu statue? Very enigmatic indeed. The old priest related an ancient 11th century lore. According to legends, once a farmer was ploughing the field, when he suddenly noticed fresh blood oozing from the ground. The frightened farmer called the villagers and they all began tilling the soil. Gradually the full figure of the deity of Buddha Nilkantha, was excavated and placed in its present position.
According to historians, in the 10th century, Raja Vijaykamdev, initiated the worship of Naag and Basuki. A number of Vishu deities were made during his reign and this is one of them. Vishnu is reclining here. But why has he been named Neelkantha (blue necked), because it is always Lord Shiva who is called Neelkantha.
A sprawling fair is held annually in the adjacent ground in November, and lakhs of pilgrims from all corners of the world throng here to pay their respect to the Lord. All come to the fair except the king of the land. It is believed that a curse bars the King from visiting the temple. In case he does so, he will perish soon. None of the monarchs of Nepalhas ever paid a visit to this temple.