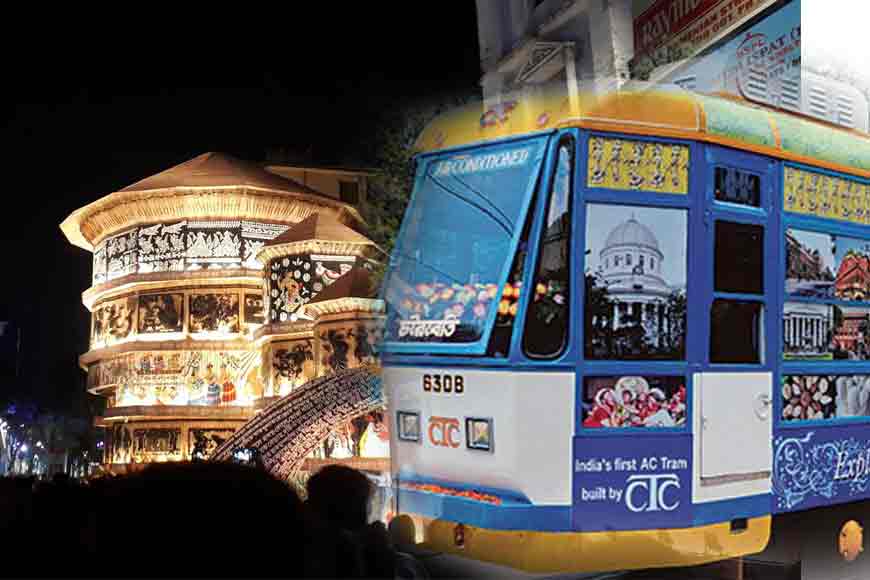 And here's to the largest street festival of the world and the grandest festival of India. The worship of Goddess Durga and her children over four auspicious days, is just a few days away and preparations for the pomp and gaiety is at high swing. Clubs compete to set up the most renowned, most talked about pandals, or temporary stages, and creative ways to present the idol. There are also competitions for 'best pandal', 'best idol', etc. Several teams, assigned as 'judges', make rounds around these pandals, and judge them according to the categories each year.
The popular pandals get insanely crowded during the last three days of puja, and navigating through the masses is well nigh impossible at times. The easiest way to participate in the celebrations is to take a special Durga Puja Festival Tour, such as the ones organized by the West Bengal Tourism Development Corporation (WBTDC).
Like previous years, this year, too, WBTDC has introduced tourism packages for 2019 where you can visit various well-known, and lesser-known pujas at affordable prices. Based on traditional and open, community Durga pujas, organised tours have been arranged during the festival. Visit famous households or erstwhile aristocratic mansions where you can experience the various interesting rituals of Durga puja which few care to remember these days. You can visit nearby villages of Bengal too with reliable guides and escorts to enjoy a rural feel.
Packages available for visitors include traditional, bonedi barir pujo, the festival celebrated in the palaces and bungalows of zamindars and even the opportunity to see the immersion of the Durga idol on Dashami, the last day of the festival. Visit to Kamar Pukur - Jairambati is included in a number of packages for viewing celebration of Durga puja in the outskirts. Now, a variety of cushy transport is available for your leisure -- not only air-conditioned buses as is the norm, but also air conditioned trams! This quintessential Kolkata transport, a beloved means of travel from the colonial era, has been renovated with large, luxurious deluxe seats and equipped with air conditioners. Explore places with AC trams, more exciting to ride, with luxuries and the nostalgia of a bygone era while you visit pandals and revel this Durga pujo.