"I was born in one of the most romantic places in the world – Darjeeling – although I have only confused impressions of its beauty, and of the gaiety of life there, for my father, who was a stockbroker, brought the family back to England when I was five…" when one of the most beautiful and talented actresses of Hollywood writes these lines in her articles and biography, then one realizes not just today, but truly Darjeeling was the Queen of Hills. Surprisingly, unknown to many, Darjeeling had seen the birth of Vivien Leigh, the actress who made the role of Scarlet O Hara immortal in Gone with the Wind, one of the most iconic movies that Hollywood had ever made, and finds a place in their Hall of Fame.
Darjeeling was then part of British India and included Sikkim too. Prior to that, the area belonged to Nepal. Later, the Rajah of Sikkim granted the area to the British on February 1st, 1835. The British has a desire for the possession of the hills of Darjeeling for a long, on account of its cool climate, so that British officials suffering from sickness could take advantage of the retreat. The place had unparalleled beauty, commanding a grand landscape of the snowy Himalayas along with the third highest peak of the world Mt Kanchenjungha. The British thought Darjeeling would serve as a great location for sanatoriums and began to work on the conversion. At the time, Darjeeling consisted of only a few huts and about 100 people. Many buildings began to spring up including churches and schools like St. Paul's, which was first formed in Calcutta in 1823, then later moved to Darjeeling in 1863, with one more move to its current location in 1864. Over the years, St. Paul's acquired additional property in the form of local tea plantations also called estates. One such tea plantation was the Mount Vernon Estate, which was subsequently renamed for one of the school's rectors, Reverend Dawkins.
It is said in various books and accounts that Vivien was born, in the city of Darjeeling, at Dawkins House, on St. Paul's campus. However, Felix Barker, who interviewed Vivien's parents, and Hugo Vickers, who was given access to all of Vivien's papers, wrote in their respective biographies that Vivien was born at Shannon Lodge in Darjeeling. Her parents, Ernest and Gertrude Hartley had journeyed to Darjeeling from Calcutta to escape the heat of the city. The Hartleys settled at Shannon Lodge, a two-storeyed house with a wide-sloping roof, set in its wooded grounds. Baby Vivien was born here on 5 November 1913.

In 1913, they spent in Darjeeling and had a special reason for renting a house rather than staying in a hotel. The two-storied house with the wide-sloping roof, which stood on its own wooded grounds on the side of a hill overlooking the town, was a quiet and perfect place in which to prepare for the child's arrival. From the veranda of the house, the view seemed especially beautiful on the evening of November 5th. Far away to the north, toward the great snow-capped peaks of Everest and Kanchenjunga; and not long after the sun had disappeared, leaving the town a spangle of twinkling lights in the sudden darkness, the doctor came downstairs with the news that it was a girl. It was against this properly dramatic background, Vivien Mary Hartley was born.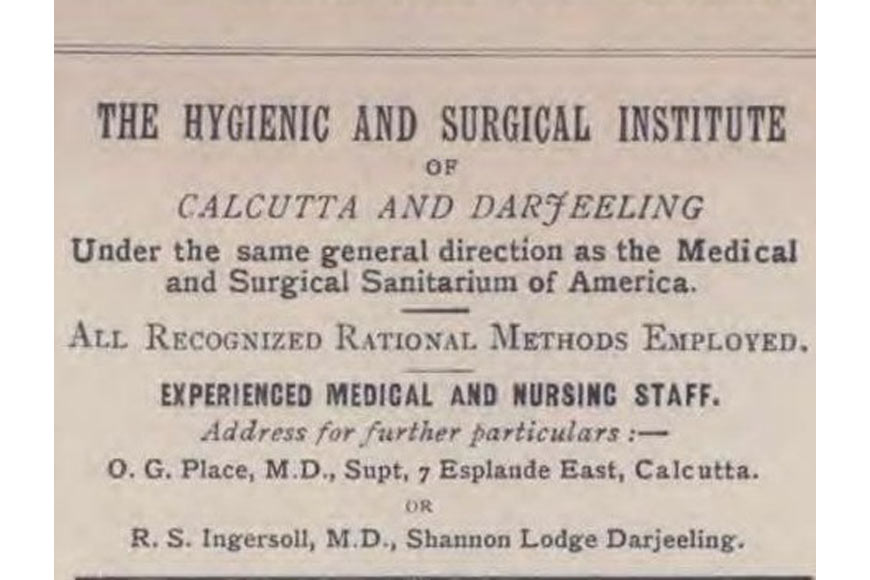 Shannon Lodge was built sometime in the late 1800s by Thomas Kenay, who had come to Darjeeling as an engineer in 1864. He established a pure water source by building reservoirs at Senchal. Kenay laid down approximately thirteen miles of pipe to effectively bring the water into the town. He built the barracks at Jalapahar, rebuilt St. Francis' Church, which was renamed St. Joseph's Church, and had a hand in building various other buildings throughout Darjeeling. Two of these buildings were West Point Lodge and Shannon Lodge, both of which are located quite close together. When Kenay rebuilt St. Francis' (St. Joseph's) in 1880, he re-used some of the old church's windows and doors for the West Point cottage.
Thomas Kenay was approximately 73 years old when he died, in 1899. At the time of his death, he owned several lodges (West Point, Asyleen Villa, Fir Grove, Charlemont), rental buildings in Commercial Row, and of course, Shannon Lodge. All of his property went to his three sons. During his lifetime, Kenay earned rental income from his various property holdings, including Shannon Lodge. There's a mention of Shannon Lodge in 1887, as the residents there announce the birth of a baby boy. The next mention came on June 12th, 1897, when India suffered a major earthquake. It says: "Darjeeling was shaken at 5 o'clock this evening by a most appalling earthquake, the severest ever known here. The shock lasted three minutes and did incalculable damage. Nearly every house in the place has been more or less affected. Luckily, Shannon Lodge suffered only a minimal amount of damage and was repaired soon after."
Some say Vivien attended the Loreto Convent in Darjeeling. She may have attended a few months there before her parents took her back to England and enrolled her in Sacred Heart. In the Loreto Convent's records, which are currently available, they show that a Gertrude Yackjee attended school there and this Gertrude's age matches that of the future Mrs. Hartley. But the actress who stole many hearts undoubtedly was tied to the Queen of Hills as a child.
Source:
What Success Has Taught Me, article by Vivien Leigh, Himalayan Journals by Sir Joseph Hooker, Vivien Leigh: A Biography by Hugo Vickers