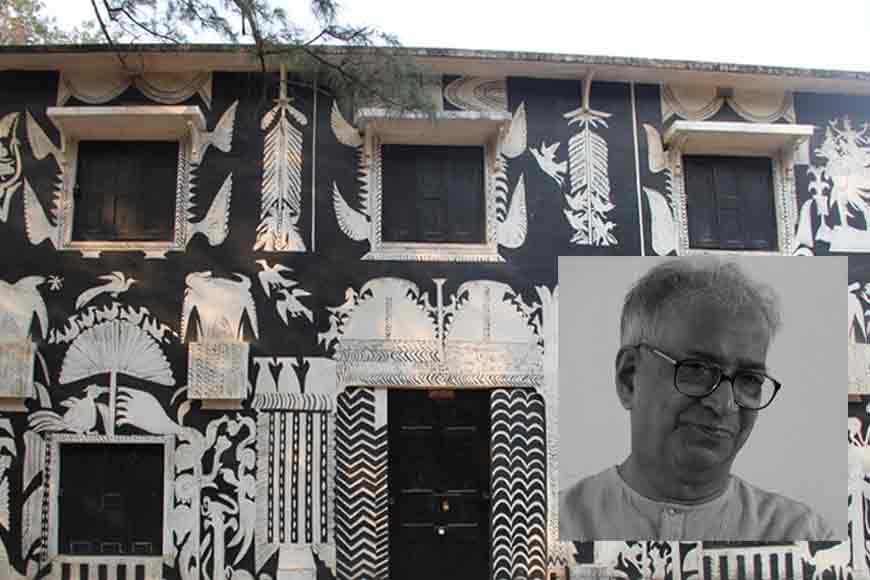 As one steps inside the Kala Bhavan campus of Santiniketan, one comes across three stupendous murals, that will catch your sight in the first instance. One is etched in black and white paint depicting the tale of Ramayana on one wall and that of Durga on the other, another comparatively new building dedicated to Nandalal Bose with exquisite alpona and inscriptions and a third one of Ganga Yamuna Saraswati. Incidentally, these three outstanding installations, have a common bond, that of pluralism, compassion and undoubtedly innovation. These three values and much more were shared by the creator of these murals, Kalpathi Ganapathi Subramanyan or K.G. Subramanyan, who was not just a student of Visva Bharati, but also a teacher at some point of time and definitely a world-renowned artist.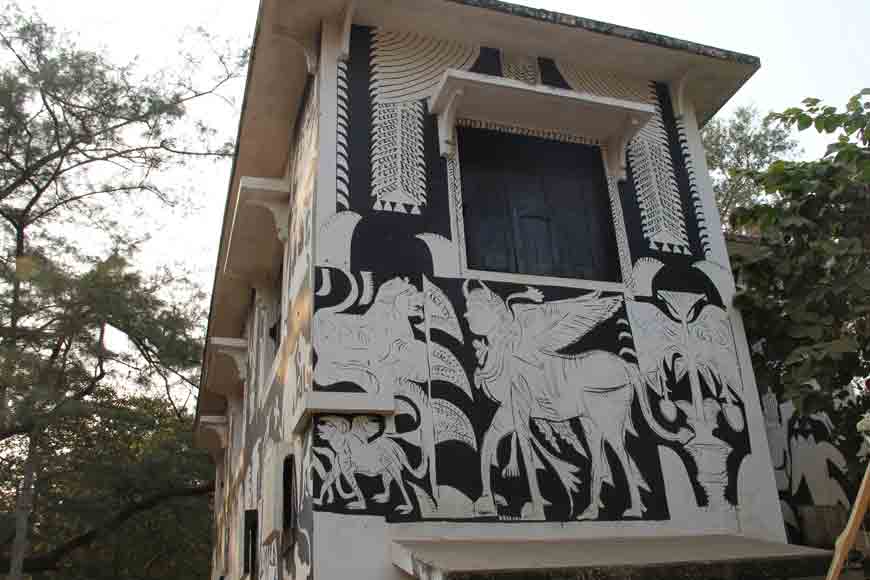 Durga without weapons
Popularly known as Mani Da by ashramites, Subramanyan's spectrum of art was versatile – it is known how he made the smallest of toys in wood or even effortlessly installed large murals and painted huge canvases with passion and expertise. His every bit of imaginative fervor is reflected on the entire façade of Kala Bhavan's painting department building in black and white. The outermost surface of the wall was removed to make way for fresh plaster that was treated to create the right kind of surface. This installation of 2009, faded due to exposure to polluting elements. However, in 2011, Subramanyan repainted the entire surface again. He just loved doing that instead of taking into account the days he spent in creating the first one and lamenting its loss. Even today one can witness that grand magic in black and white. The entire front wall depicts the story of Ramayana, while the back wall has the mural of Devi Durga in a peaceful mood. She has no weapons on display.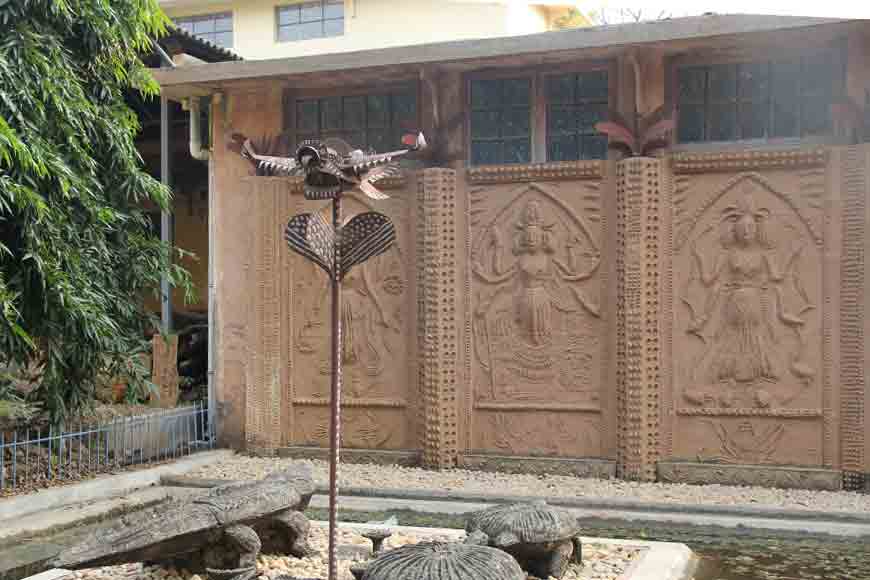 Ganga Yamuna Saraswati
The mural reflects the dynamism of the artist. The other major mural as one enters the Kala Bhavan campus was made in 2011, by Subramanyan as a tribute to his guru, Nandalal Bose. He covered the whole exterior of his studio with ceramic tiles. When he made this mural, he was almost 88 years old, yet full of energy. The tiles used are all of earth-colour and hence it looks more like a mud building that goes so well with the ethos of the rustic charm of Santiniketan, along with Nandalal Bose's words etched on the walls. This serves as the Art History department today and has a slice of Japan attached to it.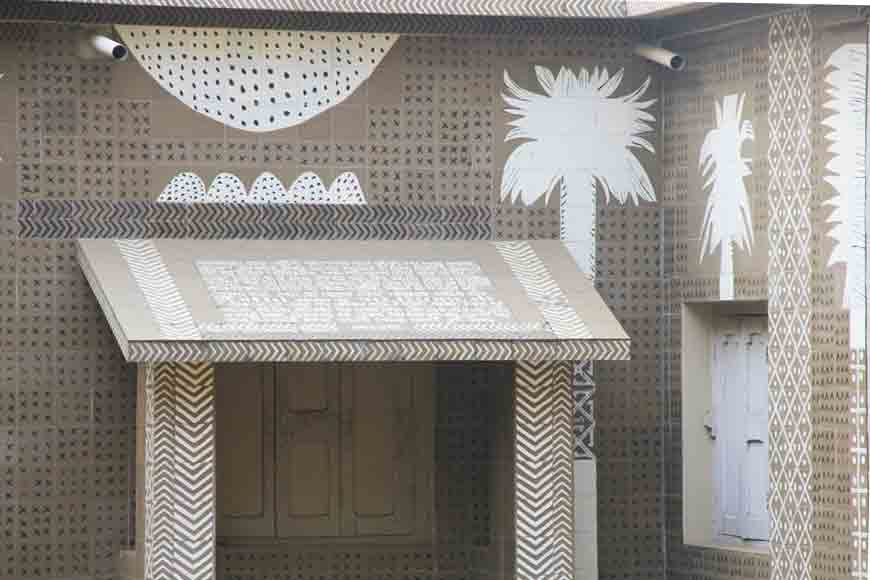 Last installation of Subramanyan in memory of his guru Nandalal Bose
Though Subramanyan was born in Kerala, he pursued art as a student in Santiniketan, under the tutelage of masters like Nandalal Bose, Ramkinkar Baij and Benod Behari Mukherjee, who were influenced by the freedom struggle. They passed on to their student a deep sense of pride for the motherland, that often got reflected in Subramanyan's creations from toys to murals, from books to painted canvases. His earliest mural still stands tall, which he did in 1988 on sand casting. It was called Ganga, Jamuna, Saraswati with a crocodile, a turtle and a lotus at their feet. Artists like K.G. Subramanyan are rarely born these days and his death at the age of 92 was an immense loss for the whole of Santiniketan. However, he still lives on through his three grand murals on the grounds of Kala Bhavan.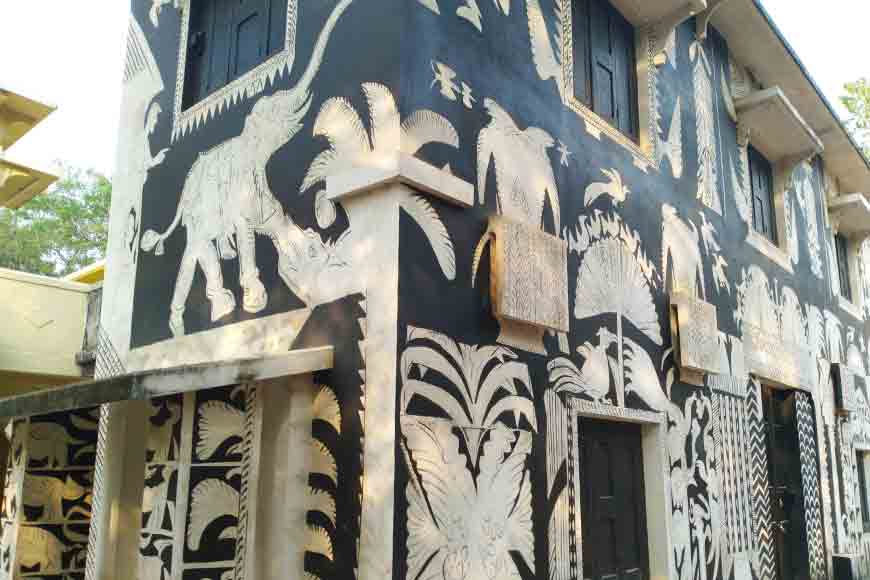 Tale of Ramayan
Photographs by Debanjana Saha