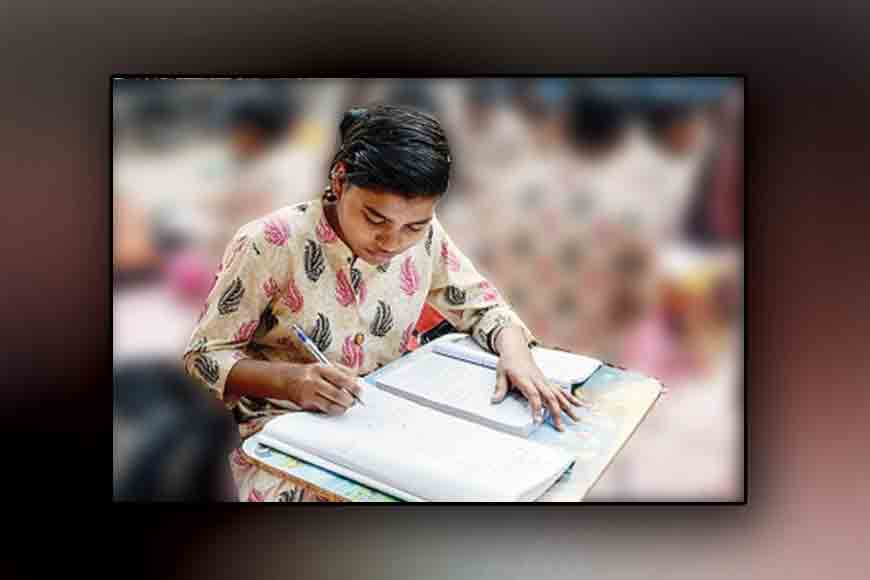 If you happen to walk around the premises of Dumdum Station, and look carefully around, you might have seen a girl with red and rough hair. She never has enough clothes to cover herself up. Often you would see her begging in front of the ticket counter. She often roamed the platform in tattered clothes.But she was different. Watching school girls of her age, she always felt an uncontrollable urge to study. She is Gudiya Mahato and she has finally turned her dream to reality. The girl who would be seen begging in Dumdum junction is giving her Madhyamik examination this year.
Gudiya Mahato is now a student of Kasturba Kanya Vidyapith. Her teachers are surprised at her capability and the urge to study even sitting on the platform at times under the station lights. They also believe she will score well. Gudiya has received a lot of help and support from her classmates too. Some have bought her geometry box, some paid for her xerox sheets.
But who gave wings to her dreams? Kanta Chakraborty runs a school at the Dumdum junction which has more than 20 street children. The platform hardly had any space to accommodate them. Thus, she decided to open a school near the public urinal where a group of children still come to study, paint, play, sing and evolve. Local hawkers often bring water for the children. Some of the children of this school have participated in various competitions like swimming and karate too.
This is the same room where these children somehow manage to sleep together. Gudiya is the only one who sits there and studies till wee hours of the night. Her Kanta ma'am sits by her side to support her dreams. According to Kanta Chakraborty, Gudiya is her best student. She does everything possible within her limited means to take good care of her. Gudiya is loved by all because of her sweet and polite nature. Her favourite author is Sukumar Ray. Gudiya still has miles to go. However her indomitable spirit and perseverance will help her succeed for sure.