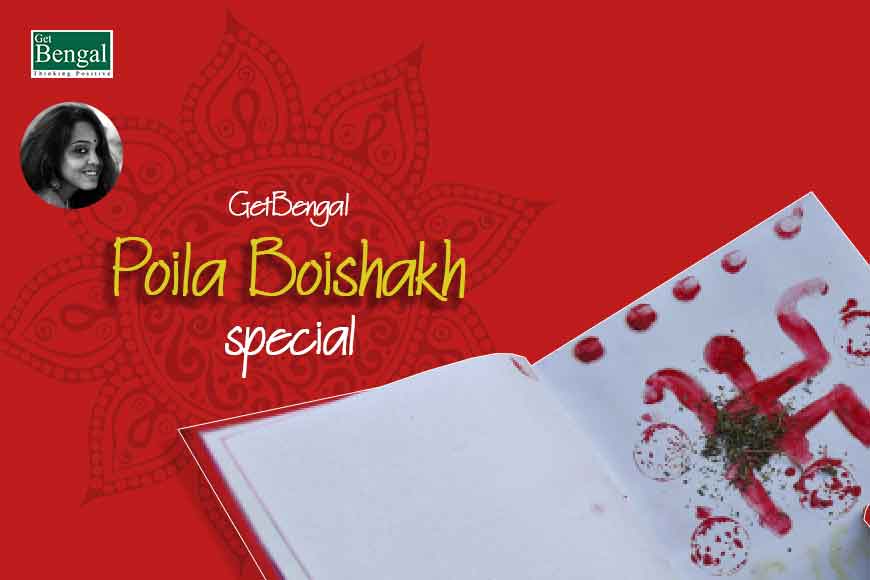 Haalkhata is a Bengali tradition that is over 430 years old! Hard to believe? But that's so. If on Poila Baisakh you get to visit the any shop our Bengali business establishment, you must have seen that new khata or ledger on the table. Emperor Akbar had established a new calendar in 1584 to smoothen the process of taxation. The origin of Haal Khata dates back to the concept of 'Halkhata Mahurat' of the Mughals which was a tradition of collecting back taxes in consistence with the harvest cycle.
This tradition is followed by various business enterprises throughout Bengal even today. On the onset of the new year, every business enterprise opens its new ledger book - the new haal khata. But this is not just a simple red ledger book. It has much more significance to the shopkeepers. Haalkhata marks new beginning and is a unique way of embracing hopes and uncertainties associated with it. There are various rituals and festivities associated with these age-old traditions. Shops go through a meticulous cleaning and make elaborate preparations to welcome the new year with utmost warmth. They are decorated with lights and flowers. Important customers and clients are invited. Invitation cards are printed and sent to customers in advance. Gifts and sweets are distributed. Celebrations know no bounds on this very special day.
It is also a day when debts are to be aimed to be cleared. It is a symbolic day to start everything afresh and a time to establish a strong relationship and connection with customers and stakeholders. While some celebrate it on 14th April, some also celebrate it on 15th April.
There was a time when haalkhata meant a lot even to the customers. Even ten years back, on the morning of Poila Baisakh, many would deck up in a new attire-dhoti and sari to attend invitations of Haalkhata in their favourite shops with a lot of enthusiasm. With the passage of time, that excitement has dwindled to an extent. With the affinity towards technology increasing every day, serious questions rise about the survival of this age-old tradition of Haalkhata in its original form. Many companies already use digital spreadsheets instead of keeping records in ledger books. But as long as the small shops, business ventures lying in various corners of the city swear by this unique tradition to embrace new beginnings and bring in luck to their enterprise, Haalkhata is here to stay and will exist strongly as a timeless concept of Bengal.