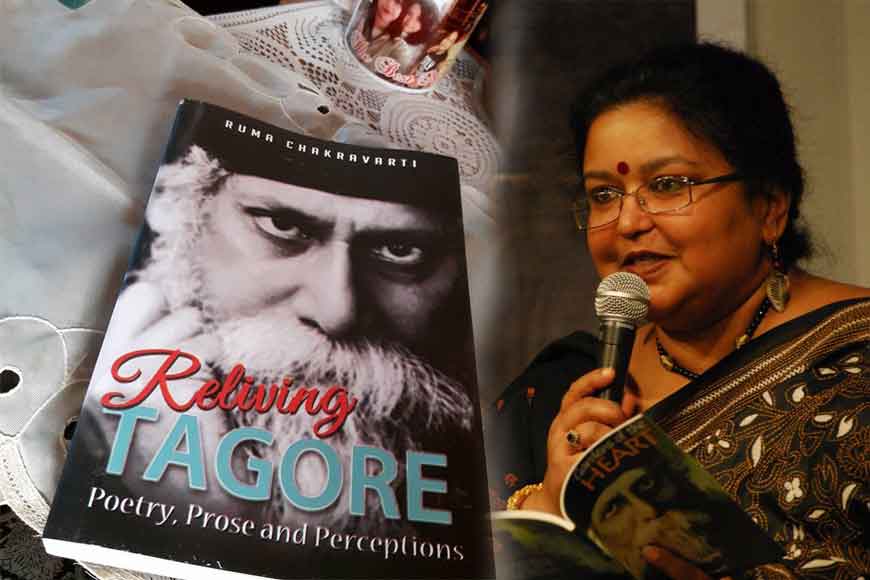 Ruma Chakravarti is a blogger and translator of Bengali prose and poetry, who lives in Australia. Three volumes of her translations of Rabindranath Tagore's work were published at the Kolkata Book Fair in 2013. Another volume was published in 2016. Ruma's translations of a collection of short stories by the modern Bengali writer Ashapurna Devi is currently in production. She is also working on translating a collection of one hundred poems by Shakti Chattopadhyay and a novel by the late Suchitra Bhattacharya.
A Day Eight Years Ago
Jibanananda Das

I hear they have taken him
To that place where they cut bodies open;
Last night – in the darkness of Spring.
When the new moon had set
He felt like dying a little; his woman by his side, his child too
There was love, even hope by moonlight, then what
spectre called to him from the moon? Why did he wake up?
Or perhaps he had not slept well for many a day,
Perhaps he had wanted to sleep in the room
Where they cut up bodies.
Crumpled up like a rat with bloody foam about its lips
Now he sleeps inside a container
To wake up no more.
He will wake up no more
Nor ever feel again that deep pain
Of having to wake up, again and again.
That constant burden will no longer weigh him down.
This must have been the words he heard
In that strange darkness of moonset
Just by his window
From the lips of a hump necked silence.
And yet the owl waits, awake
As the ancient frog croaks for a few more minutes of life,
In the hopes of seeing another dawn, for the love of imagined warmth.
I can feel in the dense anonymity of this darkness
The unforgiving opposition of a mosquito net
Against a mosquito that loves life force even as it waits out the dark.
A fly rises from blood and gore to return to sunlight
How many times have we seen insects ride golden waves of light
As if into a personal sky, as if a radiant life
Is all they think about.
After the moon set you walked to the tree
A noose in your hand, solitary as ever
Knowing well that the life of an insect is theirs alone
Never to be known by songbird or man.
That thick branch there,
Did it not protest? Did the fireflies not crowd close
As they rubbed against the masses of golden bloom
Did they not?
Did the ancient blind owl not fly down and say
Has the ancient moon crone been swept away in the tide?
Great!
Now, let's catch a few mice -
Did it not bring you this grave news?
In the autumn of your life, the sweet scent of life's ripening harvest on the air
Became unbearable to you;
But do you feel better now,
In the dank clammy morgue
Bloodied lips like a crushed mouse.
But still, listen
Even though this is a dead man's tale; he never
Failed to win a woman's love;
Nor was he unfulfilled
In his married existence
As time evolved, he found a wife
Who allowed him to learn
Of her sweetness and his.
He never had to know of cold sorrow
That winter that chills the truly poor
And that is why
In that room he lies today
Face up, seeing the sky from a cold slab.
I know, I know,
A woman's heart, love, a child, a home – this is not all;
Not money, not fame, nor prosperity -
There is another endangered wonder
That lives and plays
Deep in the blood within
It exhausts us,
So tired – it tires us out;
In the morgue
There is none of that
And that is why
In that room he lies
Face up, seeing the sky, on a table.
And yet I see from bed each night
An old owl alights on the branch
Blinking its eyes as if to say,
Has the ancient moon crone been swept away in the tide?
Great!
Now, let's catch a few mice -
Ancient grandmother, you do amaze!
I want to grow old just like you and help
The old moon to cross the tides down at the creek;
Then we will go together, having used up all our reserves of life.
AMALKANTI
Nirendranath Chakraborty

Amalkanti was my friend
We were in school together.
He used to come to class late every day; he never knew the answers,
When he was asked a question,
He stared in such astonishment at the window that,
We felt terribly sad for his sake.
Some of us had dreamed of being teachers, others doctors or lawyers.
Amalkanti had never wanted to be any of those things.
He dreamed of becoming sunshine!
That shy light that paints the afternoons
When the rain ceases and crows call the evening close,
That light that lingers in boughs and leaves
Like a slight smile upon the lips.
A few of us have become teachers, others doctors or lawyers.
Amalkanti could not become sunshine.
He now works in the darkness of a press.
Sometimes he comes to see me,
We drink tea and talk of unimportant stuff till he says, 'I must be going.'
I then see him off at the door.
The friend who is now a teacher,
Could have been a doctor if only he had wanted,
The one who had wanted to be a doctor
Would have done just as well as a lawyer.
So, everyone got their wish after all, except for Amalkanti
He could not become sunshine.
The same Amalkanti, who once thought so much about the sun,
That he had dreamed of being sunshine.
If I Had Learned to Play Sarod
Purnendu Pattrea
Some of my regrets I have named Tilak Kamod
Some of my memories sing of Sindhu Bhairavi
Some of my deepest scars still live on like Jay Jayanti
Some of my injured pride, Yaman Kalyan.
It would have been wonderful if I had learned to play the sarod
Only it knows how a man weeps.
The tide has entered my beloved home with its carpeted floors
Again and again my boat sinks, the contrary anchor floating away
There, where every lover's seven masted fleet will sink
Blooms a lotus, fair as a woman
The currents smile, water spilling from her jewelled wrists
Insinuating, with each move like a dancer's twirling skirts
It takes your all, it gives it all back, again and then again
Lotus scented air within the stale heart, in the open garden
This magnificent ruin, this gold varnishing of my rusted doors
Is this Darbari Kanara?
It would have been wonderful if I had learned to play the sarod
Only it knows how a man lives.
ALTERNATIVE
Premendra Mitra
Had thought of going somewhere
But I didn't.
The closed windows suddenly shake
In an abrupt wind.
Let them shake, at least I am at home
Sifting through thought for signs of rot.
When it gets to be too much
I swat at flies.
One thing I know,
I want no more if I shut my eyes,
I have learnt to follow the sun
And grow in that direction,
Reaching for any dreams within hooking distance,
Or let them go, blaming their substance.
Who cares what I do, so long as I feed my soul?
For what was never to be, I no longer cry!
Come, let's talk of what ifs and how I wonder why.
The Ex
Joy Goswami
Does he go to work on time? Does he eat properly in the mornings?
Does he take lunch with him? Or eat it at the canteen?
Who washes his clothes? Who makes his tea like before?
When does Dugga's mother come? I used to have to wake up early.
Does he wear that shirt now? That horrible blue?
That is his taste. I gave him one in olive.
What road does he take home? Is it the one to the left of the shops?
The Shiva temple, I could see his rickshaw from the window.
Does he come home straight from work? Or does he go straight to his friends
The card buddies, other kinds too - do they visit the house now?
A tablecloth on the floor, cigarette ash all over the place.
The glasses roll, the bottles too - he weaves his way to bed.
But if he steps on a bottle, he might get his foot bloody.
He would have no sense then, who will help that late at night!
Why, what about that girl! The one he used to see at that time
Which girl? That one? She left long ago.
Serves him right, no wonder. who will take on so much!
I knew she was trouble right from the start.
So who is there with him? His brother and sister-in-law? His mother and siblings?
He never had any one! Now he is all alone.
Who gives him rice to eat? Who wakes him up early in the mornings
Who opens the door at night? Who takes on all his hassles?
Who does he sleep with then? Who does he beat up?
Who does he beat up now?