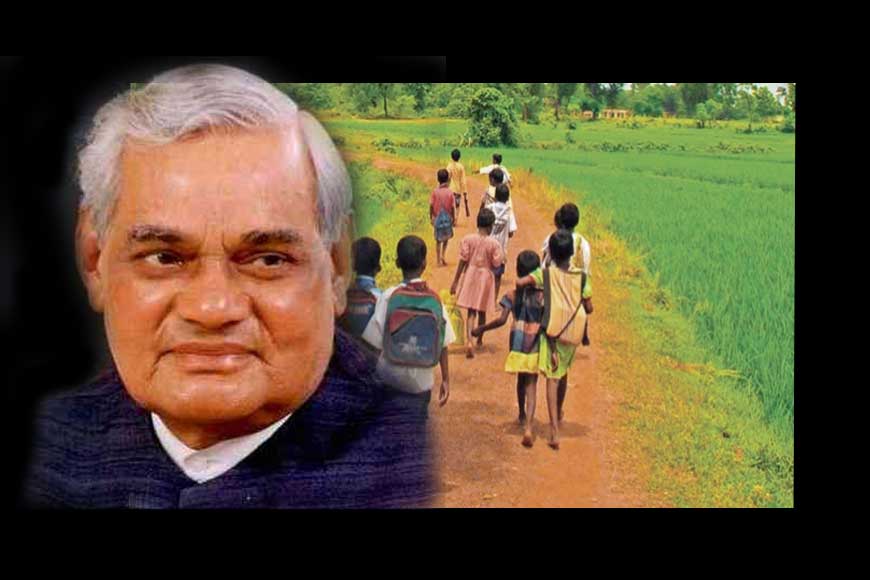 Chalo Sab Parey Hum (Let's go and study), that wonderful video with children picking their school bags and taking every mode of transport to reach their schools even in the remotest villages of India, was not just another publicity gimmick, but the vision of a man who had a life larger than a politician. Today, when Atal Behari Vajpayee's final mortal remains will be put to rest, one would wonder what this country needed since independence? Secularism, religious fanatism, vote-banks, trade wars or education?
A man who was arrested during the Quit India Movement of 1942, probably knew what exactly India needed --- after all Vajpayee ji realized even as a young man under British rule, that knowledge and education can only free a nation from poverty, from social evils, from narrow walls raised in the name of religion --- that has plagued India even 70 years after independence. Sarva Siksha Abhiyan introduced by Vajpayee in 2001-2002, was a milestone to uplift the thoughts of the future generation to a platform where vote bank politics would take a back seat. In this endeavor he was joined by another visionary, President APJ Abdul Kalam, a world-renowned scientist, who participated in the video and explained why only education could raise a nation's standards.
We often call Vajpayee ji a poet-politician. In every lecture, in every debate, his use of words was utterly dignified. Even while attacking an opponent, his words had the strength of expression, but never crossed the bars of dignity. Such gentleman like behavior is unfortunately missing today. The Indian Parliament, considered as the sanctum sanctorium of a nation instead finds jokes, winks and fights --- physical expressions that rule out the power of the pen, which probably Vajpayee ji advocated and practiced till his last days as a politician.
Another great Indian and the first Nobel Laureate of this country, Rabindranath Tagore had once said Dibe aar nibe milabe milibey jabe na phire, ei Bharat er maha manaber sagar teerey (India will welcome and exchange ideas from everyone, it will never shun anyone, for India has a heart and soul that goes beyond the political boundaries of a nation). Probably Vajpayee ji understood this ideology and hence be it the Kashmiri separatists, a rogue nation like Pakistan, or even his arch political rivals, he was always there to welcome and fight them out with words and views and not with hatred. Probably he knew war can never be the solution, love and acceptance can even force an evil human to bow down.
However, his dealings with Pakistan and China were equally unique. He softly passed the message of both love and strength of a nation, lest others feel India is helpless and hapless. On one hand he started the bus to Lahore and on the other he strongly stood his ground during the Kargil war by launching Operation Vijay in 1999, when India's forces successfully defeated Pakistani troops and pushed them back. He passed a subtle message to the world and China by testing India's nuclear power and declaring India is a nuclear powered nation. He even had the guts and magnanimity to apologise after the Babri Masjid demolition. In his words: "We wanted a Ram Mandir to be set up, but not by destroying a mosque."
From revolutionary ideas in economic development to infrastructure, developing national highways to connect a huge nation like India, Atal Behari Vajpayee worked for the development of a nation and not for vote bank politics. He knew a diverse country like ours cannot be addressed with guns and religious barriers, it can only be addressed with tough messages, laced with love. If only his allies and the political rivals stood by him, his able leadership would not have ended in 13 days, 13 months or 5 years. Had Vajpayee ji got a few more terms, probably Indian politics would not have gone through several scams, divisive politics and a nation completely divided today on religious lines. His loss is thus a great loss for this whole nation!