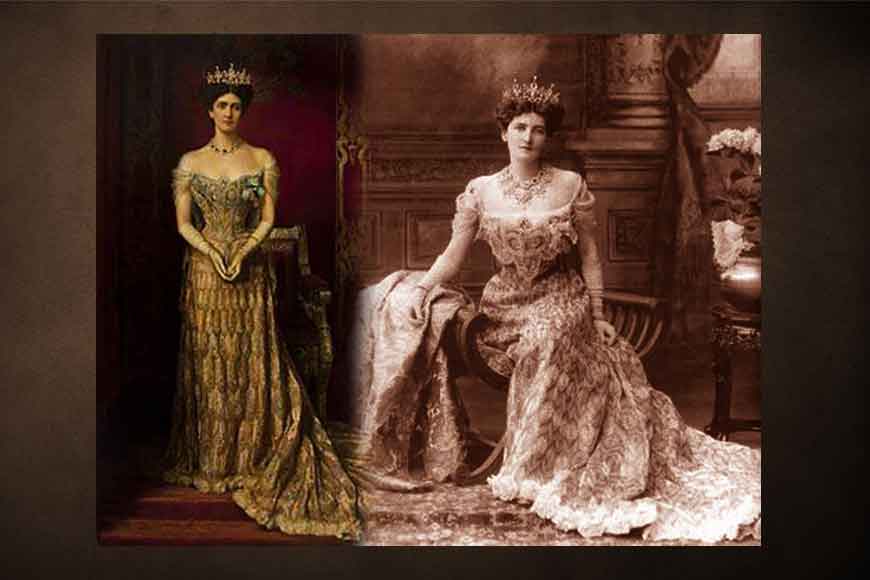 Imagine Lord Curzon ruling over the court of Delhi in his complete glory. Yes, the man who tried to divide Bengal in 1905 through the first ever proposed partition in India. Curzon was a man who reigned supreme. Most of his competitors had either been banished or had become his associates. There were hardly any hindrances left in his spectacular journey.
No wonder a man of such powers will have a wife who would enjoy the best of luxuries in India! Curzon's wife, Maria Victoria Curzon who was the Vicereine of India wore the most expensive clothes available in those days. One of them was the famous peacock gown which had a radiance that was much talked about in every corner of the world as far as Chicago.
The Delhi darbaar was staged in 1903 when Edward VII ascended the throne. Maria Victoria Curzon had worn this very peacock gown on that occasion. The gown had gold weaves with intricate Zardosi designs. It also featured the feather of peacocks which were woven out of the wings of Scutelleridae, also known as jewel bugs. This wondrous gown was designed by French designer John Phillips, who was the designer of 'House of Worth' –the French house of high fashion. This became 'the talk of entire Europe' in those times.
The process of making these gowns was almost like a fairytale. It was weaved with gold and silver threads by the artists of Delhi and Agra. The gown was taken to Paris in a ship where 100 white chiffon roses, feathers of peacocks and the wings of jewel bugs were added. The radiance of the gown has faded to an extent. But the wings of the jewel are highly radiant, even today. After Curzon's wife wore this gown at the Delhi Darbar, it became the headline of Chicago Tribune as she belonged to Chicago. Lord William Lonsdale painted a portrait of Lady Curzon dressed in the gown. But Lady Curzon could not see her own portrait. The artist completed the portrait in 1909 whereas Lady Curzon passed away in 1906.
Lady Curzon was always fascinated by the art of needlework of Bengal that for the first time was brought on the skirt of her gown. She always wanted to wear a peacock gown. Many of her friends also had ordered for the same gown. But none of them were as good as Lady Curzon's. Her peacock gown was truly unparalleled. Maria's gown was made in two steps - body and skirt. Both the parts had heavy works of Zardosi. The neckline of the body, featured precious stones. The skirt had multiple layers. Fashion experts believe that the cloth was silk chiffon. It had a layer of cotton muslin and another line of lining. The wings of the jewel bugs were added as motifs.
Presently, the highly talked peacock gown has been stored in the ancestral home of Curzons at Derbyshire. Almost 113 years have rolled by after the death of Lady Curzon. A mannequin at the ancestral home still wears this magnificent gown which