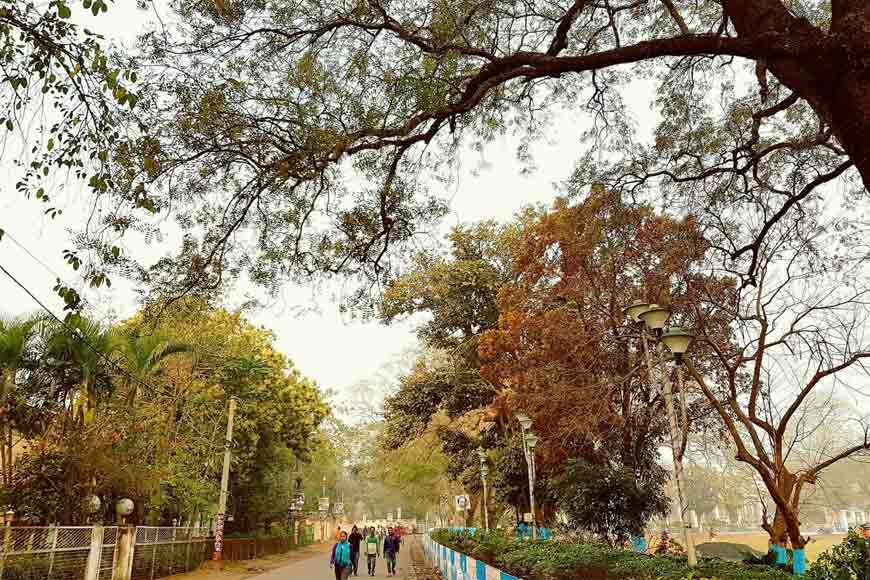 Due to my nature of work, I often have to criss-cross the length and breadth of the district and while on such tours, Murshidabad often unfolds her beauty before me, not just through its super talented people, not just down its historical palaces and graveyards, but even through its natural splendour. Take for example, only the other day I was travelling by road to Jiagunj, when lo behold! In front of me lay a canopy of rows of lovely old trees that have stood there for decades and keep on serving humans with their shade. They make wonderful skylines during sunset and sunrise.

Murshidabad is indeed rich in its flora, not just the famous mango orchards, but various old trees of lovely shapes. One of the things a tourist or a person who comes to Murshidabad must do to feel the place is to take an early morning and evening stroll around the Barrack Square Field of Baharampur. Not just for good health, not merely to measure if the field is indeed a square, or to view the historic field with its surrounding colonial British structures and the once rumbling but now silenced canon or two, but to see the trees. Reminiscent of the fact that this Land of Nawabs was also ruled by the British, the trees stand as a testimony to the almost forgotten history. This park still gives a British feel. The trees present a curvaceous and varied tree line. Old, yet evergreen, it almost seems the landscaping of the British still stands tall. However, how long, is still a question.

These trees are The Raintrees, which came here from Latin America and got acclimatised to the climate of Murshidabad. Like their masters who brought them also settled and ruled in this land for centuries. The trees are distinguished by the huge umbrella like canopy at the top, spread out wide. And if you are observant enough, you can not only see the vibrant colours of Baharampur here, but also the green couple snugly embracing on the tree tops. They are the orchids, a fine spot for Nature's rambles.