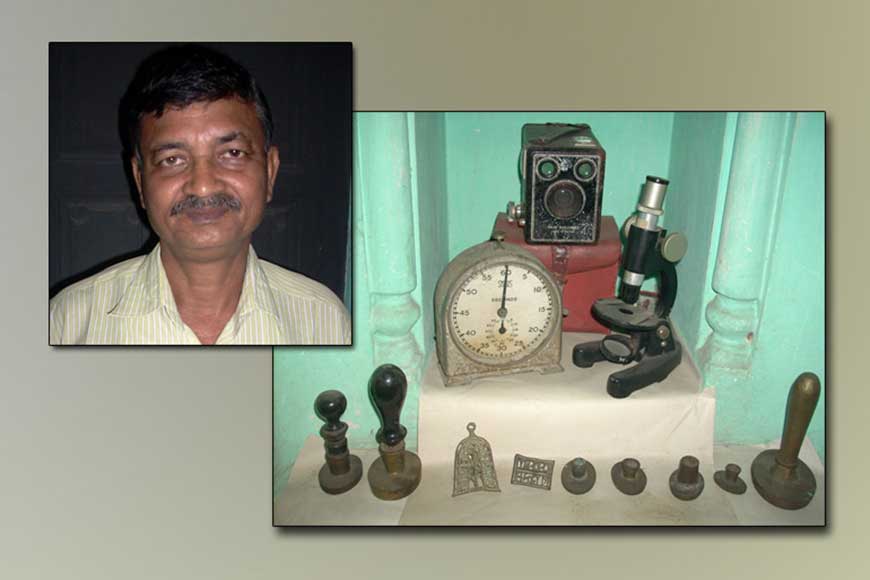 At a stone's throw from Saktigarh station of East Burdwan lies Barshool village, home to the erstwhile zamindars of the locality --- the Dey family. The family had established their home in the area during the reign of Murshid Quli Khan, also known as Mohammad Hadi, the first Nawab of Bengal, who ruled from 1717-1727. The Dey family's house is a treasure trove of rare art and artefacts, all painstakingly collected and catalogued carefully for years and now the house stands in the middle of a non-descript village as a museum with a considerable collection of precious items that have immense value. Not just for historians and archaeologists, but even those who are keen to find out about the collective cultural heritage of Bengal, this museum us a treasure trove.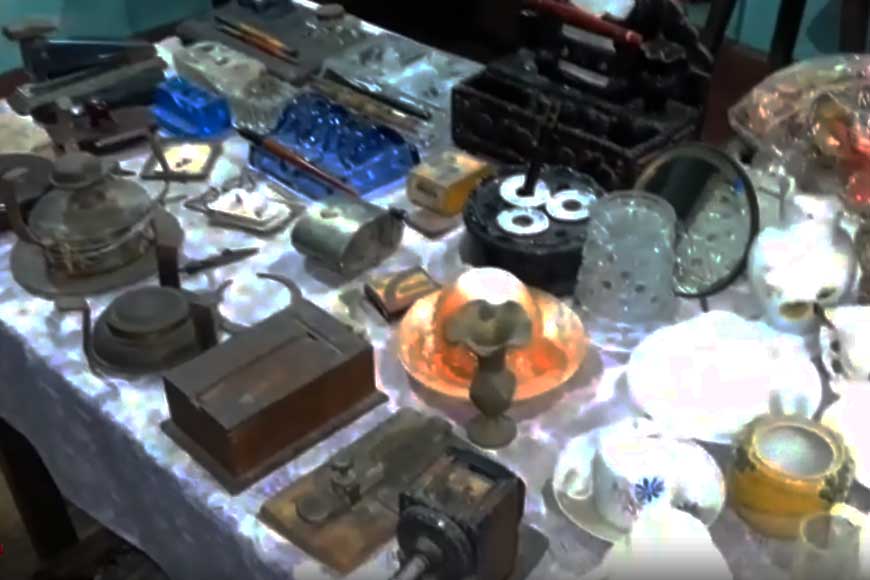 The last zamindar of this family was Roy Sahib Gopendra Krishna Dey, who was also a member of the District Board. Himadri Shankar Dey, aka Tutun is a descendant of this family. He is a businessman, but history is his passion and preservation of heritage is his calling. He has single-handedly collected all the artefacts and built the spectacular museum from scratch. He has dedicated his labour of love to his deceased father and named it Shuvendu Mohan Dey Historical Museum.
Many rare documents from the times of the East India Company to King Geroge VI's reign (1936 – 1952) are displayed in the museum. An array of rare collectibles, many of which have been assembled from the family's personal heirlooms, have found their way in the display section. Although a large number of the items belong to the family, their historical importance is immense and provide a rare glimpse into a world unknown. These displays have inspired a large number of enthusiastic historians, authors and academics.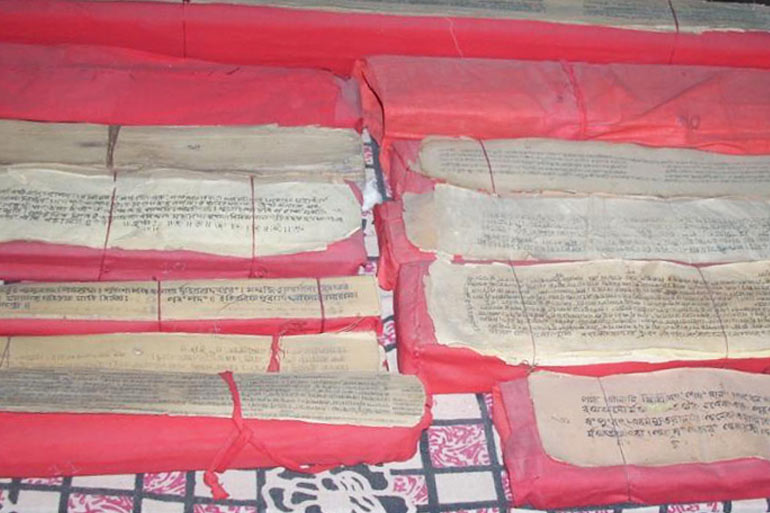 A tour of the museum is like discovering an antique world -- a minuscule rare 1 inch by 1 inch dictionary printed in the UK where every word can be read distinctly using a large magnifying glass. This was a gift from S.S. Nande, a distinguished member of the Burdwan Raj dynasty. The British government had bestowed many gifts on Roy Sahib Gopendra Krishna Dey and one rare gift was a grain of rice inscribed with 102 words. Himadri Dey has a large collection of rare coins from the Mughal era to contemporary times which are on display. A precious collection of post cards from the times of the East India Company to King Geroge VI's reign deserves special mention as does an assortment of vintage postage stamps from different parts of the world, which will enthuse any philatelist.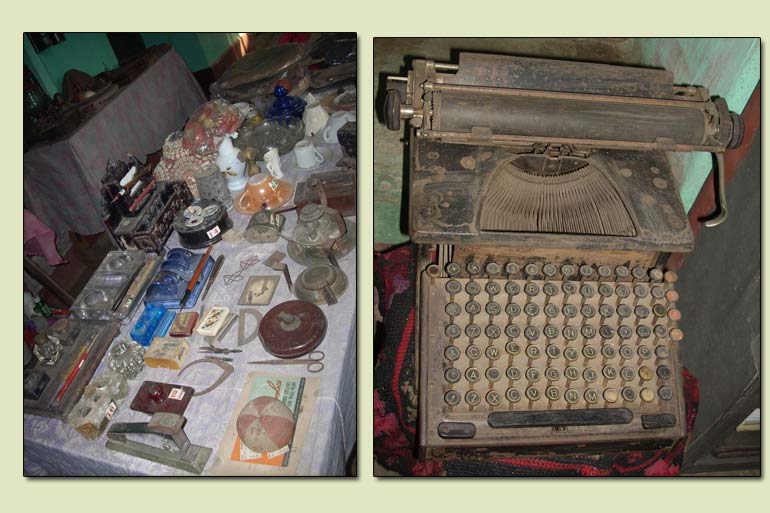 Ancient manuscripts written on palm leaf vellum and other parchment, on papyrus and on paper are also exhibited. There is a vintage typewriter from The Maharjah of Burdwan's estate, quaint cigar boxes, giant lock and key sets, wooden stools with magnificent designs, weighing stones, horns of deer, ancient clocks, portable gramophone machines, Dokra items of daily use, different hurricane lights, early models of telescopes for sky watching at night, myriad handles of punkha -- the hand-operated ceiling fans of Colonial Bengal. There is a rare and enviable collection of books and periodicals as well. The 1903 edition of Dasharathi Roy's Panchali (an oral narrative form of songs and stories in Bengali), 'Kavi-kankan' Mukundaram's Chandimangal, copies of century-old women's magazine, Antahpoor, private letters of Queen Victoria, letters addressed to the Dey estate written and signed by the Maharajah of Burdwan, Udai Chand and Vijay Chand Mahatab, have also been preserved meticulously. There are two large chests full of rare books, a published list of all the songs released by His Masters Voice (HMV) Records in 1932, a copy of a well-read, popular newspaper of the time published on August 8, 1941, a day after Rabindranath Tagore breathed his last.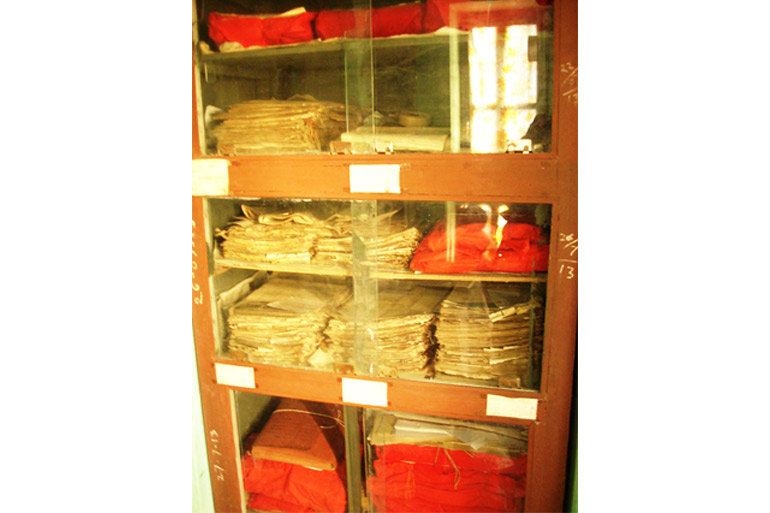 There is a unique flower vase made with fish scales by Himadri Shekhar's grandmother, Nirmala Sundari in 1935. The exquisite decorative piece was awarded a first-class certificate at the Burdwan Industrial and Agricultural Exhibition where it was put up on display. The certificate has been framed meticulously and is on display.
The museum has already garnered a lot of interest and many dignitaries including the Director of Gandhi Museum, senior officials of the Asiatic Society, senior bureaucrats and ministers of the state have already visited the museum and are all praise for Himadri Babu's efforts. In the near future, this museum could rightfully claim its place in the tourist map of Bengal.