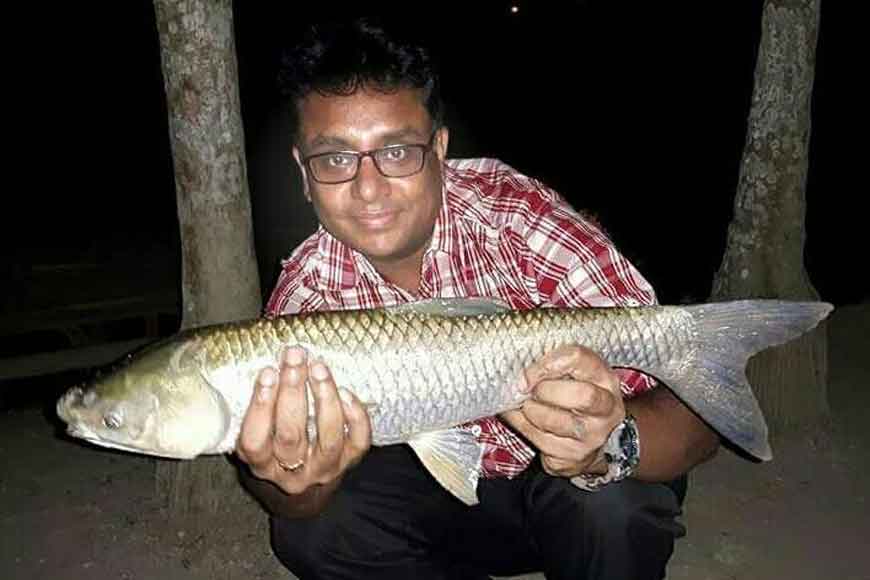 If you do not find Chandan Gupta fly fishing in France, in all possibilities you will find him along a catch-and-release pond of Bengal or by the banks of some North Bengal river with a bunch of foreign tourists, busy hooking an Indian carp or Himalayan Mahaseer. For this finance professional, angling was always a passion. Born and raised in Calcutta, a city with few lakes and a river congested with commercial vessels, Chandan realised there is hardly any scope for commercial angling. Despite an average Bengali's love for fish, very few people in this state knew about professional angling. "Either I saw villagers catching fish using age-old technique of bamboo rods with worms tied to it, or urban revellers in winter catching fish in some suburban pond and then taking it home to cook." As Chandan points out angling is a sport where one catches and releases the fish back into the water. An angler never hooks a fish for his consumption.
He got his first exposure to the sport of fly fishing during a vacation in France on the famous Loire River angling circuit. "I went there to learn fly (artificial man-made lure tied on fishing hook) tying for my newly started venture of exporting fly fishing equipment and fly-tying tools in 1999 but ended up learning the art of professional angling." This gave him the idea of starting an angling circuit in Calcutta and other parts of Bengal. In 2011,he started Rogue Anglers Company as fishing outfitter in Himalayas to promote fishing as an ultimate challenge for any angler ---- the mighty Himalayan Golden Mahseer. This is indeed a fish that any international angler of repute is interested in and Chandan's company organises regular angling sessions in the rivers of North Bengal. Later, his companyalso ventured into Saltwater or Sea fishing and Still Water or Pond Fishing for Indian carps.
His angling expeditions are not just about catching a fish, but a journey into history, love for the wilderness and embracing cultures of the area. However, Chandan had a difficult time trying to convince people about releasing the fishes caught, back into the river. He used various logics including decreasing number of big fish in Bengal, inability to raise and protect big carps and how important it is to maintain an equilibrium in ponds for a sustainable fishing sport, so that people wouldn't take the fishes back home for cooking.
Chandan is now Vice President, Environment and Species, of All India Game Fishing Association. His company owns two exclusive 'Catch and Release Ponds,' which are the only ponds of their kind in the whole of Eastern India. He sees a lot of enthusiasm in Bengal angling circuit in recent times. "Even the state government is organising catch and release fishing tournaments that help in encouraging more people to take up angling. We need to create more anglers and expose kids to this sport." Recently, his company collaborated with HIDCO and they held a joint tournament at the Eco Park water body for catch and release fishing."We are getting enormous support from the State Fisheries Department, State Fisheries Development Corporation and Housing and Infrastructure Development Corporation for promoting ethical fishing and making fishing popular."They even organised the'Clean Water Mission' at Bidhan Sishu Udyan with All India Game Fishing Association and a seminar on keeping water bodies clean and safe for water habitats.For Chandan, anglers are the keepers of water and they can walk the talk on angling for conservation.