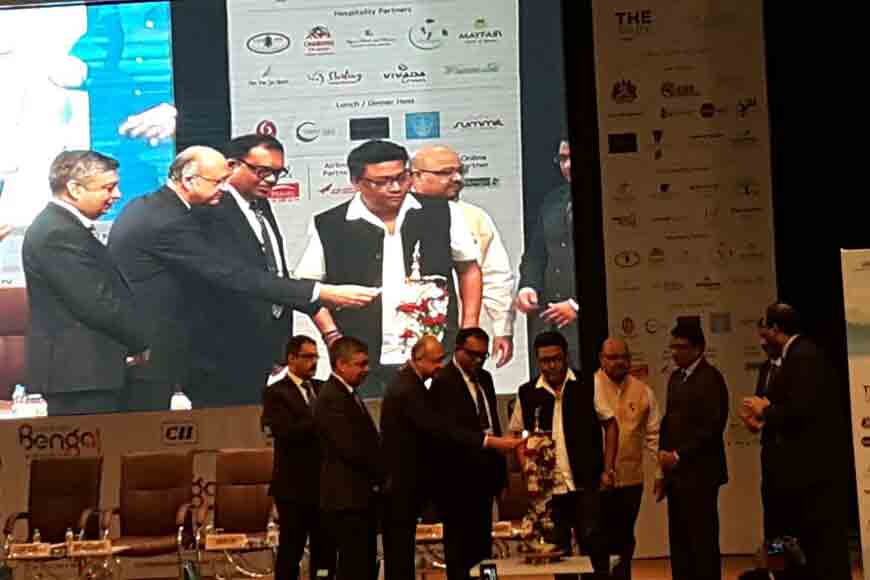 Bengal always had unparalleled tourism products. The potential of the state as the Tourism Destination of India was once again established at CII's Destination East and none but Vijay Dewan, Managing Director of Apeejay Surrendra Park Group of Hotels established through numbers. "We can provide extreme experiences, from river travel, beaches, the forests of Dooars with tea states and national parks, Darjeeling's majestic views and many more. Even the captivating Durga Puja, one of the largest street festivals of the world, is like a brand ambassador to the state's tourism sector," said Dewan.
Destination East has engaged more than 450 tour operators year after year and earned the name as one of the best tourism meets in the country. As Dewan mentioned, tourism is indeed a sunrise industry for India and Bengal and a great foreign exchange earner. In 2016 this industry supported 25 million jobs directly, which is likely to rise to 32 million by 2027, which means, 1 out of every 10 jobs is a tourism job. The investment in Bengal's tourism sector is also expected to rise from 14 to 28 lakh crores by 2027. Foreign tourist arrivals in the state also saw a 6 percent increase. Foreign exchange earner increased by 13 percent. With the penetration of smartphones in Bengal, online hotel bookings significantly tripled), from 3.5 million in 2014 to 10 million in 2017. The domestic tourist inflow also grew by 20 per cent.
The Kolkata airport traffic increased by 24 percent, from 1.27 crores to 1.58 crores and it is now the 5th busiest airport of India with aircraft movement going up by 19 percent. The Bengal government has put in a lot of effort to make the airport at Bagdogra a happening airport and a gateway to the north east. With their efforts, the airport now clocks a 31 percent increase in tourist inflow. Bagdogra has also got night landing facility. A new terminal building is also planned with additional 100 acres of land given for the runaway by the state. However, Dewan pointed out: "State government must open more airports like the ones at Coochbehar and Panagarh." Spice jet and Zoom Air are already operating small aircrafts from Durgapur and even Air India is set to join the fray soon.
Dewan gave a fantastic report on the room inventory of Kolkata. From 1500 rooms in past 5 years, it has gone up to 3200 rooms. Another 1500 rooms will be added with 3000 crores investment in next 3 years. "There are huge opportunities in restaurant sector too," as Dewan pointed out. And this sector is growing at 10 percent. Kolkata has always been regarded as the cultural capital of India. But it can surely be turned into an entertainment city, as this is a city where restaurants and bars remain open 24 hours at Park Street and Sector V. The city can even have a new marina, and new jetties at Chandernagar and Diamond harbor, with modern luxury vessels and cruise liners, giving tourists an out-of-the-world experience. It is no mean joke, but pure statistics that show West Bengal has surged ahead of states like Rajasthan, Goa and Kerala in foreign tourist arrival and now stands at the 5th position in India.