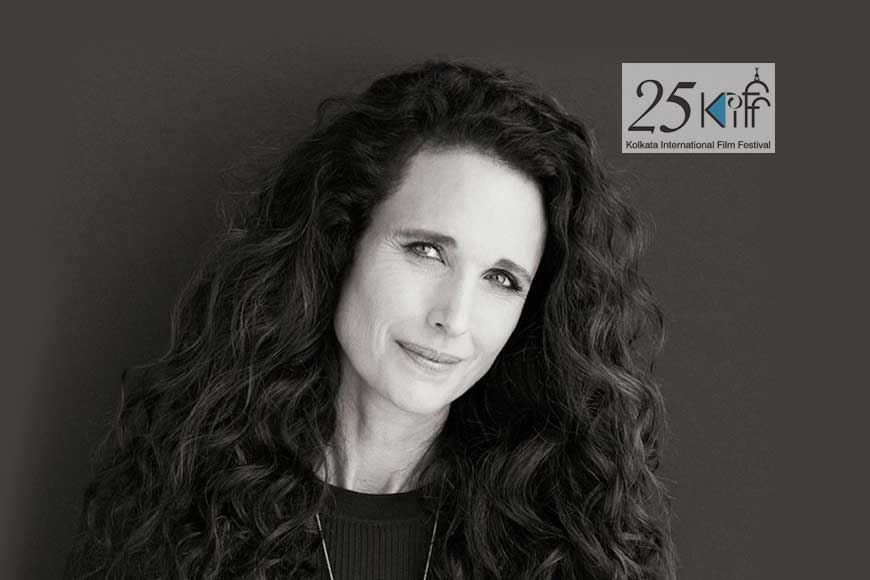 Andie MacDowell, a name that had rocked an entire generation and movies like Sex, Lies & Videotape had taken all by the horns and set exemplary screen shows in Hollywood. No wonder at the KIFF inauguration even King Khan, Shah Rukh was direct in professing his love for Andie. So much so, he said in clear words that he has been in love to Andie since the age of 26 and from the podium blew her a kiss to which Andie laughed and almost fell from the chair!
However, once the Hollywood star took the mic, she was very direct in saying how she prepared herself for KIFF. True to a proper Hollywood star, Andie did extensive research on Bengal films and Bengali directors and maestros to know how Kolkata has been a hub of international cinema since long. She said she was trained and educated by her Indian friends who urged her to see films by Satyajit Ray and Ritwik Ghatak and she was indeed highly influenced by world-class cinema this city has produced. She did not forget to bring in names of Apu's Trilogy and Meghe Dhaka Taara. Andie will be participating in several master classes and seminars on the side-lines of KIFF to understand how old movies like Ray's and Ghatak's have been preserved over the years, which itself is a challenge.
And not to forget when Andie also told the media that she is trying Bengali cuisine just like she is trying other Indian cuisine. And guess what? Andie has tried the famous Shorshe Maach of Kolkata and enjoyed it!