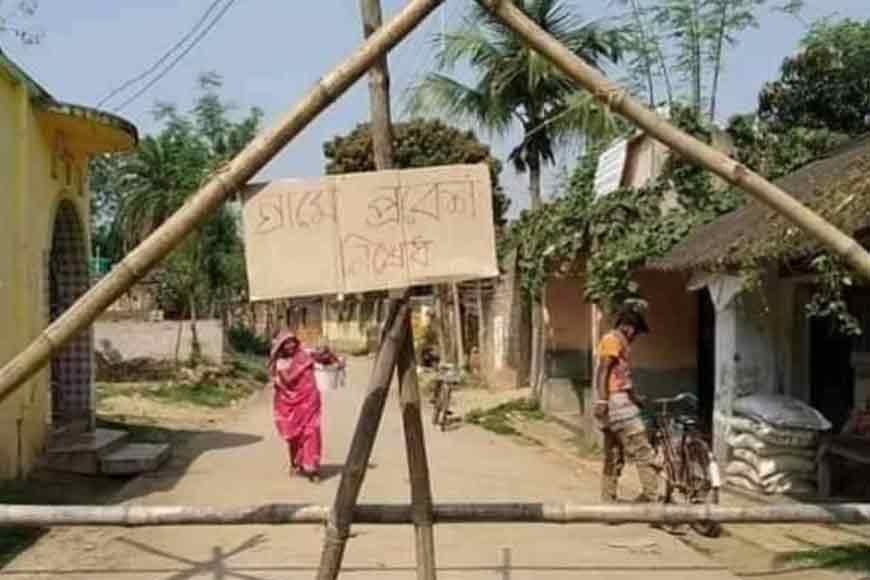 The tribal villages of West Bengal, including those in Purulia, West Midnapore, Bankura, Jhargram and Birbhum have taken up several measures themselves to stop the deadly Corona Virus from entering their villages. Villagers have voluntarily initiated measures of social distancing and isolation to fight the spread of the highly infectious virus. They have blocked the entry-exit points of their villages with bricks, bamboo and tree logs. They have even put placards, saying: 'Grame probesh nishedh (No entry to the village).'
District officials have acknowledged that awareness among the tribal population is very high. To protect their relatives and other villagers, the migrants who have returned, are even willingly staying out of the villages. These migrants are being quarantined outside the villages. Self isolation on trees have been seen in atleast 11 villages in Para, Puncha, Barrabazzar, Balarampur, Bagmundi blocks in Purulia, at least five villages in Birbhum's Suri and Sainthia blocks, and a couple of villages in Jhargram. Migrant labourers in most of the villages, are self-isolating themselves outside the village limits — on trees, inside trucks or buses and in make-shift shelters — so they don't infect their family members or other residents.
Quoting a villager, who has self-quarantined himself along with six others on a tree after returning from Chennai where they work as labourers, an ANI report said, "Doctors have told us to stay under home quarantine for 14 days and maintain distance. But in our house, we do not have personal rooms and our villagers discussed that we can stay here." The labourer said they are served breakfast, lunch and dinner on the tree, and water is also available there. "We also have a stove to boil the water and cook food."
Meanwhile, some migrants even approached the block officers, requesting for isolation, while the villagers have been calling the authorities regularly to give updates on those who are returning from other states. Locals are mostly staying at home and not loitering around. They are even co-operating with the administration and informing them who all are returning from outside. We just wish this kind of consciousness would be seen among the urban population as well, where social distancing is being broken at every step during Lockdown.