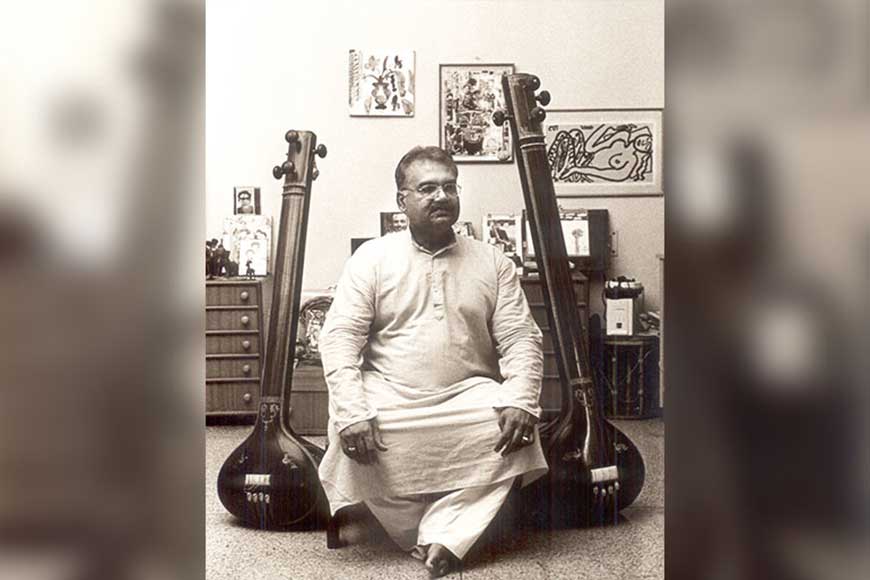 He is an icon amid the infinite ocean of music. Although born in a Punjabi family in a village near Kila Raipur in Ludhiana district, he prefers to be identified as a Santiniketan ashramite. He is Mohan Singh Khangura. Born into an educated, liberal family that encouraged his deep passion for music, his father was in the Army. He was initiated into the world of Hindustani classical vocal in his childhood and his training began from a very early age.
Thus, he not only mastered music and its nuances since an early age, but also had a deep theoretical base and knowledge about various taal (rhythm), swar placement and ragas/ raginis. Mohan Singh believes Rabindranath Tagore's extensive repertoire of music can be broadly divided into two distinct segments. Any singer needs to get into the very soul of the lyrics when singing Rabindrasangeet. It is imperative to understand each word and its implication. The singer needs to feel and do some real brain-storming session to imagine how Tagore conceived the song and how the lyrics of a particular song evolved. The ultimate soul of Rabindrasangeet is its Bhava (the emotion or mood conveyed by the performer) and the singer has to transcend the Bhava when delineating a Rabindrasangeet number.
Video courtesy : bongodorshon.com
For instance, Singh cites, if a singer gets emotional while singing a number like 'Amaro porano jaha chaye' he/she fails as a singer. The performance would be more like a piece of 'drama' and not a work of art, as it should have been. The Bhava should be an intrinsic part of the performance and should come from within the self. Mohan Singh cannot even remember when he started his musical journey but recollects distinctly how he performed publicly during his school days. Although his father was an Army officer, he was very fond of music and imparted this love in his son from infancy. His mother used to sing Punjabi folk at home and Mohan Singh picked up the robust yet melodious beauty of folk songs from his mother.
Singh wanted to pursue 'music' for higher studies and he was very keen to join Santiniketan for this purpose. The legendary Santidev Ghosh was the Vice Chancellor of Visva Bharati University then. Mohan Singh wrote a personal letter to his revered 'Santi-Da' from Punjab. "Dear Santi-Da, I have been learning music since childhood. Now I want to train in classical vocal music from Santiniketan. Can you give me formal assurance so that I get admission in the university once I land there because I am a specially challenged student and it is not possible for me to travel all the way from my hometown in Punjab with boxes and bedding once and then return again, if rejected."
The reply came within a week. It said, "Come here with your bedding and boxes."
This is how he got admission in Sangeet Bhavan. In those days the International Guest House was fully operational at Visva Bharati. Mohan Singh was given temporary accommodation there before he was allotted a room in the Kadamtola Hostel. There was a bathroom adjacent to his room. This room was once the residence of Baba Alauddin Khan Saheb. Mohan Singh's eldest brother accompanied him to Santiniketan. Santidev Ghosh said, "Mohan is now our responsibility. Please don't worry about him at all and go back without any tension."
"Have I been to Santiniketan before?" There was a peculiar air of familiarity associated with the place and Mohan Singh could feel it in everything he saw around. On the very first day he went sight-seeing and familiarizing himself with the rural ambiance of Santiniketan. The trees, the birds, the empty ground – everything looked uncannily familiar. The year was 1967. Santiniketan was a quiet, sparsely inhabited place at that time. The roads were deserted. Mohan would saunter aimlessly and often encounter foreign nationals from Russia, Germany or China walk past him, talking to their companions in hushed tones. It seemed the entire world had congregated at Santiniketan.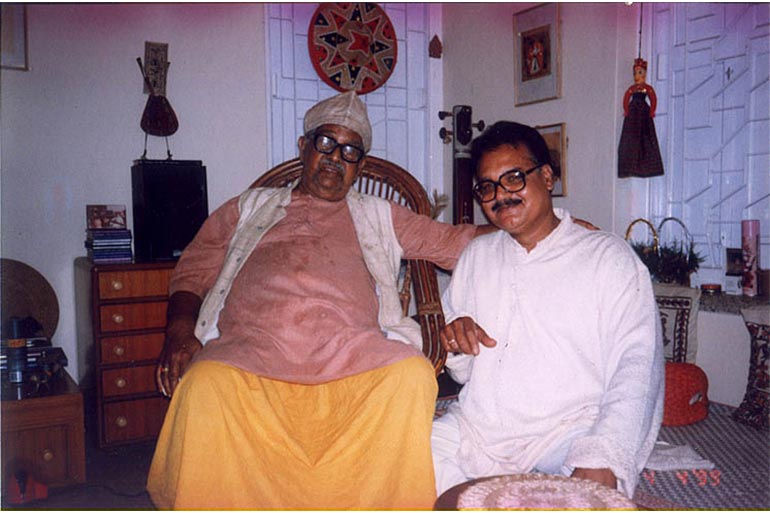 Mohan Singh started his training at Sangeet Bhavan under Sudheesh Bandopadhyay. Then Ustadji took charge of Mohan Singh. Ustadji hailed from Nagpur. He began coaching Singh in classical Ragas. Mohan Singh started following Ustadji's style and Gharana. This was the first time Singh was introduced to Dhrupad-ang Gharana. Singh reminisces fondly about his mentor. He says, "Ustadji never scolded him. There were many who could not pick up or delineate the finer nuances of chhota Khayal or Vilambit khayal and Ustadji used to lose temper and scold them harshly." Mohan Singh's friend, Nonigopal was also a pupil of Ustadji. Once Ustadji was livid at Nonigopal and threw a hammer at him. The very next moment, he took out a few candies and offered them to Noni. Singh has the highest regards for his Ustadji and considers him as his father. "Ustadji was not just a father-figure. He was literally my father with whom I could share everything, all my secrets."
He also remembers Pandit Dhrubatara Joshi teaching them. Panditji was very patient and never scolded anyone but taught like a professional and one had to concentrate fully to pick up the finer nuances of music during the training because later Pandit Joshi never repeated what he taught once in the class. Mohan Singh learnt music from the Agra Gharana from 'Joshi-Da." Joshi lived alone in his quarter and he often asked Mohan to have lunch with him if the training session continued for long. "Joshi-Da was very fond of strong, aromatic coffee and loved to have and treat his guests to coffee."
Another favourite teacher of Mohan Singh Khangura was Sudheesh Bandopadhyay. He was a dapper gentleman, always nattily dressed in pristine, starched and ironed outfits. He spoke very little, but his conversations were often interspersed with Thumri pieces that he would hum absent-mindedly. After Sudheesh-Da's death, during his memorial service, Mohan Singh remembers, he sang Rabindranath's song set in Bhairavi Raga, jhamp-taal rhythm, Asheem kaal sagore bhuvan bheshe cholechhe/ Amrita bhavan kotha achhey taha ke jaane.
Sudheesh Badopadhyay had once asked his favourite student before his demise, "Mohan won't you learn Rabindrasangeet?" Singh had then replied, "Let me first master the Sargam. Then may be, I shall try some day." Who would have thought that Mohan Singh Khangura would devote his life to Rabindrasangeet in the future.
Transcribed from an original interview of Mohan Singh Khangura taken by Arpita Chatterjee