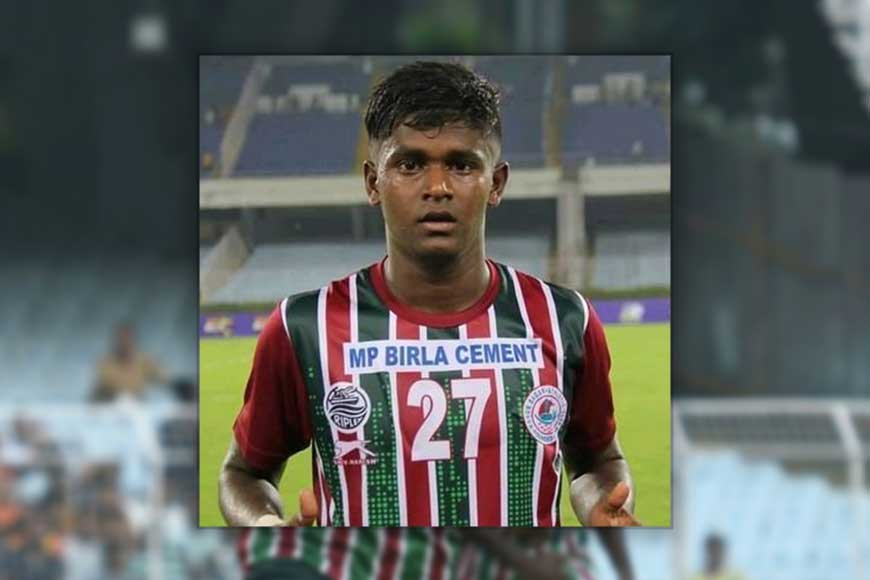 Remember the iconic Billy Ocean's song -- When the going gets tough/ The tough get going/ When the going gets rough/ The tough get rough.
Every time you glance at the shy but determined face of Pintu Mahato, this song invariably comes to mind. The innocence and sheepish look on the countenance of the 22-year-old youth is endearing but he transforms into a man-machine on the football field who is capable of terrorising any opponent team member. His timidity and rustic hesitancy cloaks his fierceness and dogged perseverance that comes to the fore during matches. That is the reason why recruiters at Mohun Bagan Football Club, who were scouting the state for talented players, did not hesitate to zero in on Mahato, from among hundreds of aspiring footballers for training at Durgapur's Mohun Bagan SAIL Football Academy. At the academy, former footballer wizard, Jo Paul Ancheri, took him under his wings and honed his skills. Within a short time, Mahato proved his mettle and class and now his actions do the speaking for his achievements.
Mahato rose through the ranks and was included in the club's first team after injuries compelled regular players to stay away from the squad. He made his professional debut for the club on April 1, 2017 against Bengaluru FC. His coach sent him as an 89th minute substitute for Souvik Chakraborty and debutant Mahato scored his maiden goal against East Bengal and was declared 'Man of the Match.' That year, Mohun Bagan became the Calcutta Football League Champion, breaking East Bengal FC's eight-season predominance in the championship. After that, there was no looking back for Pintu who became indispensable for the green-maroon squad.
Pintu Mahato's journey so far has been one of struggle. This youngster hails from Dhadrashol, a non-descript village in the interiors of West Midnapore, under Gurguripal police station. Hailing from a marginalized family where his father, Sudhir Mahato, a farmer, and his mother, Balika Mahato, a housewife, have been struggling all their lives to eke out enough for two square meals a day for the family. Pintu's childhood and teenage years were marred with violence as his district was one of the worst affected by Maoist terror. Clashes between state police and rebels often resulted in deaths of members of both parties and civilians who were caught in the firing. Civilians were also affected in landmine attacks aimed at railway cars and truck convoys.
In such a situation, everyday, Pintu had to travel for 18 kilometres on his bicycle for practicing. The sight of military forces route marching on deserted roads would send a chill down the teenager's spine. He was scared of the olive uniform of the Army, the riles they carried and the stony, cold looks they had as they marched past him. Pintu was offered to play for Rangamati Sporting Club in Midnapore but he refused to go. Instead, he chose to perfect his skills in his home ground. Getting a berth in the Mohun Bagan Under 14 team opened a new vista for him.
This year, Pintu changed his allegiance and put on the red-yellow jersey for East Bengal where he will be playing in the same team with his favourite player, Mehtab Hossain.
Many brilliant players from the Adivasi community like Shankar Oraon, Jiten Murmu and Budhiram Tudu, had fought against poverty, tyranny, lack of opportunities and other impediments to emerge as great players. Hope Pintu will also come out successful.