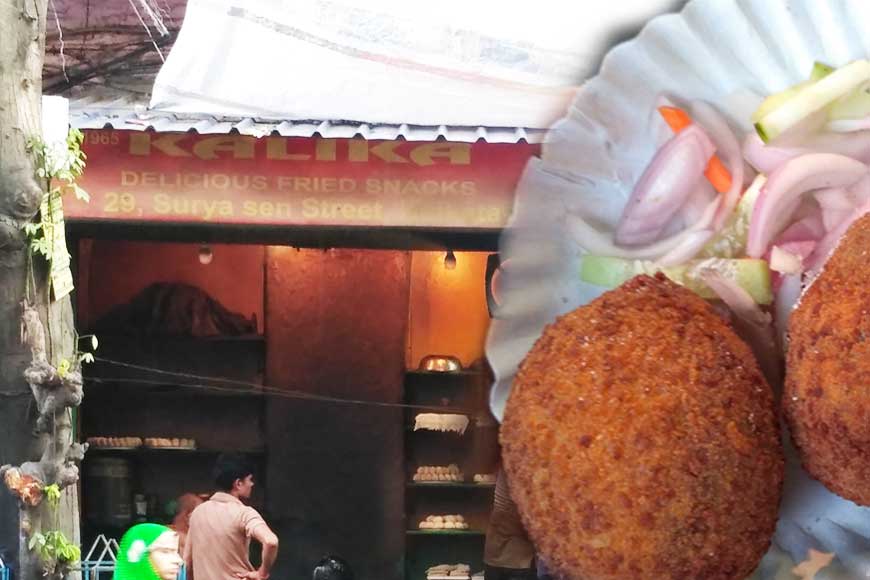 This pujo if you are planning to be swayed by a sea of humanity that will surely take over the road infront of College Square, then also be prepared to drop in at the famous 'Kalika Choper Dokan' just round the corner. To the right stands the erstwhile British structure of Medical College, one of the leading medical institutes of Asia, and on your left you look up to another imposing educational institute, the Calcutta University. Keep walking and you come at the crossing of College Street and Surya Sen Street. This shop had started its journey almost 55 years ago and because it was opened on the occasion of Kali puja, it got an instant name of 'Kalika.' The instant fame however was hard-earned, but it was there to stay and hence the superior quality of Telebhaja of this shop is still on the list of food connoisseurs of Kolkata.
If you step into the shop, the first thing that catches your eyes is a board that says: "Yummy Telebhaja served to satiate your hunger." True to their word, this is indeed one of the best Telebhaja or fritters stall of Bengal. In 2014 the shop celebrated its golden jubilee. Sukumar Dutta started this iconic shop by selling a handful of products, each of which made a name for itself. Dutta shad started off with Aloo Chop, Beguni, Phuluri and Mochar chop, the latter being a delicacy that was hardly available in shops those days. Today, the list has gone up without compromising on the quality. Needless to say the shop is within everyone's reach, for its affordable prices. Egg chop, meat chop and vegetable chop, all priced at a throwaway Rs 10. While the fish roll at Rs 40, Egg devil at Rs 20, fish finger at Rs 10 and fish fry at Rs 30. An extremely exclusive item of the shop is Mango Chop that costs Rs 10 and Tomato chop costing Rs 10.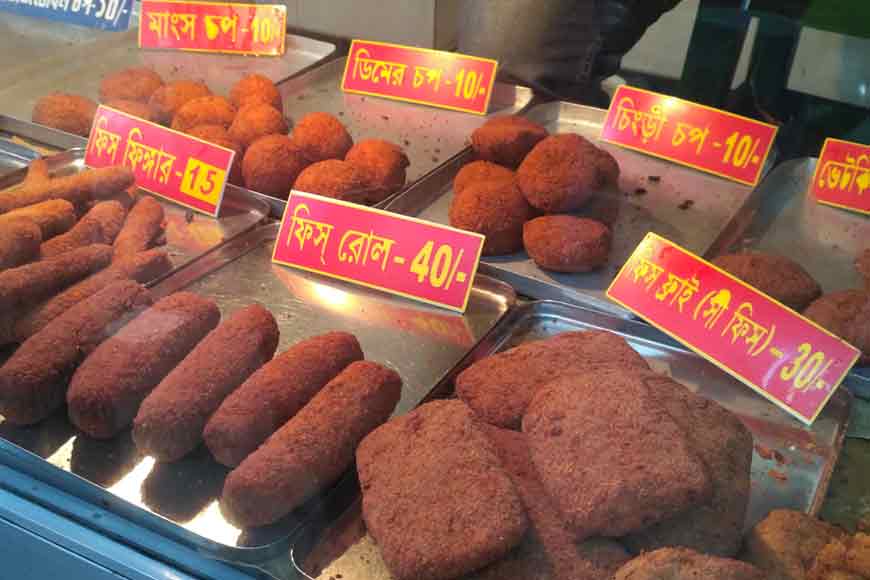 The variety of fries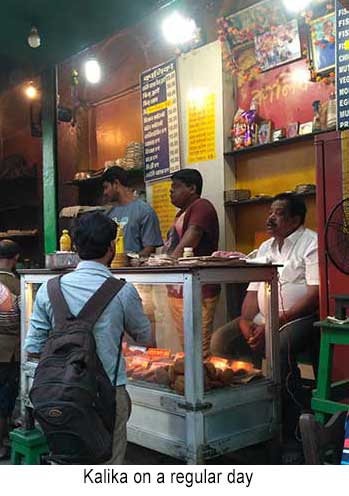 Sukumar Dutta's three sons started running the shop after their father's death. It was taken to an iconic level under the able leadership of Gour Dutta and Nitai Dutta. Their younger brother Bablu Dutta is now in charge of the shop. As Bablu Dutta says: "We still hold on to the legacy of their father who had a motto to make the least profit and supply good food at low cost." He is absolutely correct. Else can anyone imagine Prawn Chop and Mango Chop at a meagre Rs 10? And not to mention the size of the Telebhajas are awesome. The chops are also deep fried in fresh packet oil and not in any leftover oil. Bablu babu proudly assures his telebhaja is so fresh that it will never cause any digestive problems.
But he himself is now 65 years old but is skeptical about his next generation joining the shop. "I do not know if our next generation will join the shop. If not it has to be run by the employees. Because this famous shop will never down shutters as long as Bengalis' love for telebhaja does not wean off." Bablu Dutta is hopeful Kalika Chop er Dokan will survive the inroad of western snacks in Kolkata as his business rides on the choice of intellectual Bengalis of College Street's boi para, who will probably never abandon the area down gener