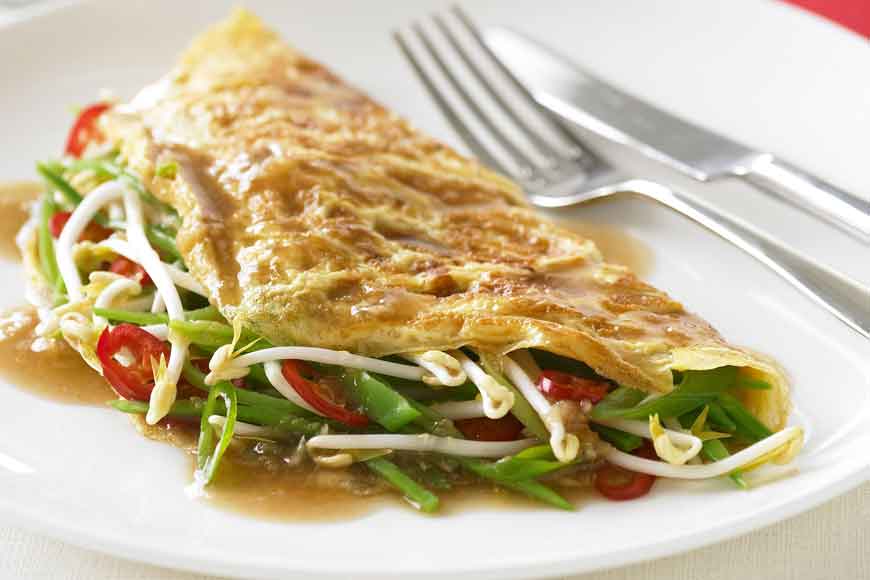 Author Leela Majumdar was a great cook and the way she weaved stories with food has been a great favourite down generations. Today we share her recipe for Chinese Omlette. Not just easy to make, it will also serve the purpose of being a super yummy dish for your children and a light breakfast for a pujo pandal-hopping spree.
RECIPE FOR CHINESE OMLETTE

Ingredients:
5 eggs
Some noodles or sewai, broken into large pieces.
2 tablespoons of boiled shrimps.
2 tablespoons shredded ham.
2 tablespoons each of diced onions, peas, cauliflower florets.
5 mushrooms finely sliced.
Salt and pepper to taste
5 tablespoons of groundnut oil.
Method:
1. Put the Chinese noodles in hot water to make them soft. Drain and keep aside. Parboil the veggies and keep aside.
2. Separate the yolks and egg whites and then beat them separately before mixing them together. Add salt.
3. On a low flame, fry the noodles first in a frying pan. When one side is done, turn it and add the diced onions and the other ingredients. When they are lightly sauted, add the egg batter so that it covers everything. When the bottom is cooked, fold it gently. When it changes colour, it's ready to be served.