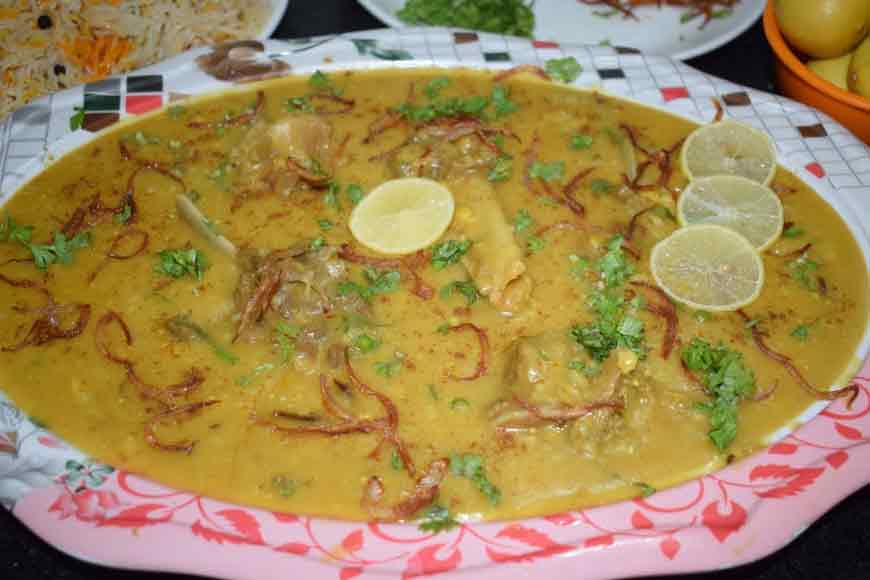 Ramazan is the ninth month on the Islamic calendar and is considered to be the most sacred as the Holy Quran was revealed to Prophet Mohammed in this month. It is a period of spiritual reflection, self-discipline, sacrifice, charity and increased devotion.
The fast begins at dawn and ends at sunset. Observers break their fast at sunset at a meal called Iftar. It is usually an elaborate, communal feast during which families, relatives and friends gather together to break the fast. Dawat-e-Iftar, commonly known as an IftarParty, includes non-Muslim guests as well. It is a symbol of communal harmony and brotherhood. It is customary that Iftar meals begin with dates and fruit juice. These are good sources of sugar as the body's immediate need after a day-long fast is to get an easily available source of energy in the form of glucose.
Ramazan also invokes images of delicious food and is a great gastronomic experience. In every home, hours before the Iftar, the women take it upon themselves to try their culinary skills and prepare mouth-watering food with great care and enthusiasm. It adds a fascinating dimension to the spirit of fasting. The spread of Iftar is meticulously laid out with a lavish spread of delectable dishes in vegetarian and non-vegetarian, supplemented with a variety of juices like lemon, watermelon and bel.
Some of the quintessential Ramazan dishes include chana, pyazu, baigini, egg pakoras, palak pakoras, haleem, fruit salad and dahivadas. The food varies from region to region, reflecting geographical and cultural differences, seasonal and local availability. But even behind this remarkable diversity, the strong essence of Iftar remains the same and can be felt everywhere.
Here is a recipe of Mutton Haleem of Kolkata
Ingredients
500g mutton (boneless, small pieces)
200g onions
4tsp ginger-garlic paste
l1tsp red chilli powder
1tsp coriander powder
½tsp turmeric powder
½tsp roasted garam masala powder
100g broken wheat
4 cloves
4 cardamoms
1 piece of cinnamon
Juice of two lemons
2tbsp rose water
50g chana dal
50g moong dal
50g masoor dal
50g arhar dal
50g karai or mash dal
250g ghee
150g curd

For garnishing:
A bunch of green coriander leaves
Chopped green chillies
Two onions, julienned and fried crisp
Julienned ginger
A few wedges of lemon

METHOD
Fry the onions in ghee to a golden brown and keep them aside. Soak the broken wheat for two to three hours and grind to a paste. In a deep-bottomed pan, heat the ghee and add cloves, cardamom and cinnamon. Stir for a few seconds. Then add the ginger-garlic paste, chilli powder, turmeric powder, coriander powder, mutton pieces, curd and the crushed fried onions. Fry the mutton till oil separates, add garam masala powder. Then add a little water and cook till the meat is tender. Separately boil all the pulses together with salt and wheat. Mix together the cooked pulses and the cooked meat. Put the pan on low heat and let it cook for a few minutes. Finally add the lemon juice and rosewater. Serve it hot with chopped green coriander leaves, ginger juliennes, green chillies and lemon wedges.